50 Ways to Have The Best Summer Ever
Creative Commons photo by Kārlis Dambrāns is licensed under CC BY 2.0
Summer is not canceled this year. Here's how to have fun safely and responsibly as the weather warms up.
Please note that some items on this list are currently closed due to COVID-19 concerns, so please check with the business before you visit.
1. The Perfect Gourmet S'mores Party
S'mores are more fun when you're a grownup. Reinvent the campfire favorite with our gourmet flavor combinations (nutty banana anyone?). One bite and you'll be sold. Your childhood treats never tasted this good!
More: 10 other mouthwatering s'mores recipes
2. Soak in the Midnight Sun
You haven't lived until you've seen the sun at midnight. Bask in the glorious late-night rays in Fairbanks, where they fete the solstice with the Midnight Sun Festival. It's quintessential Alaska, featuring gold-panning, sled dogs, and feats of endurance, like the 10K Midnight Sun Run.
More: Summer in Alaska
3. Road Trip in an Airstream
Get your road trip on in the coolest camper on the market. The iconic Airstream RV isn't widely available for rent, but we've found two outfitters in California and Arizona happy to send you on your way in style.
More: RV and trailer rentals and great summer road trips
4. Build Your Outdoor Movie Theatre
Not making it to the Cannes Film Festival this year? No worries. True film lovers can easily construct a backyard cinema. With a canvas tarp and a good projector your movie watching experience goes from good to incredible in no time.
More: Historic movie theaters in the West
5. Swim With a Mermaid
There, under the palms—is that a mermaid? No, you haven't been out in the sun too long; that's Madeline, the pool-dwelling mermaid at Maui's Grand Wailea Resort. Jump in beside her to enjoy the resort's waterslides, grottoes, and a rope swing that beckons visitors like a siren's song.
More: Fun summer hotels
6. Spend a Night Under the Stars
Great Basin National Park is simply better after dark. After spending the day hiking through fields of wildflowers, snuggle under a flannel blanket beneath the stars. The swath of twinkling jewels is stunning without the aid of a telescope.
More: The Ultimate Guide to the West's National Parks
7. Bake a Patriotic Pie
What's more American than apple pie? Old Glory Cherry-Blueberry pie. Play the perfect host and wow your Fourth of July guests with this delicious and simple recipe that pays proper homage to the stars and the stripes.
More: Fourth of July party ideas
8. Conquer Half Dome
The demanding climb up Half Dome in California's Yosemite National Park is on plenty of people's bucket lists. You'll need at least 10 hours and an extra dose of courage for the last 900 feet. The views and sense of accomplishment make it worth it at the top.
More: Top 44 hikes in the West
9. Play Bartender for a Night
The perfect summer day ends with the perfect summer cocktail. Road test these quick and easy martinis, margaritas, smoothies, and more to cool off at the end of a long hot day.
More: Wine and beer pairings for summer foods
10. Get Your Float On
Whether you're into lazy-day floating or rip-roaring rapids, there's a river for you. Try a Wine on the River tour with a winemaker and a pair of chefs or get a little crazy on British Columbia's Chilko River which has the longest raftable stretch of continuous Class IV whitewater on the continent.
More: River rafting trips
11. Throwback in a Woodie
A sweet woody wagon is a rare sight on the roads these days. But the folks at the Four Seasons Residence Club Aviara respect the vintage vehicle just as much as we do, which is why guests can book it to road trip along the Pacific Coast Highway. One condition: You simply must blare The Beach Boys.
More: Road trips worth taking
12. Construct a Living Wall
We all know plants make our lives better. Why not try a modern take on traditional hanging baskets with a wall of Woolly Pockets. It's the perfect weekend DIY project, turning what was just a wall or fence into a gorgeous outdoor room in no time.
More: Small-space garden design ideas
13. Get the Blues in Portland
Join the more than 100,000 fans who gather each year for the Waterfront Blues Festival in Portland. Held July 2-5 (yes, it's happening in 2021!) at Tom McCall Waterfront Park, it's the largest of its kind west of the Mississippi and the second-largest in the nation.
More: Great summer festivals
14. Build a Bocce Court
What game is as ancient as Rome and still fun to play today? Bocce, of course. Few things are as easy and rewarding to DIY as a backyard Bocce court. Impress your friends and Pinterest followers alike with your skills building and playing on the court.
More: Fun backyard projects
15. Go Gourmet at Camp
If you aren't packing the dutch oven, you're camping all wrong. Impress your family and friends with Michelin-style meals from cinnamon rolls to shakshouka and chocolate cake prepared in a portable gourmet kitchen in the forest.
More: Gourmet camping recipes
16. Have a Perfect Beach Day
Start with the sun on San Diego's Coronado Beach where you'll lounge under a red fringed umbrella. Indulge in an afternoon bike ride along the coast and reward your efforts with a scoop at '50s-era creamery Moo Time. End your evening at Mitch's Seafood for the beer-battered rock cod fish tacos.
More: Idyllic beach towns
17. Kayak the Channel Islands
From stunning views to some of the world's rarest trees to amazing marine life, the Channel Islands might just be one of the country's most underrated National Parks. Camping is available on all five islands which gives visitors plenty of time to explore on foot and in a kayak.
More: Get our complete guide to the Channel Islands
18. Find Some Culture
The recently reopened San Francisco Museum of Modern Art has more gallery space than MoMA in New York. More square footage equals more art; with works by Diane Arbus, Chuck Close, Wayne Thiebaud, and Andy Warhol.
More: Museums worth the visit
19. Soak in a Hot Tub Boat
It's a boat! It's a hot tub! It's a hot-tub boat! Take this unique vessel for a spin around Seattle's Lake Union, admiring the skyline from a private hot tub equipped with waterproof speakers and cooler. Clothing required.
More: 15 other liquid adventures
20. Get Your Thrill On
Prepare yourself for the most terrifying ride of your life on Six Flags Discovery Kingdom's latest and greatest coaster, The Joker. Coaster aficionados warn that weak stomachs won't be welcome on the Joker's "breaking wave turn," where riders are rolled and then flipped upside down.
More: The best roller coasters in the West
21. Glamp at El Capitan
The purists who scoff at the idea of a camping trip that includes fine linens, throw rugs, and wine tastings will definitely want to avoid El Capitan Canyon resort—a luxe outpost north of Santa Barbara with tricked-out tents, cabins, and yurts.
More: Luxury camping ideas
22. DIY a Backyard Beach
If you love the beach but can't find the time for regular visits, why not turn an unused corner of your backyard into a sandy retreat? You can craft a miniature beach over a weekend for less than $200. You'll never leave home again.
More: Fun backyard projects
23. Jump in the Swimming Hole
Slide Rock State Park, sandwiched between Flagstaff and Sedona, is home to gorgeous hiking trails, picnic spots, and, most enticingly, a 30-foot natural water slide formed from red sandstone that deposits you in an ice cold swimming hole in Oak Creek Canyon. Pro tip: Bring water shoes with good traction–the rocks get very slippery.
More: Swimming holes in Arizona
24. Backpack the Pacific Crest Trail
Isn't now the time to cross the PCT off your bucket list, or at least part of it? It would take you five months to walk the whole trail, but for a long weekend try the 17-mile stretch through Oregon's Three Sisters Wilderness.
More: Life-list adventures
25. Channel Your Inner Cowboy
The grand dame of rodeos, Cheyenne Frontier Days features music by the likes of Kenny Chesney and Florida Georgia Line, a chuck wagon cookoff and of course non-stop rodeo, including the crowning of the world champ.
(Though we urge caution, the rodeo is happening July 23-August 1 this year.)
More: Top 8 dude ranch escapes
26. Marvel at the Sand Sculptures
Nothing says summer like a long, sandy beach. Washington State's Long Beach lives up to its name with 28 miles for strolling. Visit in the summer for their SandSations sand sculpture competition.
More: The West's best beaches
27. Put Flowers in Your Hair
Utah's Alta and Snowbird are even prettier without the snow. Hit the trails the last weekend in July for guided hikes during the Wasatch Wildflower Festival, a three-day long event that celebrates the diversity and beauty of the region's wildflowers.
More: 20 mountain trips
28. Catch Some Fireworks
These aren't your average fireworks. The Honda Celebration of Light takes place in Vancouver over three days in July. More than 1.4 million people turn out to see the spectacular fireworks competition each year. (Well, not this year, unfortunately. Look for the festival to return in 2022.)
More: Summer events around the West
29. Sleep in a Treehouse
There's something truly magical about spending a night in a tree house. Given the West's variation of redwoods, sequoias, and live oaks; travelers have a solid selection of trees to choose from in addition to several fairytale-style tree houses that will channel your inner Swiss Family Robinson.
More: Unique hotels in the West
30. Hit the High Seas
This ain't your grandma's cruise. An Alaskan Getaway with Un-Cruise might be the most adventurous thing you'll do all year. Itineraries run from 7-21 action-packed days.
More: Reasons to cruise right now
31. Throw a Locavore Potluck
Forget the grocery store. Go truly local with a garden-to-table potluck, enticing guests to bring only dishes with ingredients prepared in their own summer gardens. You'll be surprised and delighted at what turns up. Exceptions can be made for beers, wines and desserts. (Backyard! Masks! Please gather responsibly this summer.)
More: Favorite potluck recipes
32. Bag a 14-er
Take a deep breath and go for the highest peak in Colorado, Mt. Elbert at 14,440 ft. Or show your colors by climbing a politically christened 14-er: Mt. Lincoln (14,286 feet), Mt. Wilson (14,246 feet) or Mt. Democrat (14,148 feet).
More: Favorite Western hikes
33. Head to Adult Summer Camp
Kids simply shouldn't have all the fun. Why not get away from it all at adult summer camp. Want to become a grilling superstar? There's a camp for that. A skateboard master? Ditto. We've rounded up the West's best places for big kids to return to camp this summer.
More: 26 of the best wilderness experiences
34. Jet Off to Paradise
Do it all in the lap of sheer luxury at Hawaii's newly renovated Four Seasons Resort Lanai, overlooking the protected marine reserve of Hulopoe Bay. Snorkel, surf, fish, scuba, snuba or tee-off at the private Jack Nicklaus-designed Manele Golf Course.
More: Dreamy island escapes
35. Make Instagrammable Sorbet
Talk about an all-natural treat. Head to your local farmer's market to gather all the ingredients for this healthy and yet delicious sorbet. Experiment to your heart's content with ripe melons, fresh mint and honey to make your guests drool without the calories.
More: Decadent ice cream desserts
36. Go Eye-to-Eye With a Shark
Why waste your time watching Shark Week when you can practically take a selfie with the real thing? Mexico's Guadalupe Island, just a day's cruise from San Diego, is the capital of commercial Great White peeping. Grab a wet suit and a waterproof camera and direct the next installment of Sharknado.
More: Wildlife viewing experiences
37. Channel Your Inner Harry Potter
Muggles, witches, and warlocks alike are welcome at the Wizarding World of Harry Potter, at Universal Studios Hollywood. Inside, you can explore Hogwarts Castle, fly past Hagrid's hut on the Flight of the Hippogriff coaster, and cheer on Triwizard Tournament competitors.
More: Can't-miss amusement park attractions
38. Throw a Beach Bonfire Bash
Eight fanciful fire rings dot the quarter-mile of San Francisco's Ocean Beach where bonfires are still legal. Have yourself a five-dollar vacation by taking a bus out to the beach and bringing along your own food and (nonalcoholic) drink. Beach blanket Bingo strongly encouraged.
More: Iconic beach experiences
39. Take the Ultimate California Road Trip
Drive. Dine. Walk. Gawk. Find joy. Why not explore the 735 gorgeous miles of the iconic Highway 1 this summer? Make the essential stops along the way to take photos, dine on delicious snacks, leap off an ocean cliff or just mingle with some of the more eclectic locals.
More: Top 10 California coast hotels
40. Grill the Perfect Fish
Learn to grill whole grilled fish, shrimp skewers, salmon burgers, and more mouth-watering dishes during your next delectable summer dinner party. Serve up your seafood with a crisp summer white or an enchanting local rosé.
More: Grilling party menu ideas
41. Find the Pool of Your Dreams
Although the Amangiri resort is technically in the middle of nowhere, it is within striking distance of America's greatest outbacks, including Zion. But the real national treasure might very well be the resort's pool, resembling a serene lake carved into the landscape, flowing around millions-year-old rock.
More: Amazing hotel pools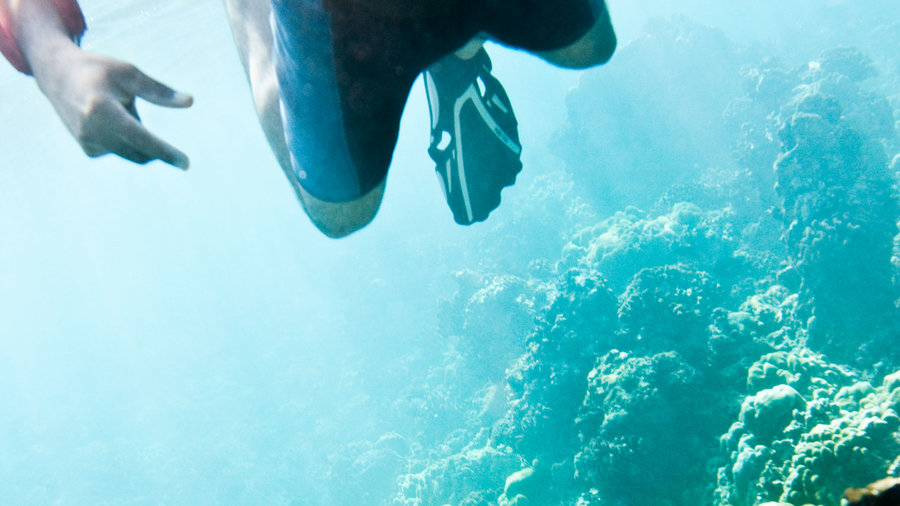 42. Snorkel in Maui
Instead of aimless snorkeling, get smart as you swim. Join one of Maui Snorkel Tours to enjoy the beauty of the sea from below.
More: Things to do on Maui
43. Escape to a Dude Ranch
Unplug your phone and reconnect to the glory of nature and your own inner cowboy or girl at Turpin Meadow Ranch, or one of our other favorite dude ranches in the West. From Montana to the Santa Ynez valley we've rounded up the very best ranches for all levels of adventure and relaxation.
More: Family vacation ideas
44. Dine in a Field
Farms and farmers all over the West have been celebrating local eating and the long tradition of breaking bread together with Outstanding in the Field events–large communal dinners held out in their fields.
More: Culinary travel adventures
45. Go Wine Tasting in Style
Experience wine country without the crowds at these under-the-radar spots for sipping in the Okanagan Valley. The achingly beautiful wine country offers nearly 60 varietals planted all along the valley floor.
More: Wine Country vacations
46. Hit the Festival Scene
Sure Outside Lands has plenty of music, but this festival also boasts 100 high-end eats and wineries throughout Golden Gate Park. You could spend a whole day just tasting light reds (using the handy-dandy RFID-enabled wristbands and cashless payment system) in Wine Lands.
More: Summer festivals to put on your list
47. Explore the Hearst Castle
No trip up Highway 1 would be complete without a tour of this fabled hilltop estate. If you've visited before, we suggest getting a more intimate glimpse of the press baron's life with the Upstairs Suites Tour. Afterward, head down the hill to San Simeon for superior burgers at Sebastian's Store. (Unfortunately, Hearst Castle is currently closed due to COVID-19 concerns. Please keep checking the castle's web site for reopening information.
More: Central Coast must-dos
48. Make Delicious Boozy Popsicles
Margarita popsicle anyone? This quick and easy recipe for the boozy frozen treat will delight your grownup guests. Add a make-your-own guacamole bar and you have all the trappings for the perfect backyard fiesta.
More: Delicious popsicle recipes
49. Take a Last-Minute Camping Trip
The worst part about camping in California is making the reservation….or often forgetting to make the reservation. No worries. You can still enjoy a hassle-free camping trip at these top campgrounds that don't require any pre-planning. Here's your chance to be a little spontaneous.
More: Camping tips and recipes
50. Recharge in the Red Rocks
The Red Mountain Resort gives visitors the opportunity to use the red rock landscape of southern Utah as their personal gym. Yes, Reiki and other energy-balancing sessions make an appearance, but there's also a good old-fashioned facial if that's more your style.
More: Peaceful wellness retreats
Read Our 2021 Harvest Issue Right Here!
Keep Reading: