One Perfect Day in Seattle's South Lake Union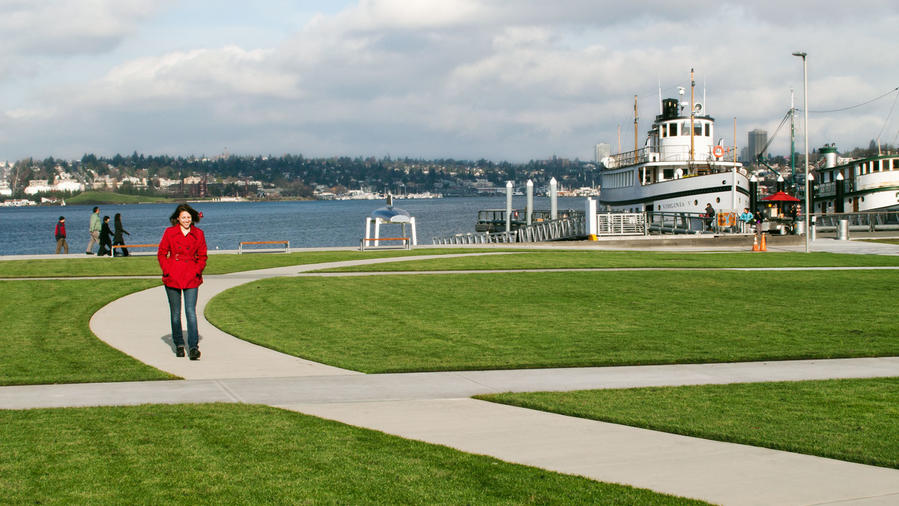 Take a Northwest day trip to South Lake Union to find designer housing, star chefs, and unique, indie boutiques
What it is: A who's who of city shakers—Amazon, the Gates Foundation, BioMed—and 500 new designer condos bordered by indie cafes and boutiques.
What it was: Sleepy streets flanked by old warehouses.
New nickname: Allentown, after Paul himself.
New businesses since 2004: 90
Ditch the car: The Seattle Streetcar ($2.25; seattlestreetcar.org) transports you between downtown and South Lake Union. The vision? A whole network of routes.
Souvenir: A T-shirt with the streetcar's unofficial moniker, "Ride the S.L.U.T." (South Lake Union Trolley).
Old tradition: Free Sunday boat rides at the Center for Wooden Boats (sign-ups at 10, rides at 2; 1010 Valley St.; cwb.org).
New tradition: The floating farmers' market aboard the historic Virginia V steamship starts up this month (11–3 Thu; Lake Union Park; farmboat.org).
Don't miss: A walking tour of SLU's resurrection, run by the Seattle Architecture Foundation (10 a.m. Mar 19; from $15, seattlearchitecture.org).
From parking lot to park: Watch the seaplanes soar at Lake Union Park, an industrial site turned waterfront hub. A grassy 12-acre patch has beach access, waterside picnicking, a model-boat pond, and a 300-foot interactive fountain. (atlakeunionpark.org)
Ultra-cool outdoor art: Thank billionaire Paul Allen for this self-guided tour of public art. Many of the pieces double as scavenger hunts: Find the hidden scientists in Buster Simpson's Ping Pong Plaza, look for the genetic code in Labyrinth by Linda Beaumont, and imagine the missing rooms in Jenny Heishman's Cabin Corners. Free maps at discoverslu.com
Morning espresso, afternoon cocktails: At Espresso Vivace Alley 24 (227 Yale Ave. N.; 206/388-5164), each latte's foamy topper is a sippable masterpiece. Come happy hour, head over to the bar at Re:public ($$; happy hour 4–6; 429 Westlake Ave. N.; 206/467-5300) for a glass of Cab paired with crisp pig tail.
Comfort food gone global: Housed in century-old cottages and decorated in antique love seats, Row House Cafe is the epitome of cozy. Sandwiches are tasty and worthy of their high-and-mighty names: the Vatican, Kremlin, and Smithsonian. Our favorite is the Louvre—grilled brie on raisin-pecan bread with orange marmalade. $; 1170 Republican St.; 206/682-7632.
Take it home: Ballard-like boutiques have hit the hood. One of our favorites? Clover House, where you can find locally made stuff like hand-stitched hobo bags by Laarni and Tita, floral oilcloth wallets by Boje Designs, and pretty pendants by Tiffany Noel. Above Whole Foods at 2200 Westlake Retail Plaza, Westlake Ave. at Denny Way; cloverhousegifts.com
Here come the celeb chefs…further proof that South Lake Union is becoming the city's next hot spot: Seafood queen Christine Keff has moved her restaurant Flying Fish ($$; 300 Westlake Ave. N.; 206/728-8595), to SLU. If you have time on Friday, catch one of her weekday cooking classes next door at her new take-out spot, On the Fly ($; 950 Thomas St.; 206/724-0577).
Next up: A Tom Douglas trio. Seattle's biggest star chef is opening three restaurants in Amazon's new HQ, the Terry Avenue Building—all open to the public.