8 Days of Hanukkah Recipes to Celebrate the Holiday Around the Table
Because the entire duration of the holiday deserves at least one good meal a day.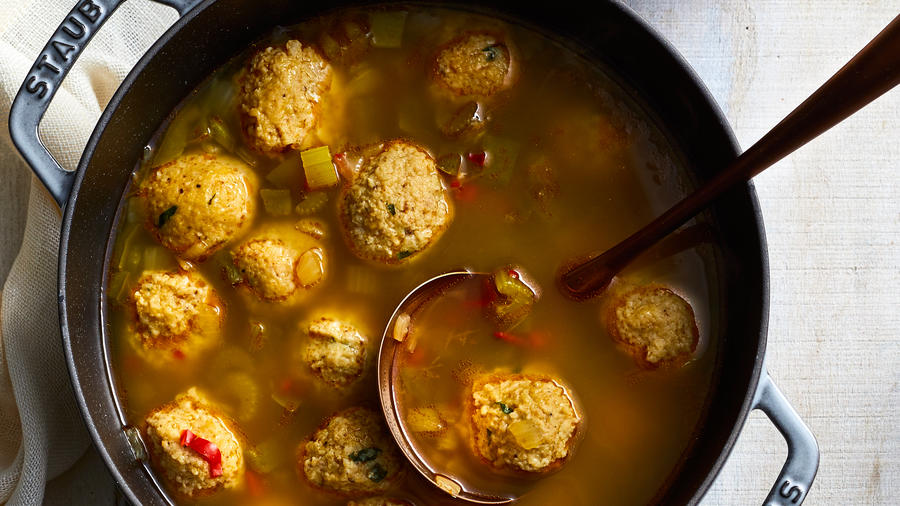 Instead of setting the table for just one or two nights of Hanukkah this year, make the most of the eight-day long holiday with dishes to dig into each day. To help with your menu planning, we've put together recipes to make each day that incorporate unique takes on traditional Jewish fare. 
Hanukkah is one of the most celebrated Jewish holidays and often includes eight days of gift-giving, eating, readings, and nightly lightings of the menorah. If you've partaken in a traditional Hanukkah dinner, you may be familiar with the classics like latkes, kugels, brisket, and challahs. I understand the sentiment if it ain't broke don't fix it, but I think it's about time a few of these dishes got a new flavor profile to help them shine to their fullest potential. 
While I crave classic latkes year-round, this year I'll be adding some Korean flavors to my latkes on the first night of Hanukkah with the edition of kimchi, topped with a dollop of crème fraîche and a pile of fresh herbs. On day three, transform traditional blintzes into a hearty main course with our recipe for dinner blintzes filled with a savory mix of cheeses, thyme, and spinach. 
Day six of Hanukkah falls on a Saturday this year, making it a perfect occasion for an inspired brunch spread. Turn what's left of your challah loaves into a sweet or savory treat, perfect for a day off, like fava bean egg salad served atop toasted sesame seed challah or a frangipane-style almond-paste-topped toast filled with jam. Find recipe ideas for all eight days of Hanukkah below to keep you cooking and celebrating all week long. 
Day 1: Korean Latkes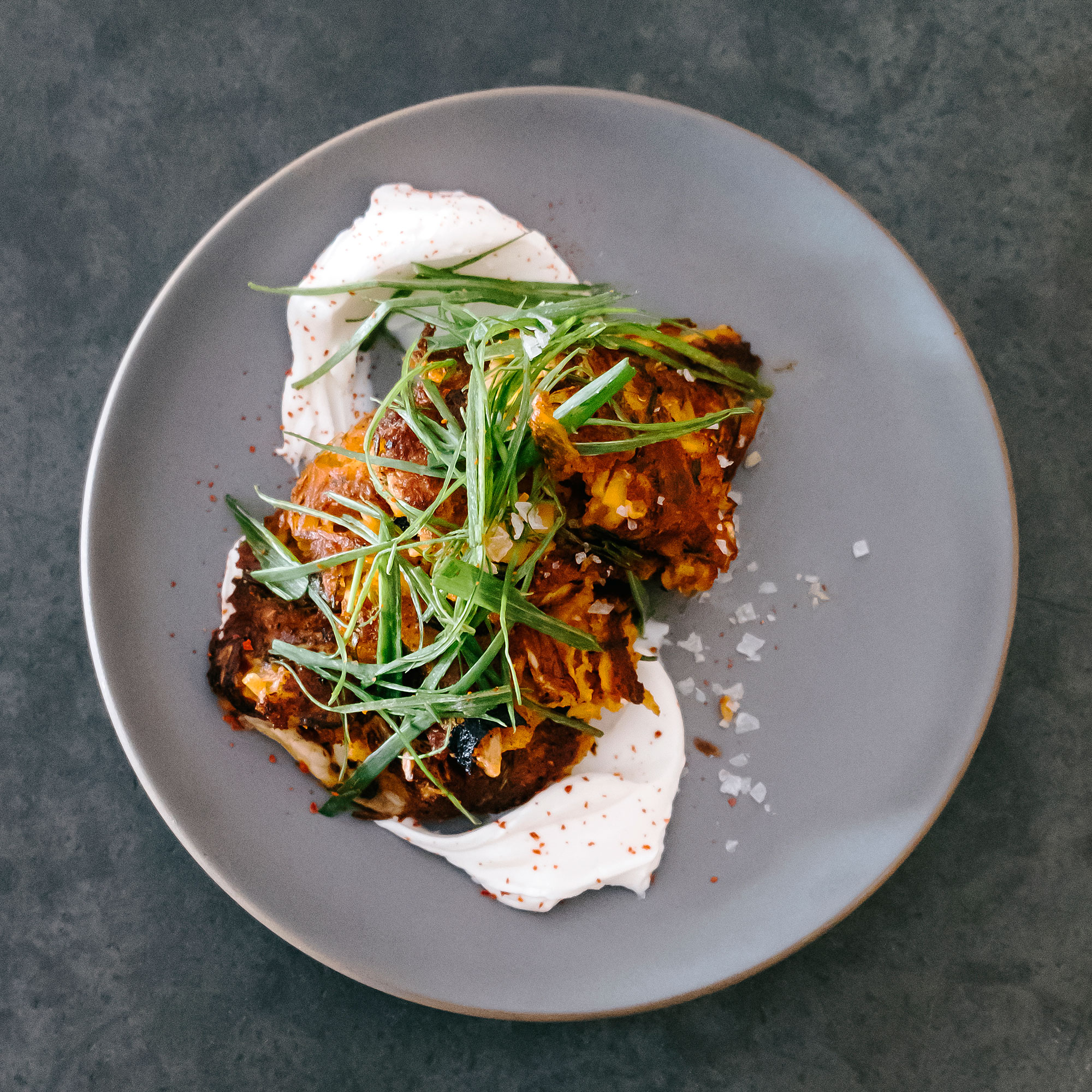 Latkes are delicious when done traditionally and if that's your preference, we've got recipes for those, too. But these Korean latkes are flavor-packed. The rice flour used in place of all-purpose or cornstarch helps ensure these latkes have a little crunch to them. A combination of Korean red chili, kimchi, fish sauce, fresh chives, green onions, and sesame oil mixed in with shredded Yukon gold potatoes adds a spicy and savory flavor profile to the traditional potato-based cakes. Make a big batch of these to take center stage on your dinner table on the first night of Hanukkah, and serve them atop of a smear of crème fraîche and herbs. For a meaty protein boost that will balance well with the flavors of the latkes, pair this dish with Korean braised short ribs.
Day 2: Springform Golden Kugel Recipe
Now I don't want to debate with anybody about whether or not you should be making your kugel with noodles or potatoes because in my mind there is no right answer. However, in my house, we only do noodle kugels and this preparation has been my favorite for the past few years. I like to use golden raisins in this recipe, plumped with fresh orange juice for an added bit of acidity. The combination of cottage cheese and sour cream keeps it from being too sweet. Instead of serving the kugel in a casserole dish that doesn't do it any visual justice, pour the contents of your mixture into a well-greased springform pan to create a dish that has crisp edges and a stunning appearance. Plus, this way you can serve it in elegant slices as opposed to heaping spoonfuls, ensuring everyone gets a bit of the edge (also known as the best part).
Day 3: Dinner Blintzes
When I go to the deli and order blintzes, they usually come filled with farmer's cheese and are served with blueberry jam and sour cream on the side. So, it's needless to say these blintzes are not your local deli's version. These big blintzes are filled with a decadent combination of fontina, ricotta, and parmesan cheese mixed with quickly sautéed spinach. You can add your own flavors to the filling, like squeezing a head of roasted garlic into the cheese mixture or adding a handful of freshly chopped herbs for more earthiness. The homemade crepes that encase the filling can be substituted with a store-bought version for easier assembly on a weeknight.
Day 4: Homemade Matzos and Spicy Matzo Ball Soup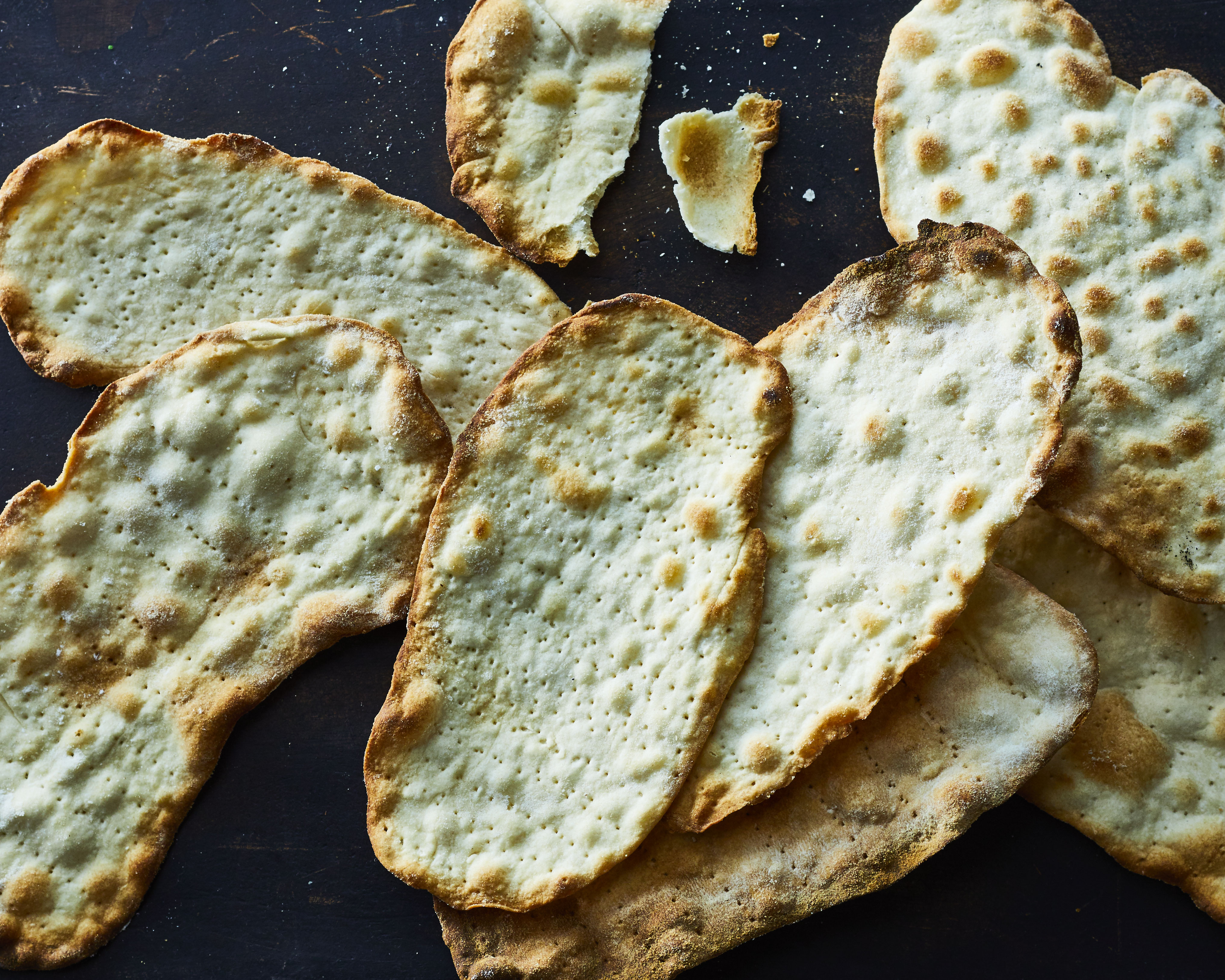 Matzo is a key part of any Hanukkah celebration and at this halfway point of the holiday we are honing in on two great versions. Our recipe for homemade matzos comes from the owners of Beauty's Bagel Shop, a haven for traditional Jewish sweet treats and delicious bagels year-round. If you make a batch of matzos in the morning, you can eat them with butter and jam on top like toast (a favorite in my household) or save them to grind into meal to use in our second matzo recipe—spicy matzo ball soup.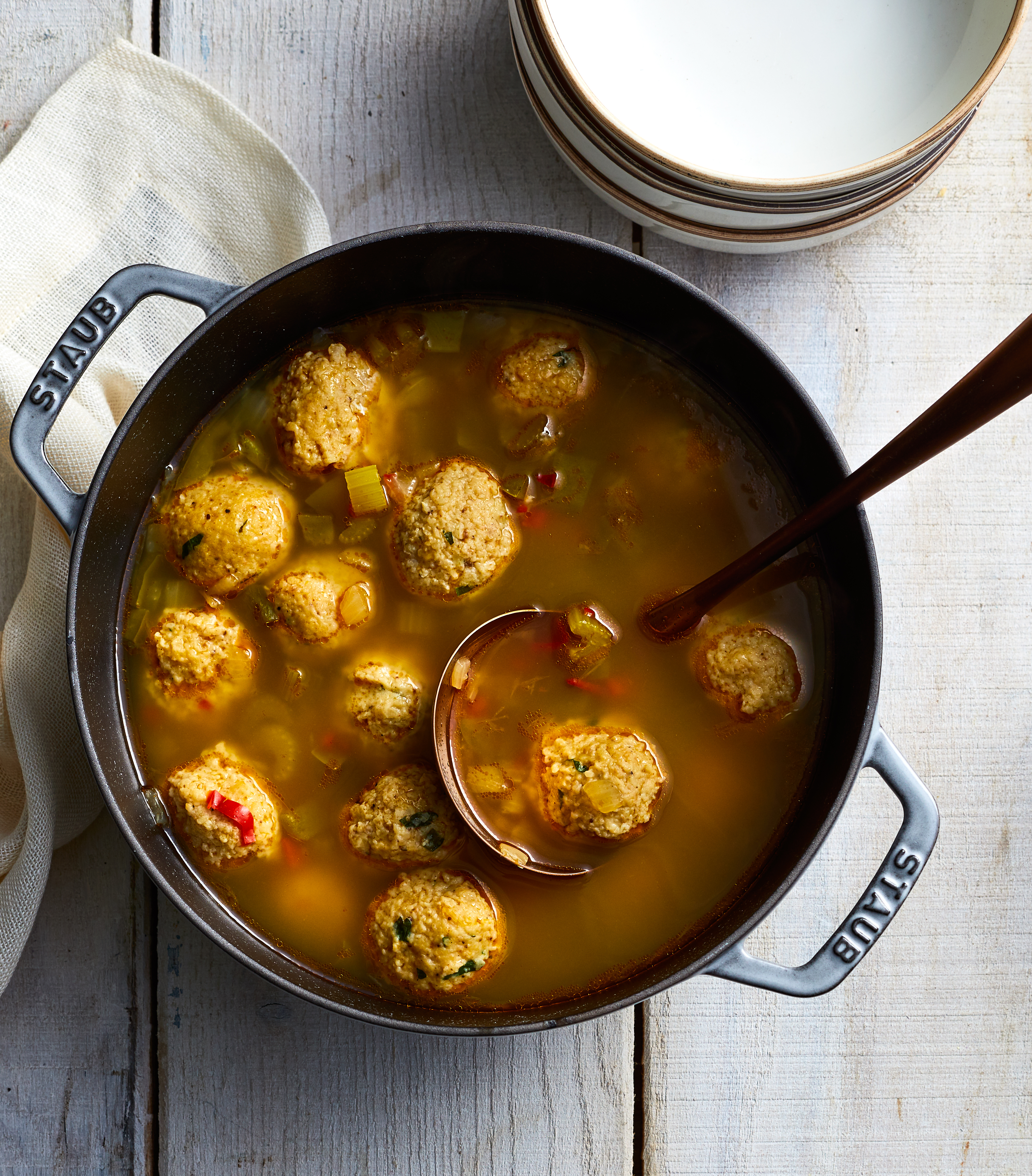 This soup gets its spice from Creole seasoning added to the matzo ball mix as well as steamed and chopped peppers added to the broth. As the days get cooler (and you get a little bit tired of cooking every day), this comforting soup will come together easily and taste even better as lunch leftovers or with a poached egg dropped inside for breakfast.
Day 5: Fennel Tomato Tart with a Cheese Crust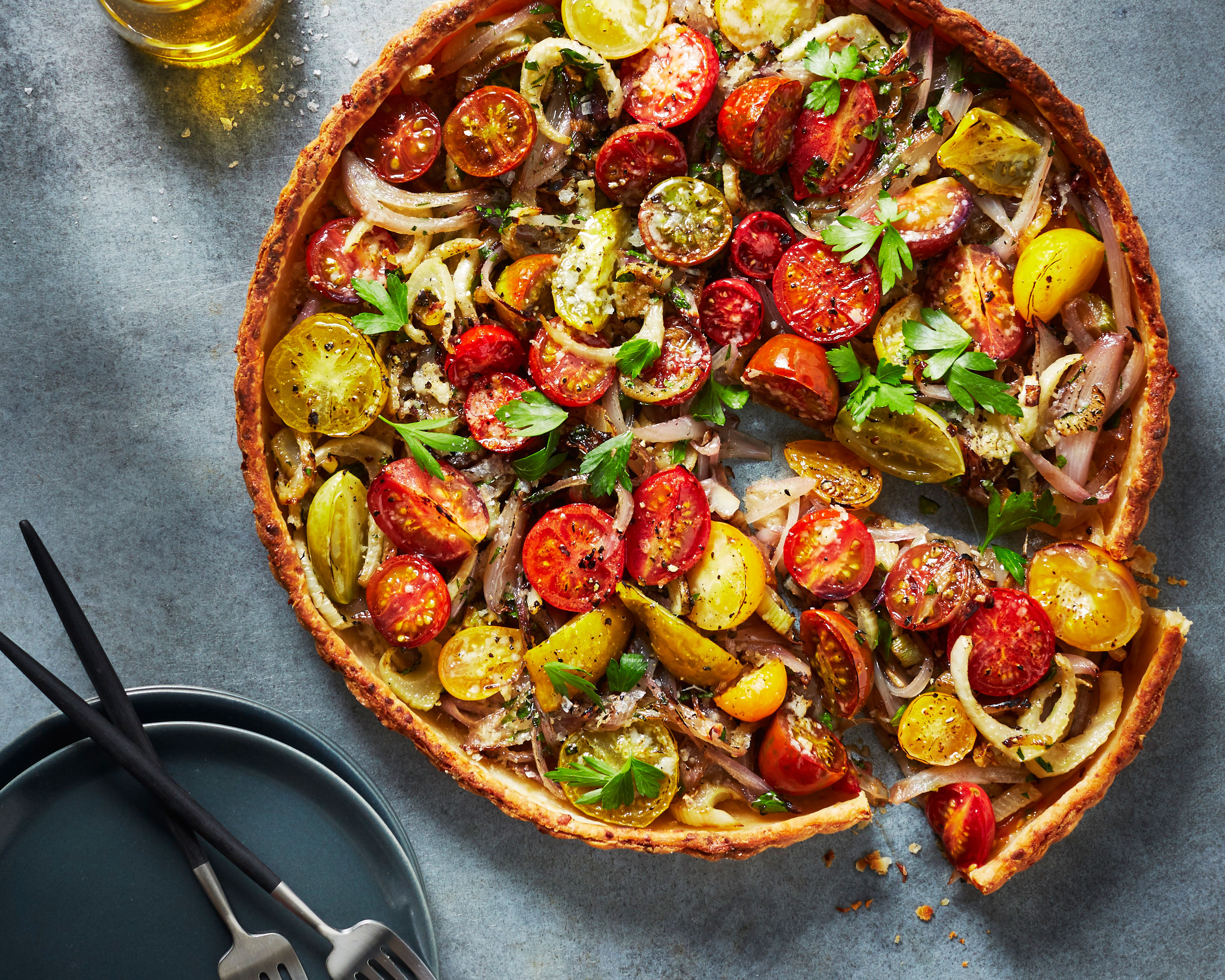 We've been loading up on starches and dairy-based dishes all week long, so it's time for a bit of a reprieve. Indulge in a bowl of leftover matzo ball soup alongside a big slice of this fennel tomato tart. The cheese pastry dough combines gruyere cheese with butter, cream cheese, and flour to create a rich crust. Any leftover crust pieces from trimming can be made into homemade crackers to use for wiping up any tomato bits left on the plate. I'll likely serve this tart with a green sauce on the side and a warm salad.
Day 6: Fava Egg Salad Toasts and Almond Jam Pastries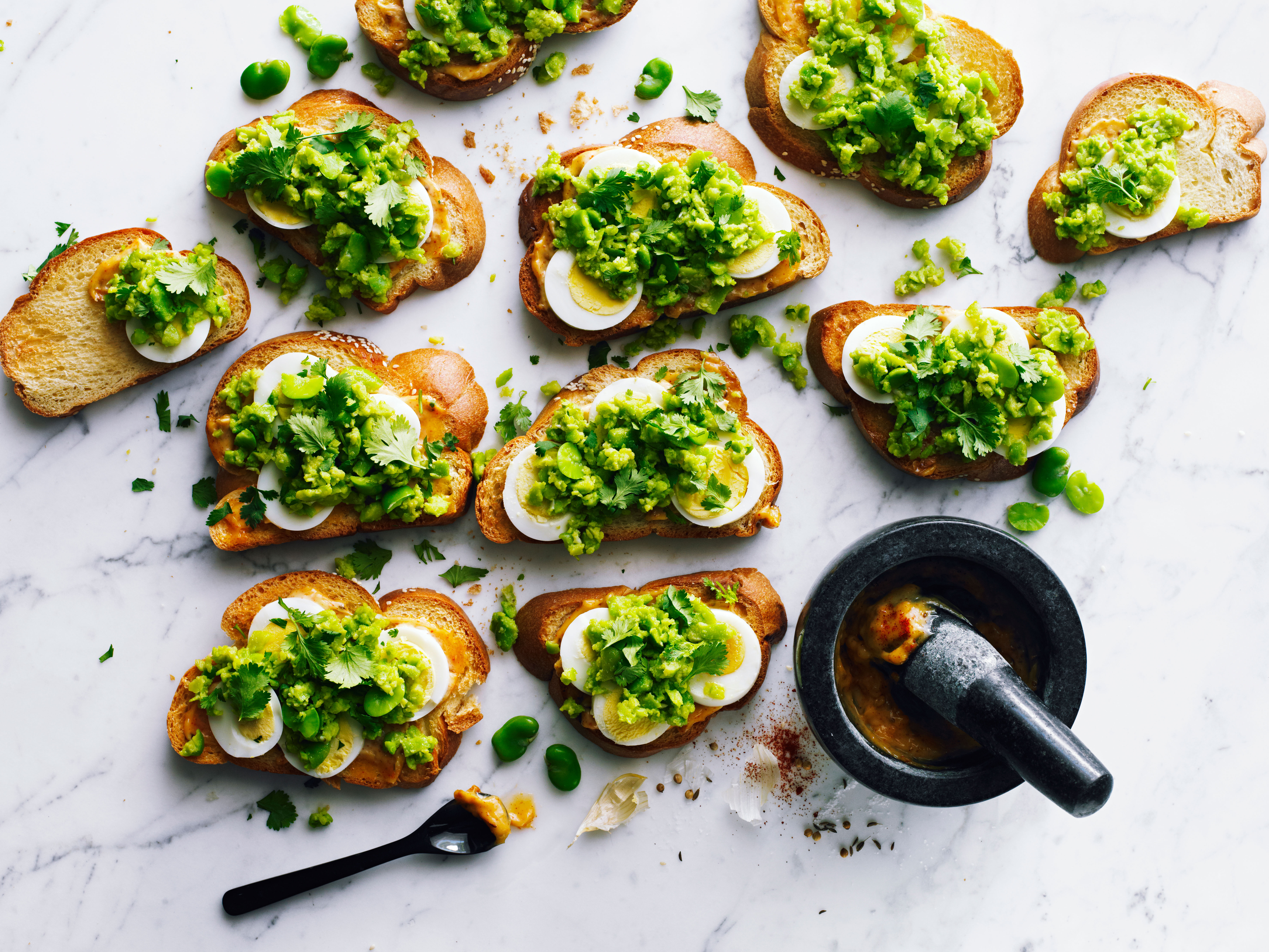 Odds are you've got at least half a challah left and it may have already gotten a little harder than you would like—because nothing beats fresh and soft challah. Transform the remnants with this simple, savory topping that pairs with thick-cut slices of the eggy bread. On the base of the bread, spread a sauce that combines mayonnaise with a Tunisian spice mixture called tabil, made from grinding garlic, coriander, chile, caraway, and salt into a paste. Top it with slices of boiled egg and a fava and herb mash for a bright and light toast packed with spices and texture.
For a sweet take on using up leftover challah, these almond and jam pastries come together in just a few steps. Combine toasted almonds with sugar, butter, eggs, and cream until smooth and lather it atop a layer of jam on thick-cut slices of challah. They bake up with a crisp edge and soft, fluffy center with some added crunch from the sliced almonds.
Day 7: Lingcod with Herbed Cucumbers
I've been celebrating Hanukkah my entire life, and the one thing I can't get my taste buds to support is gefilte fish. If you like it, I'm totally in support, but something about ground fish formed into an ovalish shape and placed into a jar just doesn't settle well in my stomach. However, I know the value of a deliciously cooked piece of white fish. And so I give you a dinner worthy of the seventh day of Hanukkah: a perfectly seared piece of lingcod with herbed cucumbers. This dish comes together easily, leaving you more energy for the daunting dinner that will grace your table on the final night of the holiday.
Day 8: Matt Horn's Slow-Cooked Brisket with Warm Broccoli
The last day of Hanukkah should be celebrated with a big dish and delicious dinner. What delivers more than something that takes 12 hours to cook? This brisket recipe comes to us directly from pitmaster Matt Horn of Horn Barbecue in Oakland, California. You'll want to use a grill or smoker to mimic his technique of cooking it low and slow with a quick removal from heat toward the end before wrapping it in butcher paper. We promise you won't be disappointed with this brisket, which is very different than the twice-cooked one your bubbe used to make.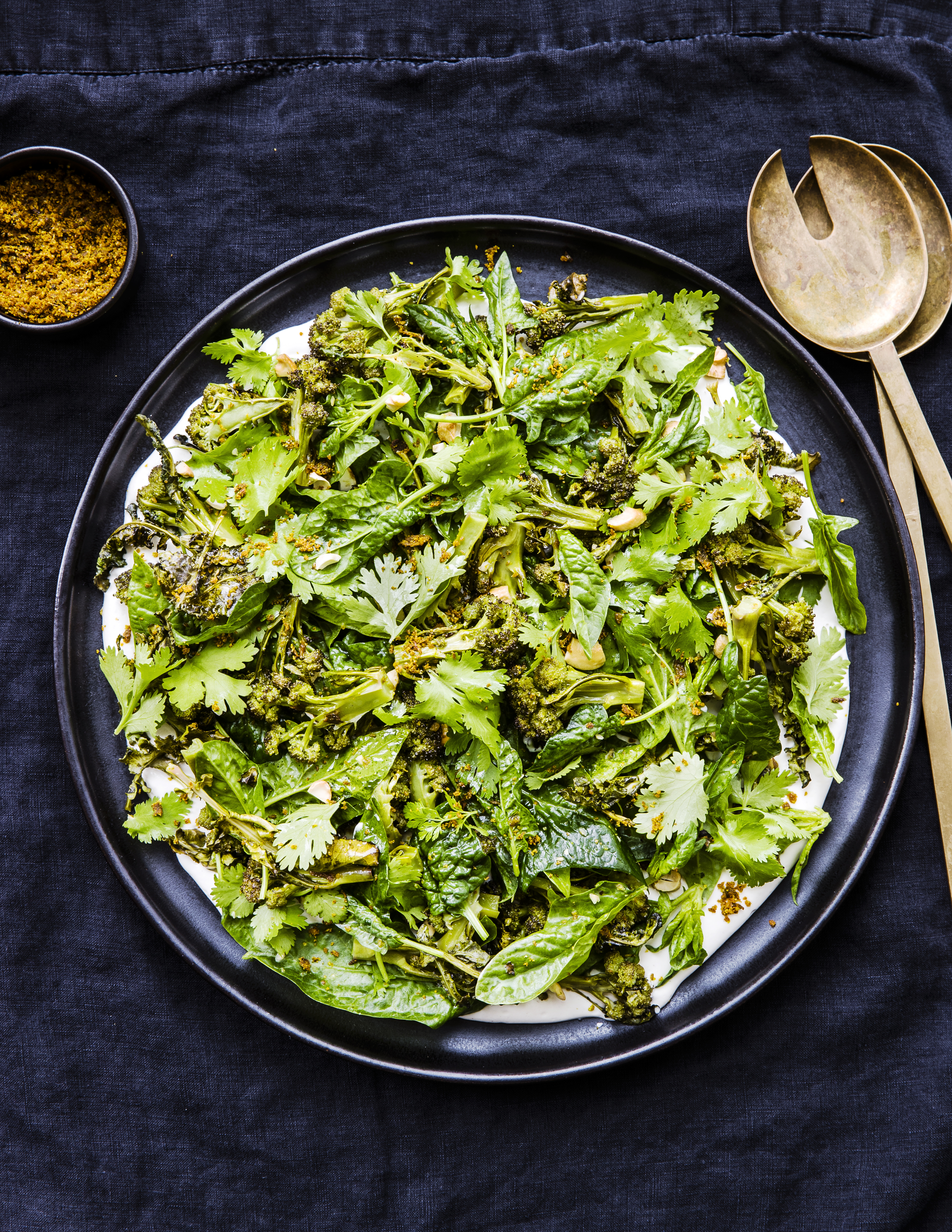 It's not uncommon to see broccoli served alongside a Hanukkah spread either roasted or steamed. This recipe brings more richness and texture than a basic roasting of the veg and is served over a layer of cashew cream, which would make a great accompaniment to the brisket. By tossing the spinach with warm broccoli and dressing, it wilts just enough to keep its shape and slight crispness.
---
Search All of Sunset's Recipes
Read the Current Issue Here!
Get one year of Sunset—and all kinds of bonuses—for just $24.95. Subscribe now!
Keep Reading: