7 Recipes You Can Make Start to Finish in a Dutch Oven
Welcome your new favorite kitchen tool to the front burner.
In the last week, I've probably dirtied up my dutch oven over ten times. From bakes to sauces to braising short ribs, my forest green Le Creuset gets used and abused on the daily—but after a quick soak, the meals of the past wipe away with ease. The dutch oven is a kitchen essential that I think gets put on the back burner all too often (see what I did there). It can be used for anything, though many people steer away from lugging the heavy dish out of cabinets onto the stove. I keep mine clean and on the front burner, ready for action at any time. Investing in a good dutch oven is like finding a nice vase or the perfect centerpiece for a table, it can sit on the stove whether or not it's being used, and adds a unique pop of color to any kitchen.
With all of us spending more time at home—and in our kitchens, we're growing tired of stirring, standing, and juggling pans over the stove. Which means it's about time for us to share a menu of dutch oven dinners that can be made and served in the same vessel. With recipes for you to whip up Monday through Sunday, we've taken the guesswork out of dinner this week. So grab your grocery list and keep reading for seven dutch oven dinner recipes to get you started using your soon-to-be favorite kitchen tool.
Monday
The week just started, it was hard to get out of bed, and you've been in meetings so long you didn't even realize it's four p.m. The pressure's on to make dinner tonight, not only from your gurgling stomach, but also from nearby mouths expecting to be fed. You need something simple—enter baked feta pasta. The trendy Internet pasta is delicious, easy, and comes together in one pot. Make your pasta in the dutch oven before baking the feta and the only extra thing you'll dirty is a spoon and a strainer! 
Tuesday
Start your day off with a strong coffee and a hearty breakfast to keep you going until dinner time. Leftovers from pasta the night before will suffice for lunch. We will probably opt for leftovers for lunch again tomorrow, so stick with something you can transform the next day, like this simple chili recipe. For lunch, make some elbow noodles, toss them in butter, drop in more cheese, and add a cup of chili for an easy and delicious chili mac. 
Wednesday 
It's time to get cozy and relax with something warm at the end of a long hump-day. These short ribs come together with ease, and the turnips take the place of daikon or potato to accompany the delicate short ribs. After cooking for a couple of hours, a rich gravy forms as the meat tenderizes—and we can feel the food coma coming on now. 
Thursday
Thursday is an a-okay day to have a beer with dinner because you are so close to the weekend you can almost taste what sleeping in feels like. So crack open a can and dive into this cheesy rice dish. Though the recipe calls for fresh jalapeños, the spice is tamed by the addition of jack cheese. With only two required stirs, the pan does most of the work for you in this foolproof dinner that comes together in under an hour.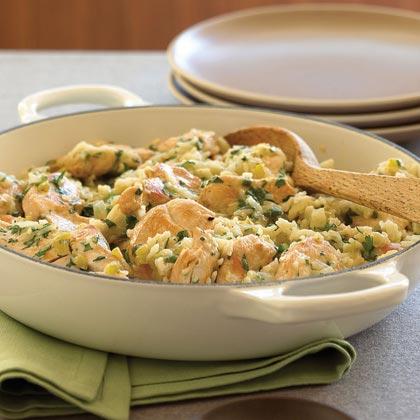 Friday 
Welcome to your first night of the weekend. You deserve to feel like you're eating out at a nice restaurant tonight even though you're making dinner, yet again. You can look forward to dinner tonight with this fresh herb tofu curry recipe in your corner. To start this dish, you infuse hot oil with fresh herbs, and then proceed to sear your tofu in that same oil. You'll then add coconut milk and more spices until a thick and flavorful curry is formed.  
Saturday
On the weekends we're all less inclined to want to spend hours in the kitchen. It's time to go for a walk, hike, shop, and nap, not to stir risotto over the stove for two hours. Throw together dinner in twenty minutes with this simple stuffed pork chop recipe. If you can't find pears in season, swap for fresh apples. These chops are upscale and easy, and will pair perfectly with a bottle of vino.
Sunday
And just like that, the week is over, tomorrow is Monday again, and we must set alarms for 8am. These Swedish-style meatballs topped with fluffy potatoes will have you looking forward to waking up the next day for leftovers. To keep this recipe all in the dutch oven, drop the meatballs back into the gravy once it's reduced, and spread the potato mixture directly on top, then pop your dish into the oven and bake as directed. 
Our Top 5 Dutch Ovens to Buy
---
Read Our 2021 Harvest Issue Right Here!
Keep Reading: