Warm Broccoli and Spinach with Cashew Cream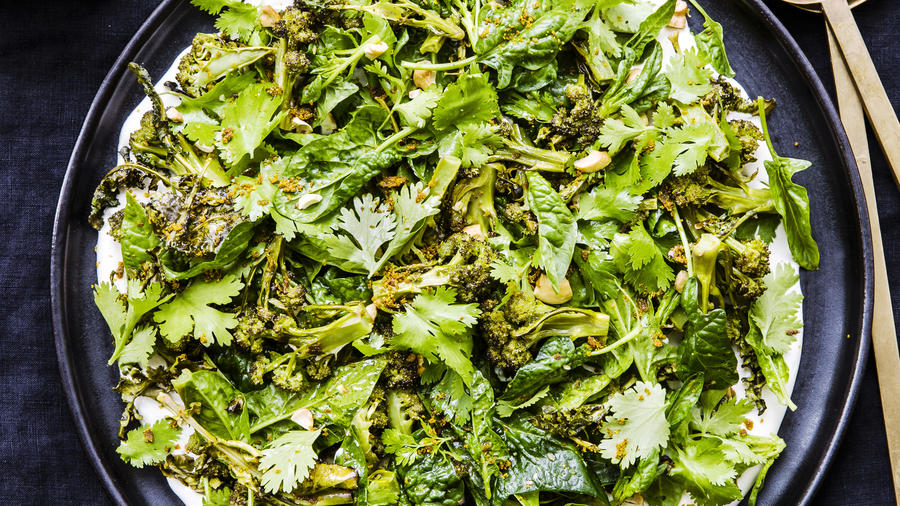 The crisp edges and chewy stalks of roasted broccoli are especially addictive when dragged through a thick, lemony cashew "cream" and dusted with fiery vadouvan, a French-Indian spice mix. If you're short on time, use Greek yogurt or labneh (yogurt cheese) instead of making cashew cream. Have all your ingredients prepped before the broccoli goes into the oven, because this salad is best served warm. The recipe is from San Francisco cookbook author and teacher Michelle McKenzie.
How to Make It
Step 1
1
Preheat oven to 425°. Cut broccoli into 3-in. lengths and halve thick stems lengthwise. Line 2 large, rimmed baking sheets with parchment paper and divide broccoli between them.
Step 2
2
Drizzle 3 tbsp. coconut oil over each sheet of broccoli and season with a couple pinches of salt; toss broccoli and spread without crowding. Roast, turning once, until edges begin to brown and broccoli is tender, 12 to 15 minutes. Season with a squeeze from a lime quarter.
Step 3
3
Moving quickly to keep dressing from solidifying, squeeze remaining 3 lime quarters into remaining 6 tbsp. warm coconut oil and season with fine salt. In a large bowl, toss warm vinaigrette with warm broccoli, spinach, half of cashews, and three-fourths of both the cilantro and vadouvan.
Step 4
4
With a large serving spoon, dollop about 1 cup cashew cream onto a shallow serving platter. Use back of spoon to spread into a thick, uneven bed for the salad. Pile salad across cream and scatter with remaining cashews, cilantro, and vadouvan. Finish with flaky sea salt.
5
*Find virgin coconut oil in well-stocked grocery stores, and vadouvan in specialty stores and at spiceace.com ($5.99 for 1.2 oz.).
Search All of Sunset's Recipes