6 Thanksgiving Cocktails to Pair with Your Festive Feast
Cheers to fun drinks ahead!
Turkey, stuffing, and pumpkin pie get a lot of attention around Thanksgiving, but we think something else deserves the spotlight this year: festive cocktails. Drawing inspiration from my own friends and family and looking back into Sunset's recipe archives, I found a few options that are worthy additions for your Thanksgiving table.  
Below, you can look through some of our favorite ideas and start preparing your own Turkey Day cocktail menu.
Thanksgiving Star Cider
It's in the name, so you know this is an essential Thanksgiving cocktail. The hot cider is made with honey and steeped with dried hibiscus blossoms. Other ingredients include pear nectar, red wine or unsweetened cranberry juice, lemon juice, and star anise.
Get the recipe: Thanksgiving Star Cider
Flatliners
One of my best friends is known for throwing epic holiday bashes, and she found out about Flatliners on a trip to Telluride, Colorado. A riff on the classic espresso martini, Flatliners combine equal parts espresso, vanilla-flavored vodka, Kahlua, and Bailey's. Just be mindful and sip slowly, because these certainly pack a punch.
Warm Apple Pie Cocktail
This cocktail is basically Thanksgiving in a mug: Use fresh unfiltered apple juice, cinnamon sticks, cloves, allspice, and spiced rum to whip it up. And to make it look just like your favorite pie, you can top it with a dollop of whipped cream.
Get the recipe: Warm Apple Pie Cocktail
Pomegranate Fizzies
With their rich cranberry color, pomegranates give off all the autumnal and winter vibes you need for your Thanksgiving gathering. My aunt is our annual holiday hostess, and she always prepares Pomegranate Fizzies. This super simple, refreshing cocktail is prepared with extra-dry sparkling wine (or sparkling apple juice, if you're making a mocktail) and unsweetened pomegranate juice, and then it's topped with a sprinkle of pomegranate seeds.
Get the recipe: Pomegranate Fizzies
Sipsmith Flippin' Sloe
Here's one that was created by Sipsmith Gin; it sounds like dessert in a drink. With 2 parts Sipsmith Sloe gin, 1 part amaretto, 1 1⁄2 parts simple syrup, and 1⁄2 part cream, this one is best enjoyed while cozying up to a roaring fire.
Orange-Scented Mulled Wine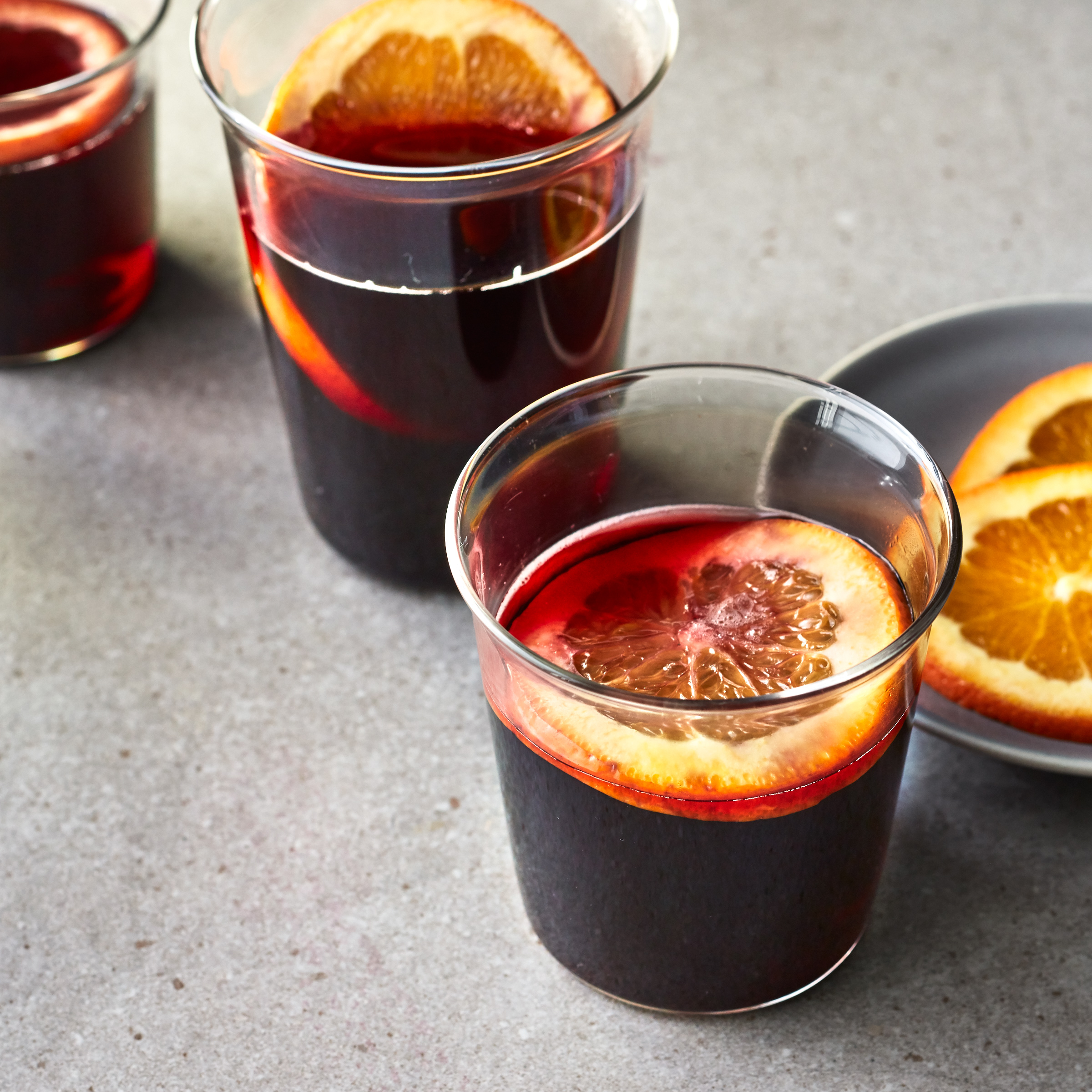 Mulled wine is a classic winter cocktail, and this one comes with a twist. You have the option to add orange-flavored liqueur and orange slices to give it more of a zing. Bonus: You can ladle it from the saucepan to conveniently serve it at the ideal temperature to all of your guests.
Get the recipe: Orange-Scented Mulled Wine
---
Search All of Sunset's Recipes
Keep Reading: