How to Make Better Eggnog at Home—and No, You Don't Need Eggs or Milk
Whether you're looking for a dairy-free eggnog recipe or want to go full-fat, we've got tips and tricks to make your best eggnog yet.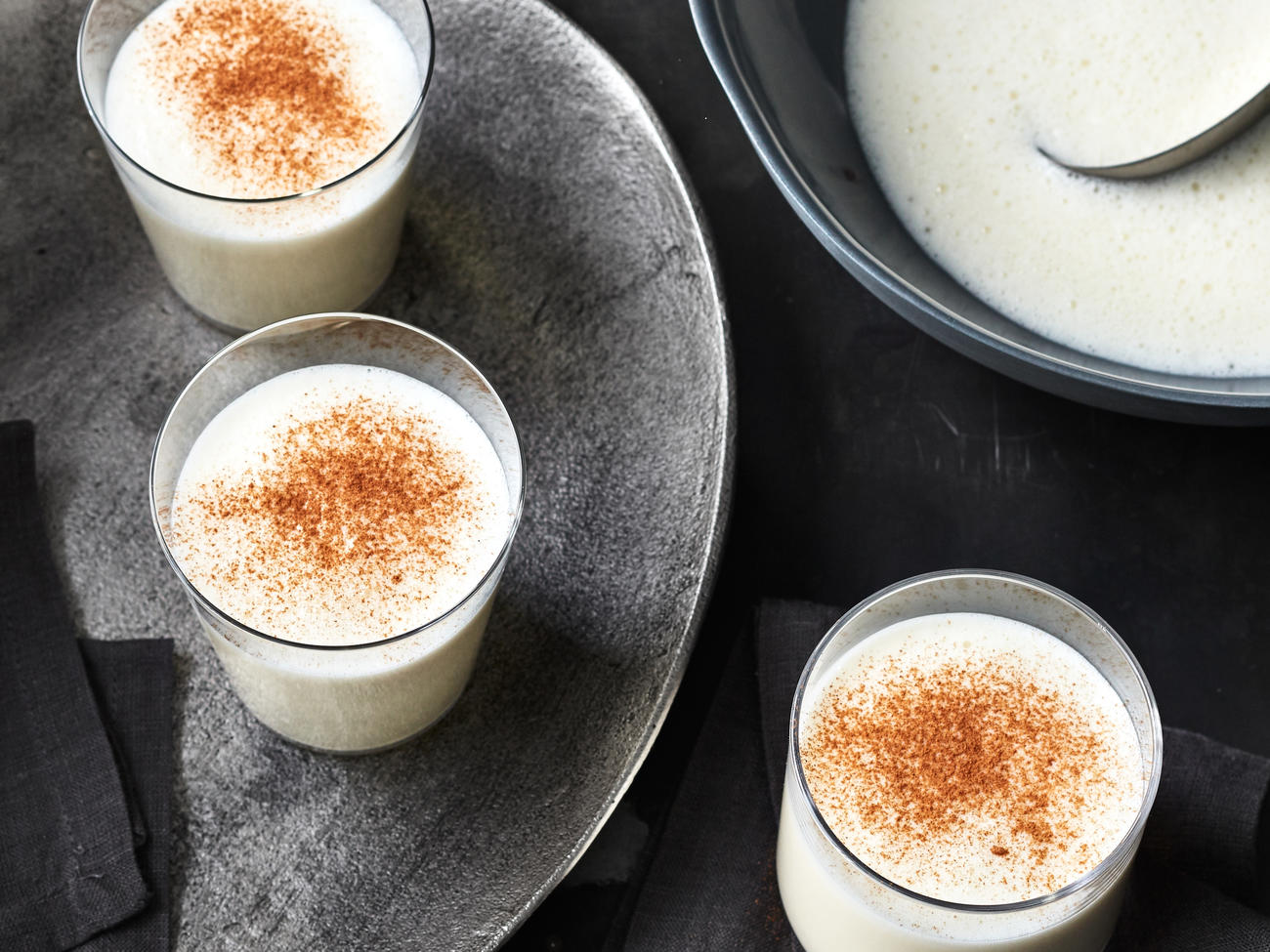 When we think of the holidays, most of us recall chilly nights bundled up by a fire (or space heater), Christmas movies on repeat—my favorite is Elf or The Holiday—and rich and delicious beverages so indulgent you may only want to sip them once a year. For me, eggnog tops the list of holiday beverages that appear around the festive month of December.
To break down the basics of the seasonal drink and help you make it at home using better ingredients and techniques, we chatted with a couple of nog experts across the West. 
Alexandre Family Farms in Crescent City, California, uses A2 milk to make its top-selling eggnog. "A2 refers to beta-casein—one of the proteins in milk. For most people, A2 is easy to digest. It is the protein that is in human breastmilk, and sheep and goat milk," says the farm's owner Stephanie Alexandre. "Most cow dairy in the United States, however, has an A1 protein, which is harder for humans to digest."
Even though the family farm only sells its eggnog onsite and in grocery stores up and down the coast, it "has been a consistent seasonal hit for us," Alexandre says. "This year our eggnog sales are about three times that of previous years." Buy a bottle of the family's eggnog, and they've even got a simple recipe to spike and spice it up. All you need is some vodka, amaretto, cinnamon, and nutmeg. Check out the recipe below.
We only recommend things we love. If you buy something through our site, we might earn a commission.
There are even more ways to up your eggnog game this year. A Sunset eggnog recipe from 1984, for example, combined praline-style caramelized sugar with raw eggs and about 6 cups of milk. We've created a modern version of the recipe in which the eggs are cooked into a thick custard before they're mixed with a vanilla and cinnamon-infused sweet milk. Then we folded in freshly whipped cream to add some lightness. 
But you don't need eggs or milk to make great eggnog. In fact, making the beverage without dairy is easier than you might think! There are a handful of ingredients you can use as swaps that still offer a rich and flavorsome drink.
In a recipe shared with us by Ayesha Curry, star of Ayesha's Homemade on the Food Network, she combines bananas, dates, coconut milk, and fresh nutmeg to make an eggnog-inspired holiday shake. The creaminess from the coconut milk and bananas complements the richness that comes from an egg-based custard without the use of any animal products. While a smoothie in December might sound a little bone-chilling, it's the perfect beverage for a Southern California Christmas and can easily be made a little warmer (on your stomach) with the addition of rum or whiskey. 
If you're looking to mimic more traditional eggnog without the addition of dairy and eggs, you'll want to add a few extra ingredients to help ensure it has the richness, color, and texture of the classic. Melissa Finestone, owner of Mulk Co., a non-dairy milk brand based in Los Angeles, suggests using cashew milk for its "silky, creamy texture."
For the yellow shade that comes from a custard-like combination of eggs and cream, turmeric comes into the mix for Mulk Co.'s seasonal eggnog offering. "Turmeric is perfect for the buttercup-yellow color," Finestone says. "Fresh spices and a top-notch butter rum extract add to the flavor as well."
For those wanting a protein boost in their eggnog, Finestone also suggests adding some silken or soft tofu, then blending the mixture to create a thicker and smoother beverage.  
When serving your nog—dairy-free or otherwise—don't forget to top it with whipped cream and fresh spices. "You definitely want to add the usual suspect spices such as nutmeg, clove, and cinnamon, but it needs to be as fresh as possible, or ideally freshly ground!" Finestone says. If you don't have a microplane or similar grating tool for whole nutmeg, you can order one online or find them in most kitchen supply stores.
Happen to find yourself with leftover eggnog after your holiday party or just can't finish the last of a big batch? Alexandre suggests using it to make French toast or pancakes. "Actually, most any recipe that requires milk or liquid, use eggnog instead," she shares.
Here are a few more of our favorite eggnog recipes! 
Eggnog Recipes
---
Search All of Sunset's Recipes
Read the Current Issue Here!
Get one year of Sunset—and all kinds of bonuses—for just $24.95. Subscribe now!
Keep Reading: