Yosemite National Park Reopens–But Mostly Without Camping for Now
Getty Images / bluejayphoto
The national park will require reservations for day trips, and limited camping, as part of its phased reopening
Yosemite National Park reopened its gates to the general public on Thursday, June 11, after the park closed in late March due to the Covid-19 pandemic. This milestone marked the official beginning of the park's phased reopening.
Yosemite's wilderness areas and Half Dome permits are open, along with a large portion of the park. But only half the normal number of visitors are currently allowed to enter, and most campgrounds are closed—even those that briefly reopened earlier in June.
Essentially only the Upper Pines Campground is open–and that at only half capacity. Any reservations at other campgrounds have been canceled through the month of July.
Anyone looking to visit Yosemite National Park needs to get a day trip reservation through recreation.org. Or, you'll need to already have a reservation to the Upper Pines Campground, Yosemite Valley Lodge, Curry Village, or The Ahwahnee; a Half Dome permit; or a Yosemite wilderness permit.
Yosemite isn't the only national park working on reopening—Utah's five national parks all began a phased reopening in May.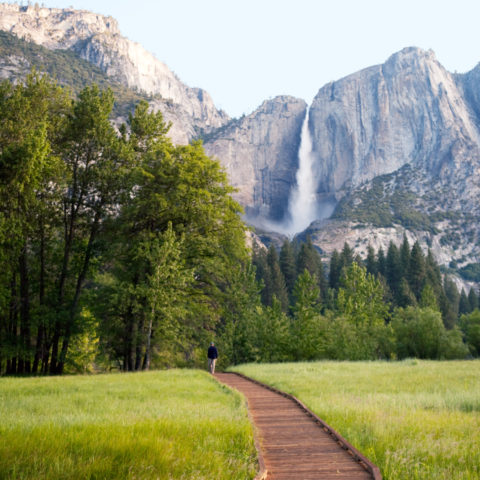 Again, similar to a camping reservation, you'll need to bring both proof of your reservation and a matching photo ID to enter the park. If purchasing a day trip reservation, it'll cost just $2 more than the standard fee ($35 per vehicle) to enter the park—an added processing fee. If you cancel your trip, all but that $2 will be reimbursed to you.
The only exception is entering the park by an alternate mode of transit. Entering by bicycle, on foot, on horseback, or via YARTS, the Yosemite Area Regional Transportation System, will not require a day-use reservation to enter. However, park entrance fees will still apply (although they are cheaper for those who enter on alternate transit) and YARTS may also require reservations and offer limited services during the pandemic.
While many of the park's major attractions and trails are open, most campgrounds and select other areas are still closed amid the phased reopening. For the most up to date information about what's open and the phased reopening, visit Yosemite's website.
Keep Reading: