Zion, Bryce Canyon, and Capitol Reef National Parks Are Now Open—with Limitations
Utah's national parks and recreational areas have begun phased reopenings that will continue throughout the year
As of today, Zion National Park is open with limited operations, after closing on April 3rd due to the Covid-19 pandemic.
In its limited operations, the park will not be operating shuttles and Scenic Drive will be closed once parking lots are full. The park will be open for day use only, and cross-country travel is not recommended. Check Zion's alerts page  for updates on the current conditions. 
Zion opened its Riverside Walk, the Grotto Trail, Archaeology Trail, Watchman Trail, Sand Bench Trail, and others on May 13th.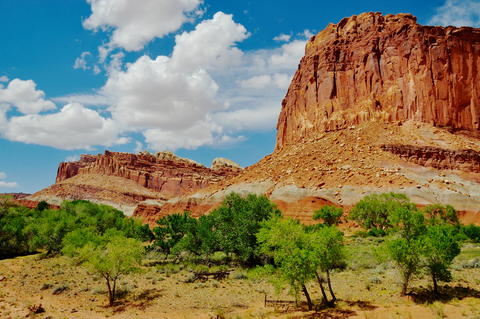 Two more of Utah's national parks are also open—Bryce Canyon and Capitol Reef—also with limited operations. Bryce Canyon has its main road, Rainbow Road open, and the Visitor's Center open, but campgrounds, Fairyland Road, and other areas remain closed. There's no firm timeline for when this phase will end at Bryce Canyon, so check the Bryce Canyon alerts page to check for any changes.
Capitol Reef had new areas open as of May 11 after reopening on May 5, including overnight stays in primitive areas, but also doesn't have a timeline for when this phase will end at the park.
The rest of Utah's national parks—Arches and Canyonlands—are scheduled open as well, but they currently also on phased opening. Campgrounds, visitors centers, and stores may not reopen on a set schedule, so bring what you need with you. 
Currently, no fees will be collected at any national park until further notice, but be sure to check park websites beforehand to get the latest information about fees, services, and open attractions.
Keep Reading: