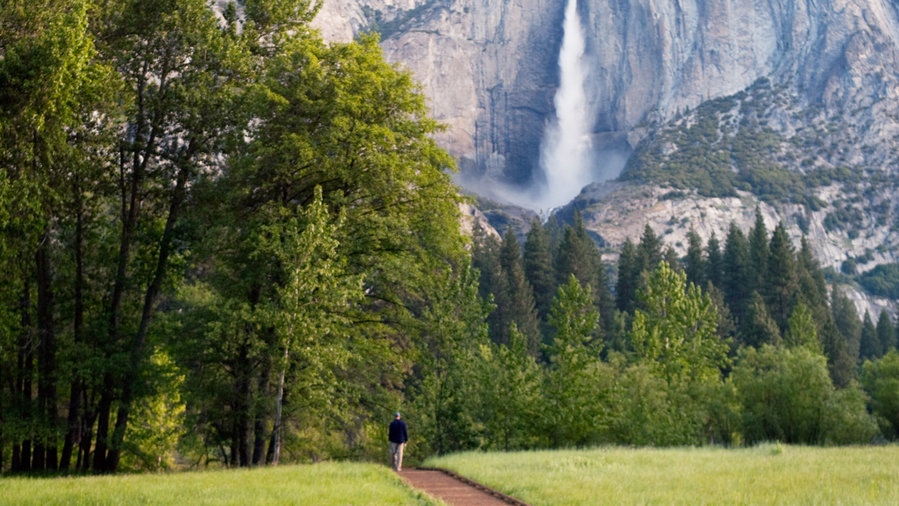 A lifelong Yosemite fanatic takes you on the perfect hour-by-hour tour
How much excitement can you pack into one day? In 24 hours, Jack Bauer regularly saves the world. In 24 hours, God created light. And you? You can construct the best day of your life in Yosemite National Park.
Peter Fish, editor-at-large and lifelong Yosemite fanatic, shows you how to get the most out of the park. All you need to know is where to go when, by following his hour-by-hour plan.
6 A.M. Sunrise 
The name may be gory—Slaughterhouse Meadow—but the view is heaven, with the sun's first rays washing the valley's granite walls and the Sierra peaks above them. It's in Yosemite Valley about a mile west of Camp 4.
8 A.M. Hike 
If you aren't a person who gets up at 6 a.m. to run into a meadow, you still need to see Yosemite Valley in the morning. Take the free park shuttle bus up to the Mirror Lake Junction: From there it's an easy walk, and the views of mountains reflected in still lake water are unforgettable.
9 A.M. Breakfast 
You may think breakfast in the wilderness must be foil-wrapped and dehydrated. Not in the Ahwahnee Hotel's baronial dining room ($$; 209/372-1489). Sunday brunch is the famous meal here, but frankly it's a little overwhelming. We like regular breakfast: specifically the raisin brioche French toast, which will power you through the day.
10 A.M. High times  
Get some vicarious thrills. Take the shuttle to El Capitan Picnic Area (stop E3) to see spring's squadron of climbers ascending El Cap, largest granite monolith in the world. If you're inspired to learn to climb, stop by the Yosemite Mountaineering School (from $117; 209/372-8344).
11 A.M. Waterfalls 
May's when the park's waterfalls are at their splashiest, and midday is the time to see Yosemite Falls at their brightest, no longer in the shadow of Lost Arrow Spire. It's a short stroll to the base of the Lower Fall from shuttle stop 6; it's a tougher hike, though, to get your face wet in the mist from Upper. Hike the first steep mile (with 1,000-foot elevation gain) to get to Columbia Rock and the amazing views.
Noon Lunch 
The park's fast food options are okay, but we prefer to grab bread, fruit, and cheese at Yosemite Village Store (209/372-1253), then take the shuttle bus to the picnic grounds at Happy Isles, starting point for the next adventure.
1 P.M. Waterfalls 
Time for cascades two and three in your triple crown of waterfalls. Take the Mist Trail 1.5 miles to Vernal Fall; continue another 1.3 to Nevada Fall. The trail is gorgeous, but occasionally harrowing (those narrow stair-steps carved into granite get our pulse racing, anyway). The views are like entering the world of Avatar, with no 3-D glasses needed because you're in real 3-D.
5 P.M. Ice cream 
Celebrate your hiking triumph with a double cone at the Curry Village Ice Cream Corner (opens May 15).
6 P.M. Photo op 
At the west end of Yosemite Valley, the Tunnel View Overlook (recently restored with the help of the Yosemite Fund) is the world's best view, especially in late afternoon when sun gilds the scene in golden light. Smile: Here's your holiday card for 2010.
Where to stay:
» The Ahwahnee Hotel Posh, pricey. From $470.
» Curry Village Cabins and tent cabins. From $108.
» Wawona Hotel A 19th-century hotel 40 minutes south of Yosemite Valley. From $150.
» Yosemite Lodge at the Falls Modern, comfortable motel-style rooms. From $207.
» Park entry $20 per vehicle (good for 7 days). Hotel reservations, yosemitepark.com; park information, nps.gov/yose
Keep Reading: