Diary of a Kitchen Remodel
Planning, patience, and sweat equity pay off for Sunset's building writer
Shortly after moving into our hillside 1,400-square-foot 1950s tract home, my wife, Beth, and I decided to remodel. The 12-by-13-foot kitchen was largely walled off from the adjacent dining room, which enjoyed a view of the San Francisco Bay.
Our goals were to open the spaces to each other and to reorganize and upgrade the kitchen as a warm and elegant entertaining area. We wanted to do all of this without adding space.
The process of remodeling took about nine months, but we were physically without a kitchen for less than three.
We took our time planning the remodel and choosing the materials, finishes, and appliances—sometimes changing our selections several times. After getting a construction estimate from a builder, we decided to save money by having me act as the general contractor.
It might have been less work with a professional contractor or architect to oversee the project—we ended up having to locate and hire 17 different tradespeople—but the extra effort paid off. We saved more than $30,000 and ended up with a kitchen that surpassed our dreams. This is our story of fine tuning and sweat equity.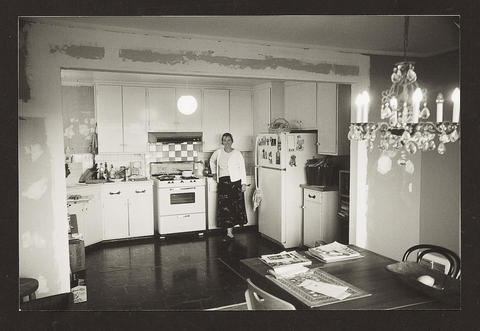 March
Bought house. Rude surprises awaited us in the kitchen: the counters were too shallow for a built-in dishwasher, and the oven fan vented only into the attic. Since a remodel seemed imminent, we removed some cabinets from the walls, took out the roll-around dishwasher and trash compactor to gain floor space, and tore off the black—yes, black—wallpaper.
April–July
Stared at the kitchen. Collected photographs of kitchens we liked; doodled out floor plans; gathered samples of backsplash tiles, counter materials, paint colors, flooring choices.
August
Hired a kitchen planner. Developed a concept that gave us something concrete to digest. After a kitchen contractor gave us a rough estimate of $60,000 for the job, Beth and I decided that I would act as the contractor.
September
Hired a carpenter. Although there was no finished plan, we knew a wider opening between the kitchen and dining room was needed. The carpenter removed the existing doorway and pass-through opening in this non-load-bearing wall and added a new 4-by-10 header and supporting posts. I filled in a doorway leading from kitchen to hall, then covered the studs with plaster wallboard. (We had decided the refrigerator would stand where this doorway once was.)
We now had a better sense of the new space and laid out the conceptual plan at full scale on the floor with blue masking tape, using rough measurements for placement of appliances. Made trips to appliance stores to select a refrigerator, range, dishwasher, sink, and faucets. Took all of their precise measurements. 
October
Drew a new floor plan. This was based on our revised ideas. Drew it at a scale of 1/2 inch to a foot (as well as an elevation of the back and side wall cabinets), then took the drawings to an experienced cabinetmaker, Philip Culbertson of Redwood City, California. Culbertson refined my drawings and made a set of plans for me to submit to the local building department. Beth and I agreed on vertical-grain fir for the cabinets and maple for the island base, which we planned to stain and paint.
November
Ordered appliances. (Based on Culbertson's timetable, we needed them to arrive at the end of January.) Selected limestone as the countertop material for its appearance, even though we knew it could be stained by wine or other deeply colored fluids. For the island top, I ordered a 3- by 5-foot chopping block of sustainably harvested Oregon madrone from a supply store in Portland.
Continued searching for backsplash tiles, but couldn't decide on color, size, or material. Still undecided on the floor.
December
We submitted final plans to building department and they were approved.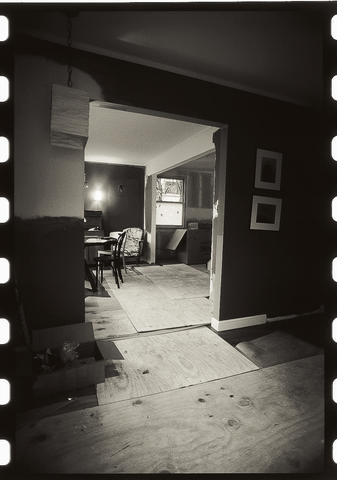 January
Destruction began. First, I covered and protected the floors in the dining area with thin foam and sheets of plywood, and then hired a laborer and an assistant. Tore out and carted away the old cabinets, plaster wallboard, and kitchen flooring, and then added a new subfloor. Also moved the old refrigerator to the garage, which became the site of our temporary kitchen.
Bought lots of paper plates , plastic cups and utensils. Cooked in a microwave and used a camp stove or our gas barbecue. Washed pots and pans in the utility sink as spiders watched, but soon we began to eat out frequently.
Hired electricians to rough wire the kitchen. Hired a plumber to relocate water, gas, and drain lines. Had to decide on wall tiles because their thickness determines the type of metal covers used to extend electrical boxes for wall plugs in backsplash area. Ordered tumbled limestone tiles to match counter.
Replaced old double-hung windows with double-glazed casement windows. Installed new insulation, framed the angled wall behind the range, then hired someone to install the plaster wallboard and someone else to tape the wallboard seams. Blocked off the kitchen with plastic sheeting to reduce the migration of dust to other rooms.
Hired a contractor to install new floor. After considering cork and stone floor tiles, we decided to extend the hardwood of the dining area into the kitchen for continuity and a look that made the kitchen seem more like a living space. The contractor stained the new floor to match existing oak flooring. Appliances, sink, faucet, and disposal arrived late January and filled the remaining space in the garage.
Worked with cabinet builder to decide on cabinet finish. Experimented with various finishes for the island. We decided to stain the island base red, add a coat of flat black paint, sand back the edges to reveal the red, then seal it with flat lacquer. Selected and ordered antique glass for four wall-cabinet doors. Ordered slabs of limestone to be delivered to local stone fabricator. Purchased doorknobs and drawer pulls from specialty hardware store. 
February
Installed farm-style trough sink and fir cabinets. Cabinetmaker hung doors, installed glass, and added pulls.
Electricians returned to add light switches, under-cabinet fluorescent fixtures, ceiling fixtures, and wall receptacles for dishwasher and disposal. Stone fabricator arrived to make exact templates for counters, including holes for plumbing fixtures and circulation. Fabrication took a week.
Hired heavy-appliance moving specialists to bring range and refrigerator up from garage.
Plumber returned to install and hook up dishwasher, faucet, disposal, and drain line after counters were installed and sealed. He and I muscled the range into position, sliding it on flattened cardboard boxes, after he hooked up a flexible gas line.
I installed the range hood and vent lines during two days of crawling around in the attic. While there, I added blocking around the ceiling light fixtures to hold back insulation. Cracked the ceiling with overzealous hammering and had to patch that area later with plaster and paint.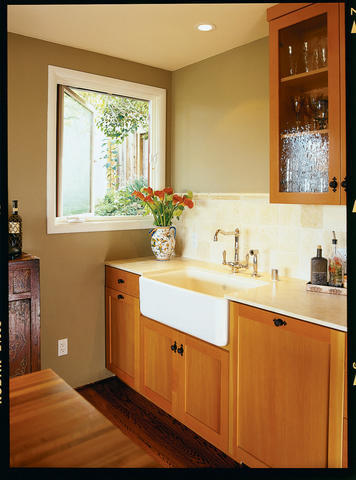 March
Asked a local tile shop for recommendations on tile installers. I originally thought of installing the backsplash tiles myself but knew it was critical in such a public room to have a professional-looking job. The installer came to the house to see the project and give us a bid. He installed it all in one day and grouted it the next. Electricians returned to hook up backsplash outlets.
After much debate, we decided to paint the dining room and kitchen the same color—a dusty olive green—to enhance the rooms' relationship and open flow.
Filled the built-in wine rack beside the refrigerator with bottles, opened one, and toasted the kitchen's near completion.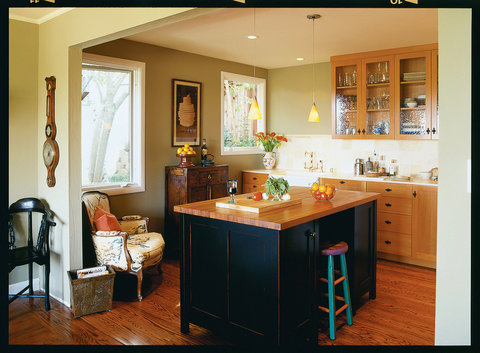 How We Could Have Saved More
Every choice of material represented a fork in the economic road, and in many cases we chose the more expensive path.
I estimate that we could have halved the expenses and still achieved the same floor plan by substituting these materials: vinyl flooring for hardwood; factory-made cabinets for custom ones; a drop-in sink for the trough sink; a standard dishwasher for the quiet, wood-paneled model with hidden controls; a smaller range for the six-burner gas model; an enamel-coated refrigerator for the wood-paneled one; laminate countertops for the limestone; and a maple butcher block instead of the madrone.
But because we served as our own contractor and did all of the legwork and much of the grunt work, these key upgrading decisions did not push us beyond our budget.
---
Read Our 2021 Harvest Issue Right Here!
Keep Reading: