Plant a Pumpkin Spice Latte-Inspired Garden That Looks Good Enough to Drink
Grab a blanket and cozy up to these Pumpkin Spice Latte-colored (and scented) plants.
Pumpkin Spice Latte (a.k.a. #PSL) season is nearly upon us, but even if you don't drink the stuff, that doesn't mean you can't appreciate the hygge autumn vibe they represent. To kick off the season, we've selected our favorite fall garden plants with a chai-spiced mood to visually echo that cozy fall feeling every time you look out the window; they evoke all the best of fall, but in creamier, frothier, nutmeg-dusted shades. We've also got some warm caramel-apple cider hues for the dairy-free crowd (plus a few dark chocolatey colors to sip on), and even a few that smell as good as they look. Drink up!
Caramel Coral Bells (Heuchera villosa 'Caramel')
There are tons of Heuchera varieties with warm-, spicy-hued leaves that look like they're dripping in gooey caramel and cinnamon—perfect for a Pumpkin Spice Latte (or caramel apple cider) garden.  We love 'Caramel' (and 'Mega Caramel'), 'Georgia Peach,' 'Fire Alarm,' and 'Christa.' They're outstanding additions to rock gardens or as groundcovers. Heuchera also make great container plants, especially when combined with other perennials for shade (but don't try growing it in a coffee cup). 
Nasturtium 'Peach Melba'
The blooms on this yummy nasturtium make us want to curl right up with a wool blanket and sip something warm. 'Gleam Salmon' and 'Ladybird Rose' are also delectable choices for a PSL garden. They're a lovely addition to a fall bouquet, too; just add chocolate-cabernet 'Arabian Night' dahlia, 'Autumn Beauty' sunflowers and some ornamental grasses.  
Dahlia 'El Sol'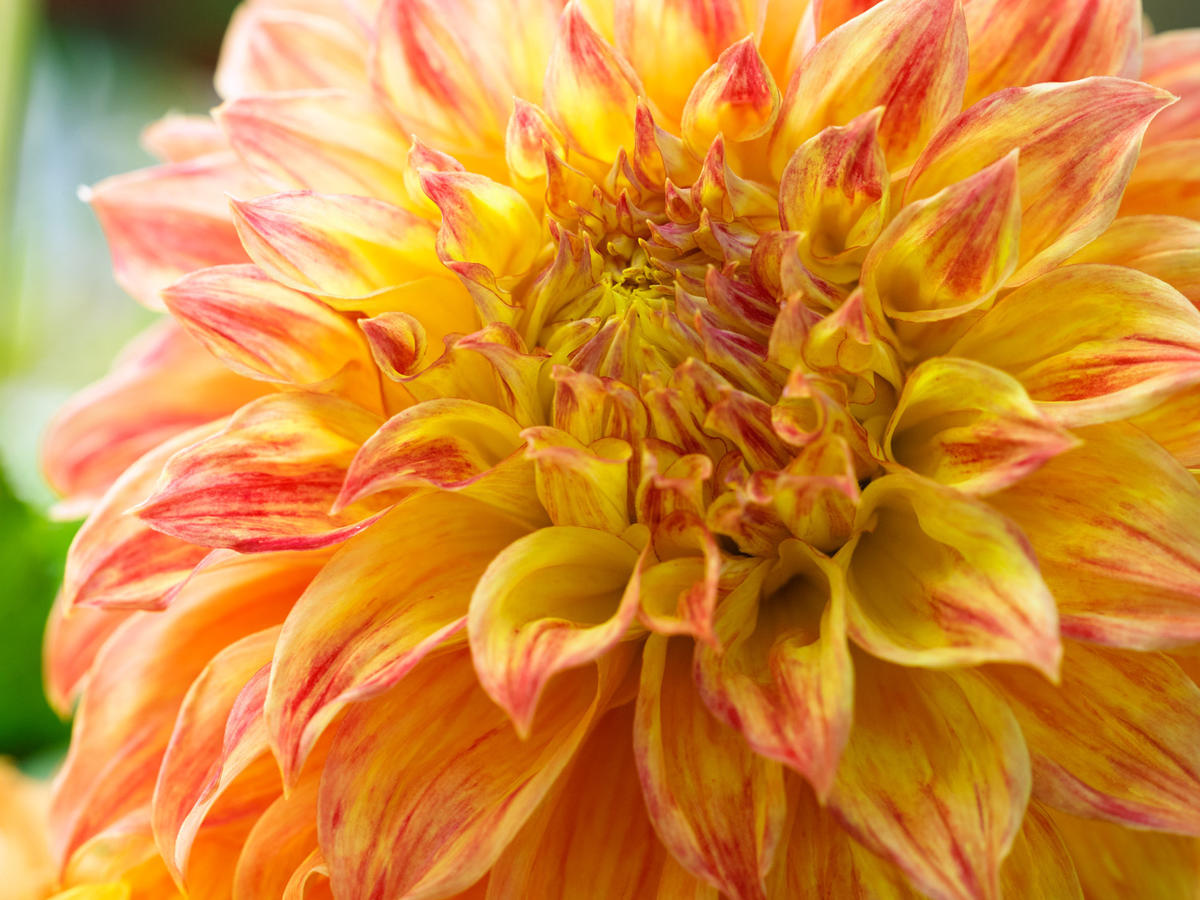 It may be named after the sun, but this dahlia makes us think of a harvest moon. The phenomenal variegated blooms on 'El Sol' — up to 12 inches wide on a 4½-foot-tall plant — are putting us in a major golden hour mood. These look stunning with other cidery hues.
Chrysanthemum 'Tropez'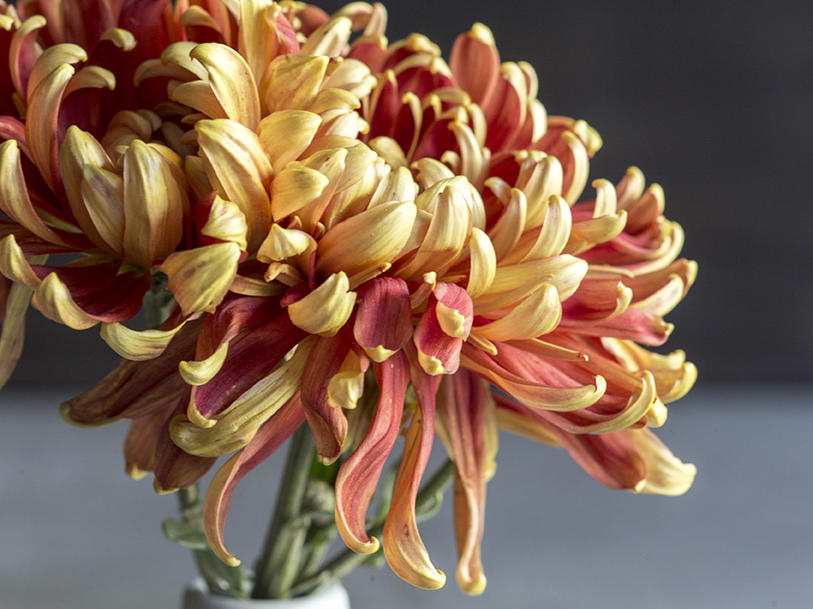 A flawless intermediate incurve form, 'Tropez' is another gorgeous chrysanthemum variety that just oozes autumn. Just looking at it makes us feel like we're eating popcorn balls and apple slices dipped in caramel. Chrysanthemums are a must-have in any fall garden and bouquet.
Scents and Sensibility
Don't worry, our pumpkin spice latte garden will satisfy all your senses. To take your pumpkin spice latte garden to the hilt, add some of these delectably chai spice-scented plants. 
Carnation 'Caramel' (Dianthus 'Caramel')
This spice-scented carnation is a florist's dream—we're absolutely gaga over this exquisite dulce de leche color. These are an outstanding way to add pop to more somber, black- and brown-flowered bouquets, and they look delicious with spice-colored plants.
Clove Currant (Ribes odoratum)
Photo by jojoo64 / Getty Images
Nutmeg-Scented Geranium Pelargonium 'Nutmeg')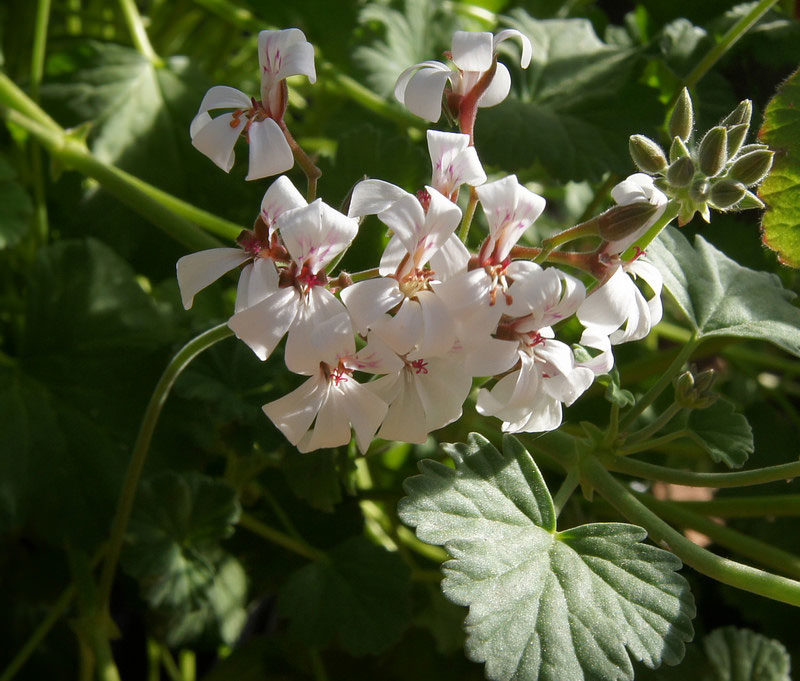 Creative Commons photo by Elena Ioganson is licensed under CC BY 2.0
This one may not look very autumnal, but don't let that deter you from considering this great border plant. Its flowers do look little like frothed milk, but more importantly, this heavenly scented geranium smells like it's ready to be scratched onto the foamy top of a Pumpkin Spice Latte. We also love the ginger-scented geranium. 
Carolina Allspice (Calycanthus floridus)
Photo by Katerina Korovina
The leaves, bark, and seed pods of Carolina allpsice (aka sweetshrub) have a sweet-spicy fragrance when crushed, and the red magnolia-like summer blooms on the 'Aphrodite' variety smell a little like apples. Put it all together, and we're getting some serious spiced cider vibes. It turns gold in the fall, right around the time when its fragrant seed capsules are ripe. Though it's native to the southeastern United States, this shade-tolerant shrub can be grown in Zones 5-9. 
---
Read our 2021 "Waters of the West" Issue Right Here!