All Our Favorite Crowd-Pleasing Vegetarian Chili Recipes
Reach for your vegetables and spices to make a hearty chili.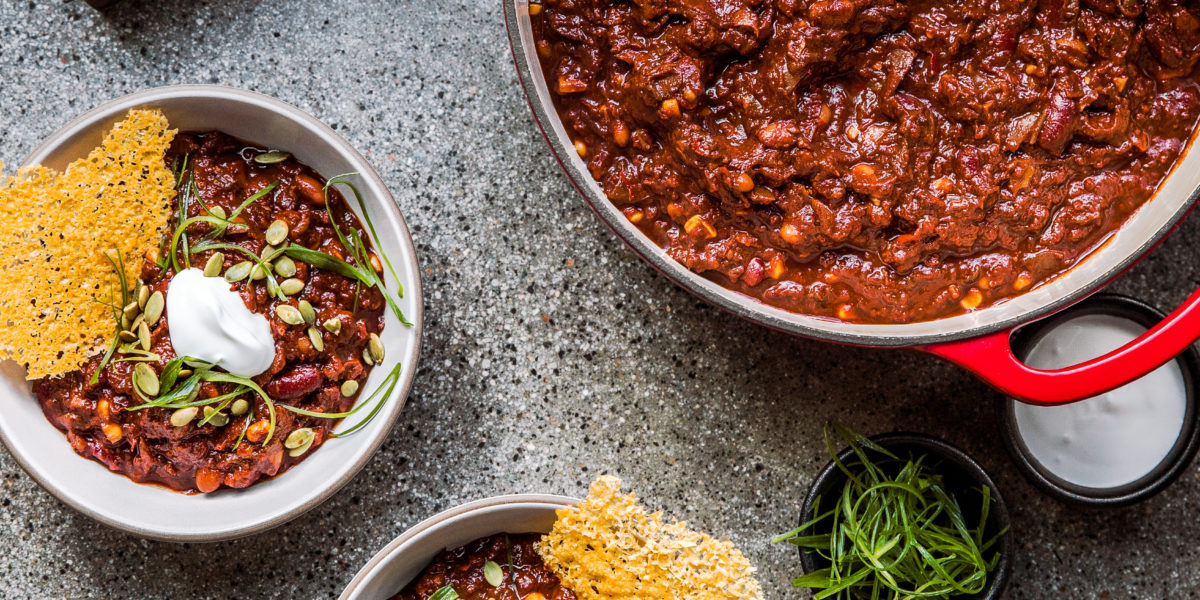 With the Super Bowl just around the corner and cozy winter recipes circulating, it's the perfect time to try a new chili recipe. While we often associate game days and cozy winter get-togethers with meaty chilis and heavy appetizers, this year take advantage of the vegetarian and vegan options with this curation of veggie chili recipes.
Joni Marie Newman, founder of Just The Food and contributor to The Meat-Free Kitchen, considers chili one of the most versatile dishes, especially for vegetarians and vegans, and here she shares her tips for converting meat-heavy dishes to vegetarian-friendly recipes for newbies and veterans alike. She recommends treating the vegetables like the protein in a non-vegetarian dish, which means seasoning or marinating them just as you would meat products. "Whether you're trying to create a dish that replicates meat or has a flavor completely on its own, it's all about the seasoning," Newman says. "You want ingredients that will soak up the flavors the most," she notes, pointing particularly to vegetables like jackfruit or the meat-substitute TVP (textured vegetable protein). 
TVP can mimic ground beef because of its crumbly texture, making it particularly suitable for chili recipes. It expands by soaking up the broth as you cook the chili and is a strong meat replacement because it's high in protein and able to adapt to the flavors around it. You can mimic pulled pork or shredded chicken if you pick a young green jackfruit. "Young jackfruit barely has any flavor, but it has texture and can pick up any flavor it's in," Newman says.
What makes chili chili is its complex and explosive punch of spices. Dustin Harder, chef, cookbook author, and host of the weekly podcast Keep On Cookin', says his secrets to a flavorful chili are high-quality chili powder, cumin powder, garlic, and onion. He recommends using "ancho or chipotle chili powder to make it a little more spicy, and traditional chili powder for a milder and sweeter flavor."
Harder notes you can add "coffee, espresso, or even chocolate" to create richness and add depth. "Sweet spices like cinnamon, nutmeg, cloves, and allspice are wonderful spices to add to a chili to give an aromatic flair. Tamari, soy sauce, liquid aminos, and miso also provide a great pop of umami to take vegetable chili to the 'meaty' finish line," he says.
This year, whip out your slow cooker and spice rack and try a vegetarian chili with these recipes below.
---
Search All of Sunset's Recipes
Read the Current Issue Here!
Get one year of Sunset—and all kinds of bonuses—for just $24.95. Subscribe now!
Keep Reading: