The Recipes You Should Be Cooking This October
From sweet potato tea cake to comforting chicken olive stew, these 28 dishes will become your new fall classics
It's officially October, which can only mean two things: 1) Most of us will take part in the annual Halloween duty of watching Hocus Pocus while snacking on festive treats, and 2) It's really, truly time to break out the comfort food recipes. (September recipes are just a little teaser to fall, but now we're fully in the thick of it.)
But while October recipes are often (and predictably) focused on pumpkins, there's no reason to go overboard. This month is just as much about kabocha, butternut squash, and sweet potatoes as it is about pumpkin spice, pumpkin muffins, and pumpkin soup. Belly-filling pastas and hearty stews have their own special places in our hearts (and our stomachs). Here, we share the crowd favorites you'll want to cook, bake, and simmer all month long.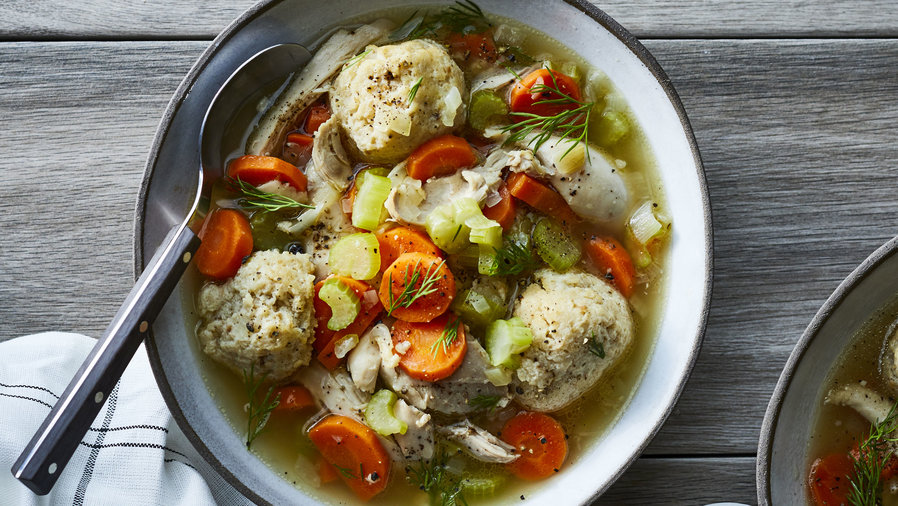 Comforting Soups
Matzo Ball Soup
Tender shreds of chicken drumsticks and thighs make this brothy soup extra satisfying, while smaller-sized matzo balls make for easier eating.
Italian Chicken Sausage and Artichoke Soup
It takes less than 45 minutes to make this one-pot soup, which is an ideal dinner for all the busy cooks out there. We like the fennel flavor of Italian sausage, but any chicken sausage works, too. 
Thai Chicken Coconut Soup
This classic Thai tom kha gai soup gets its sweet-savory flavor from coconut milk, lemongrass, ginger, lime, fish sauce, chile paste, basil, and cilantro. It's even better the next day after the flavors have had time to rest and meld together. Leftovers highly recommended.
Butternut Squash and Corn Soup
Butternut squash is the key to a silky, October-appropriate soup like this one. Fresh corn kernels add a light crunch. We'll take a bowl right now, please.
Creamy Pumpkin Seed and Green Chile Posole
Serve this vegetarian version of traditional Mexican posole with all the toppings and sides—corn tortillas, cilantro leaves, sliced green onion, and crumbled cotija cheese.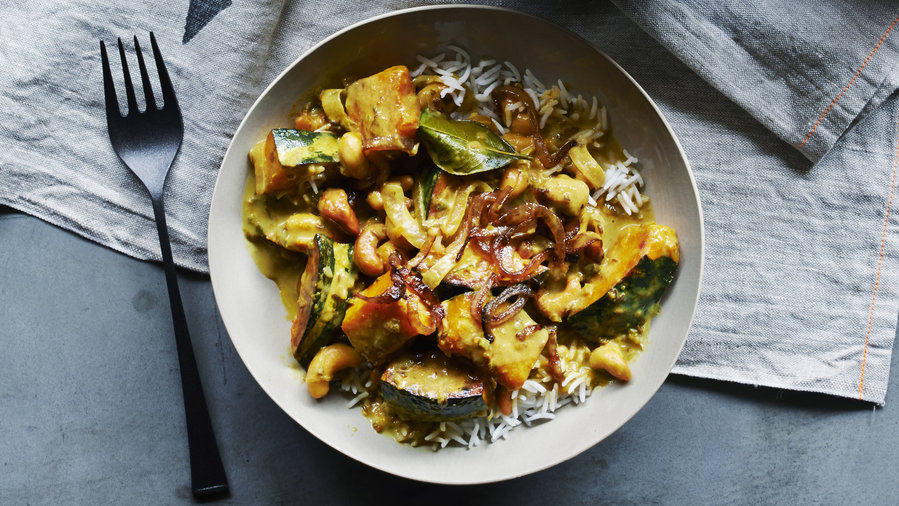 Hearty Stews
Cashew, Coconut, and Squash Curry
You don't have to strictly stick to the ingredient list for this sweet, coconut-y curry. Once you get the proportions down, you can change up the main ingredients. Try eggplant or tofu instead of winter squash or toasted almonds instead of cashews.
Chicken, Quinoa, and Green-Olive Stew
We love this soupy stew for its warming effect and quick cook time (it only takes one hour!). It's full of briny olives, just a bit of chile, and orange zest for a bright citrusy taste.
White Wine Coq au Vin
Chicken stew made with wine is a French classic—this herby version is made with white wine for a crisper flavor. Have a baguette ready for dunking.
Mushroom, Beef and Bacon Stew
Thick-cut bacon, beef chuck, potatoes, and a variety of mushrooms make up the base of this fall stew. You can use any mushroom you like, but we're fans of a king trumpet, shiitake, and pioppini combination.
Garbanzo-Tomato Curry
Make this stew as an excuse to use up some pantry staples like canned beans and tomatoes. Odds are you have most of this vegetarian curry's necessary spices (cumin, mustard seeds, curry, and cayenne) hiding in your kitchen, too.
Thinking Outside the Pumpkin
(…but if you insist, click here for pumpkin recipes)
Sweet Potato Tea Cake with Meringue
Tartine Bakery's sweet potato cake uses roasted, puréed sweet potato for a soft, moist crumb and a slight spiciness that feels like the perfect fall dessert. 
Butternut Squash Spice Cake
A mix of spices, coconut sugar, and just enough bourbon make this three-layered butternut squash cake a knockout. 
Kabocha Squash Creme Fraiche Pie
This pie recipe uses kabocha squash, but you can also swap in other squash like Sugar Pie pumpkins or even canned pumpkin. Top each slice with crème fraîche, snuggle under a blanket, and enjoy fall at its finest. 
Sliced Persimmon Slab Pie
This is exactly the kind of pie you want to come home to at night. Cinnamon and lemon bring out the fruitiness of persimmons, and thick pie crust gives it a satisfying crunch.
Sweet Squash with Walnuts
A 5-ingredient dessert that is surprisingly low-lift, this sweet butternut squash recipe isn't complete without warm, buttered walnuts and a scoop of crème fraîche on top.
Kabocha Leek Tart
Do you like creamy fillings and buttery, flaky crust? Same. That's why we keep making this savory kabocha leek tart year after year.
Roasted Fall Vegetables
Roasted Cauliflower with Cilantro-Pecan Pesto
Chef Josef Centeno shares this recipe for Tex-Mex style cauliflower in his new cookbook, Amá. You can also just make the cilantro-pecan pesto to use throughout the week.
Roasted Kabocha Squash with Farro and Mustard Greens
Is there a better time to eat a plate of winter squash, ancient grains, and mustard greens than a chilly October evening? 
Oven-Roasted Potatoes and Carrots With Thyme
If you have 40 minutes on the clock to make a fulfilling dinner, try these tender potatoes and carrots. Simply roast them and toss with thyme and butter for a rustic, French take on veggies.
Roasted Fall Vegetables with Lentils and Spices
The garam masala (an Indian spice blend that typically includes black pepper and a mix of sweet and savory spices) in this Brussels sprouts, butternut squash, and lentils dish fills your kitchen with a better fragrance than any pumpkin candle ever could.
Roasted Parsnips
There's nothing wrong with simple. Case in point: these roasted parsnips, which are mildly sweet like carrots but starchy like potatoes.
Roasted Delicata Squash with Honey, Pomegranate Seeds, and Pepitas
The skin of delicata squash is tender when roasted and very flavorful, so try it along with the flesh. Pomegranate and pumpkin seeds add a sweet, nutty crunch on top.
Autumn Pastas
Radiatore with Crispy Chicken, Carrots, and Sage
A hearty chicken pasta like this one is meant for sharing. Roast a chicken if you have time, or buy an organic, roasted chicken from the butcher or supermarket.
Roasted Vegetable and Mini Meatball Pappardelle
Smooth, eggy pappardelle noodles get the VIP treatment with roasted potatoes, peas, and bite-sized grass-fed beef meatballs. 
Arugula Walnut Pesto Farfalle
The solution to fresh pesto when basil isn't in season anymore? This walnut version made with peppery arugula. 
Spaghetti with Anchovies and Bread Crumbs
Don't get scared off by the mention of anchovies—they mostly work to add a salty, umami effect (rather than fishy) for most dishes, including this pasta. Chiles add spark to this sauce, and toasted bread crumbs add crunch.
Whole-Wheat Lasagna with Butternut Squash and Kale
Crunchy kale and puréed squash are layered between sheets of pasta and tangy tomato sauce for a lasagna to make when you don't feel like eating meat.
Spicy Sausage and Chard Pasta
A pair of Sunset readers submitted this pasta recipe to us and it's still one of our favorite spicy sausage dishes to cook. You can use mild sausage instead if you're not a fan of heat.
Keep Reading: