Overnight Oats Are Your New Go-To Breakfast Item
With a variety of options for toppings, the opportunities for delicious breakfasts are one recipe away!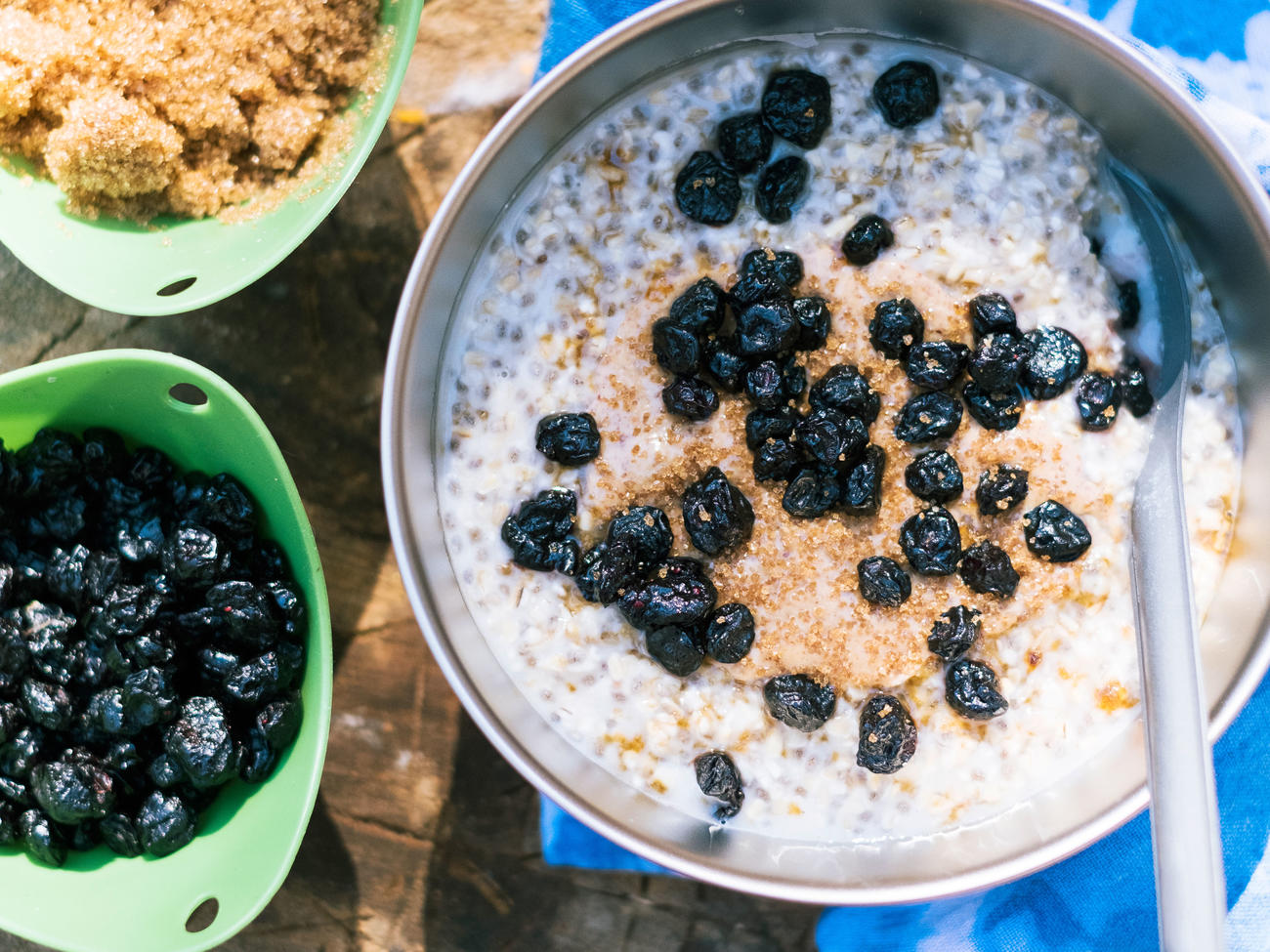 When it comes to eating breakfast, it can be tough to motivate yourself to cook something delicious first thing in the morning. I am guilty all too often of skipping the "most important meal of the day" and replacing it with bulletproof coffee and dry toast to get me through early meetings.
It's time for the dry toast to move over, though, as I'm officially swapping it out for overnight oats. They're an easy, efficient, and tasty way to fuel your mornings, and they can be made entirely in advance and personalized each day with different toppings and flavors—perfect for any meal prepper or early bird.
The base of overnight oats is oatmeal (of course) and some kind of liquid, whether it be plant-based milk, water, or a combination of both. The first time I ate overnight oats that stood out in terms of flavor and texture, I was working as a barista at Go Get Em Tiger in Los Angeles. Employees took turns mixing large batches of the popular breakfast item in quart containers to last a few days and topped them with nut butter, chia pudding, and fresh berries to order. Lunch breaks spent sipping a shaken latte and eating oats with an extra spoonful of chia pudding were filling and energizing as I worked my way through midweek shifts. 
When it came time to search for a recipe to share with you, I called up the good folks over at Go Get Em Tiger and asked if I could please share theirs with our readers. And apparently I am not alone in wanting that recipe to make at home! "I've had a lot of customers ask for the recipe over the years because it's easy to make in bulk and have in your fridge," says Brent Glanville, culinary director of operations. Not only did the team share the recipe, but I also spent far too long chatting with Brent about oats, oatmeal, milk, and topping variations to experiment with at home—I mean have you ever spent 30 minutes talking just about oatmeal?!
Here's all the insight into perfecting a base of overnight oats and balancing the flavors of your toppings, and rounded up some of our favorite recipes to make as versatile toppings. 
Start with a Good Base
Good overnight oats day after day start with ensuring that your base is well-flavored and thick, without overpowering its toppings. "You can use any kind of plant-based milk in overnight oats," Glanville shares. "We cut the coconut milk with water because otherwise, it might be a little rich." The cafe's recipe, originally created for them by chef Marilei Denila, takes a unique topping approach by not including anything that may trigger nut allergies, like peanut butter, almond milk, or other nuts, which is why coconut milk makes for an ideal option for the base. 
The coconut milk, water, and oats are then mixed together with brown sugar and cinnamon. "Brown sugar gives it a bit of a deeper caramel flavor and depth of sweetness," Glanville explains. Once combined, the mixture sits in the fridge for eight hours or overnight (hence the name), and voila—thick, creamy, soft oats await you in the morning.
Many people add chia seeds to the oat mixture to help it thicken faster or more efficiently. Glanville and the GGET team prefer to top their overnight oats with a chia pudding that comes together by combining the seeds with water; this helps control the thickness of the oats and shelf life as the days go by. The pudding can be stored in a separate container to be scooped on top of the oatmeal just before serving. 
Get Excited About Toppings
Topping options are endless with overnight oats. "We add sunflower seed butter on top and a toasted seed blend that we make with pepitas sunflower seeds, poppy seeds, and sesame seeds," Glanville says. "The seeds are toasted together to bring out the flavors a bit more and that's really nice because it adds a little bit of crunch and texture." To double up on the oats, you can also add a few spoonfuls of granola for a textural difference. 
The GGET team makes sunflower butter in-house, which is actually easier than it sounds. "We make the sunflower seed butter by blending olive oil, grapeseed oil, and toasted sunflower seeds with a little bit of salt blended together," Glanville says. The sunflower seed butter, he adds, brings a bit of saltiness to the dish that offsets the subtle sweetness of the oats. The recipe doesn't use too much sugar, though. "We don't want it to be too sweet because it should be refreshing to start your day with," Glanville explains. 
Adding fruits to your overnight oats is also a great way to add bursts of flavor and freshness. For variations to make throughout the week, swap in fruits like blueberries and pomegranate seeds, or opt for a spoonful of jam if you don't have fresh fruit on hand.
Below, we've gathered some recipes to make and use to top your overnight oats as well as a pair of recipes to get you started with a base.
---
Search All of Sunset's Recipes
Read the 2022 Winter in the West Issue right here!
Keep Reading: