A Foodie's St. Patrick's Day
Flavorful updates to the holiday's favorite dishes, from Sausage and Cabbage Soup to tender corned beef made the easy way.
Irish cuisine, with its meat-and-potatoes simplicity, is good and filling. But if we're being honest, it can lack in subtlety, especially if you are thousands of miles from good Irish butter and local beef, and a few generations away from being someone who cooks these dishes regularly.
Enter these respectfully updated recipes for favorite Irish dishes. You'll find all of the soulful sprit you're expecting, and possibly even more flavor. These recipes are all made with ingredients readily available in the West.
Best of all, they are probably easier than you're expecting, too. Our corned beef does cook for hours, but it's all oven time with little to no work needed beyond basic supervision. And we think you'll love what braising, as opposed to boiling, does to the rich meat.
If you like corned beef, we have one other option for you as well: A delicious beef and cream cheese terrine would be a fantastic first course for a St. Patrick's Day feast. Fresh parsley lightens up the flavor, and horseradish electrifies what could be an overly rich dish.
And what would an Irish dinner be without potatoes? You'll love this recipe, made with potatoes that bake in the oven with the flavorful meat, and which are then covered in a zingy, herby sauce. They're as far from bland baked spuds as you can get. Ditto this Irish soda bread, made with some whole wheat flour to give it another flavor dimension, making it possibly even more satisfying than the warm, dense traditional version.
Whether you try these recipes, stick with something more traditional, or wing it entirely, wish you a happy St. Patrick's Day!
Try These Updated Classics
Tender Corned Beef the Smart, Easy Way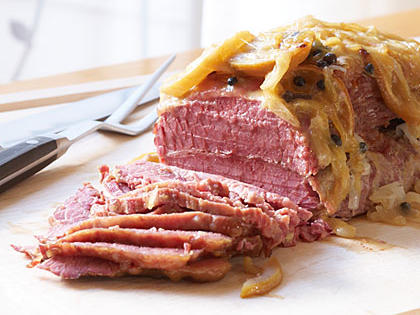 This untended corned beef is baked discreetly, with exceptionally tender results. Bake potatoes with the beef and make a handsome red cabbage salad for a celebration fit for the classiest guest.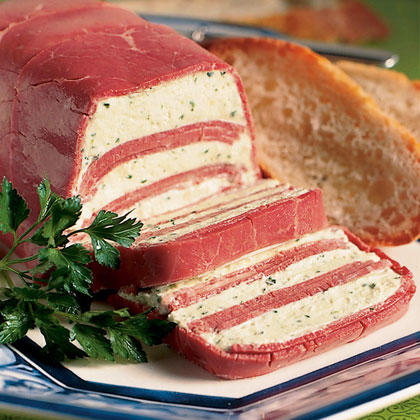 Corned Beef Horseradish Terrine
Delicate cream cheese layered with corned beef makes a wonderful St. Patrick's Day first course. Parsley provides the color, horseradish the zip.
St. Paddy's Potatoes with Green Sauce
Add these potatoes to the oven for the last hour your corned beef bakes.
Red Cabbage Curtido
Curtido, a crunchy, piquant relish of cabbage cured briefly in a salt-and-vinegar brine, is easy to make at home and serves as a great companion for corned beef on St. Patrick's Day.
Kinsale's Irish Soda Bread
Ireland's green beauty may leave a more lasting impression than its cuisine on some. But frequent visitors Charlotte and Stanley Fisher (Stanley was once a local lad) have high praise for the meals they enjoyed in the south coast city of Kinsale, County Cork, corroborating its local reputation as a gourmet capital. Charlotte, who appreciates an easy recipe that works well, passed along this Kinsale version of soda bread. It's made with whole-wheat flour, which another Irish buff friend of mine declared makes it brown bread. I'm sure such a fine point of semantics can be settled calmly over a foamy pint with a warm wedge of this hearty bread and a nice hunk of cheese.
Red Pear, Onion, and Cabbage Salad
Flaunting the hue of certain red vegetables is simple if you know what turns it on. The red in cabbage and onions is enhanced by acid, like that in vinegar, fruit juice, and wine. Without acid, red cabbage and onions turn purple-blue as they stand; when cooked, cabbage gets bluer, onions fade. The dressing in this recipe makes a salad brilliant.
More Recipes from the Emerald Isle
Roasted Sausages with Beer-Braised Onions
---
Search All of Sunset's Recipes
Keep Reading: