Where To Go This Weekend: Boulder City, NV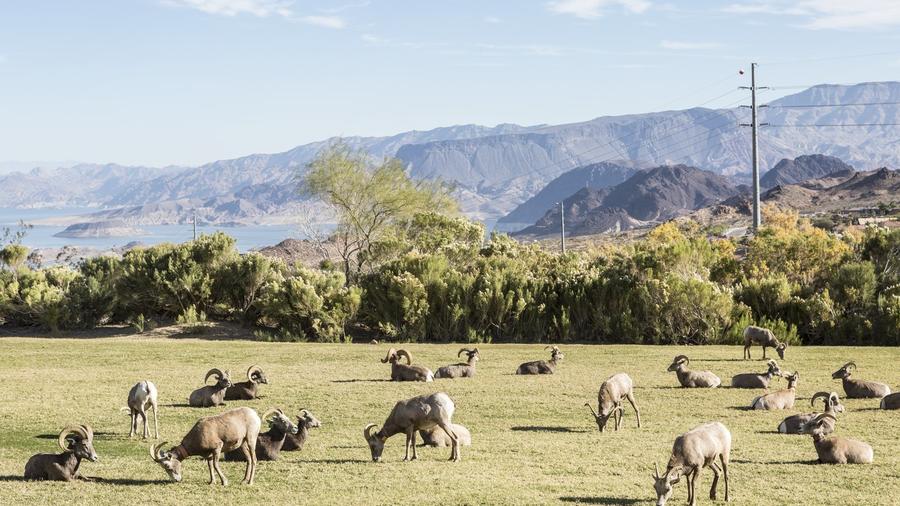 Though it's located a mere half hour from Las Vegas, unassuming Boulder City feels a world away from Sin City. In fact, says Al Stevens, ...
Though it's located a mere half hour from Las Vegas, unassuming Boulder City feels a world away from Sin City. In fact, says Al Stevens, a local restaurant owner, when visitors at Vegas hotels ask    "'where can I go to get away from all this?' the concierges say, 'Boulder City.'" With homespun restaurants, quirky shopping, and not a single slot machine in sight, the little town that built the big dam charms its way into travelers' hearts.
We sent writer Anne Burke to check out the historic hamlet. Here, her five picks for a perfect day in Boulder City.
1. Nostalgia with a side of bacon
In the late 1920s, the federal government—seeking to distance the crews building Hoover Dam from the fleshly pleasures of Las Vegas—chose a barren patch of desert 26 miles from Sin City to house the thousands of hardy workers. Green and grassy today, Boulder City attracts antiques hunters, Harley riders, and history buffs, not with craps or blackjack (gambling is illegal here) but with a busy historic district, filled with bars, restaurants, and shops. Fuel up at the World Famous Coffee Cup Cafe (512 Nevada Way), a family-owned joint that slings comfort food amid nautical-themed kitsch that calls to mind Gidget in Malibu. Dad Al Stevens's 1964 longboard hangs on the wall, alongside boat propellers and water-skis. Find son Terry filling crack-o'-dawn orders for Bloody Marys, garnished with a thick slice of bacon. While the Coffee Cup conjures the '60s, Boulder Dam Brewing Co. (453 Nevada Way) takes travelers back to the 1930s, with hulking ore buckets and beer taps fashioned from railroad spikes. Try the High Scaler Pale Ale, a brew named for dam workers who dangled 700 feet in the air, clearing loose debris from canyon walls.
2. Desert treasures
Housed in an old laundry building, Goatfeathers Emporium (1300 Wyoming St.) also celebrates the past. Inside the market, whimsically repurposed castoffs—teacups as lampshades, empty wine bottles as bird feeders—share space with masquerade-ball masks and "good for all night" brothel tokens. Don "The Crystal Wizard" Thompson, a glassblower for 47 of his 77 years, wields his torch to make tiny birds, bunnies, and dragons. For more art, stroll along Nevada Way and Arizona Street, where outdoor sculptures honor dam workers, including such unsung characters as Alabam, an outhouse cleaner dubbed the "Toilet Paper Hero of Hoover Dam."
3. A walk on water
Each year, a million people flock to Hoover Dam to stare at the graceful curve of concrete 59 stories high, with its art deco intake towers, and 110-mile Lake Mead behind it. For an inside view, take the one-hour Hoover Dam tour (power plant tour $15, Hoover Dam tour $30). En route, an elevator ride takes you down 530 feet in 70 seconds for a walk through a narrow inspection tunnel, the shoe-rumbling experience of standing atop a huge pipe when the Colorado River rushes through at 175 cubic feet per second, and a debunking of the most persistent dam myth ever—that a body is buried inside all that concrete.
4. Celebrity sleeps
The opulent Boulder Dam Hotel (from $84; 1305 Arizona St.) once hosted Shirley Temple and the crown prince of Norway. With its wood-paneled lobby, sumptuous guest rooms, and original chandeliers, the hotel remains Boulder City's most elegant digs. Tourists and locals alike eat Sunday breakfast on the porch, and the hotel's excellent historical museum (free for guests, $2 non-guests) explores the dam, the town, and the people who built both.
5. City sheep
Just five minutes from downtown, a rare sight awaits at Hemenway Valley Park (401 Ville Dr.). Herds of desert bighorn sheep wander down from their rocky homes for an all-you-can-eat buffet of clover and grass. You may also spy the elusive animal from the Historic Railroad Trail, an easy 3.7-mile path that begins at the Lake Mead National Recreation Area visitor center and follows an old railroad bed. En route, enjoy sweeping views of Lake Mead and keep your eyes peeled for owls and lizards.
Keep Reading: