A Most Unexpected Location for a Restaurant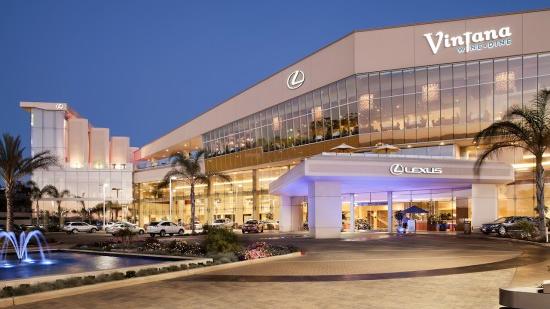 In San Diego, one stop shopping for dinner AND a lexus.
Does anyone else want to talk about this multi-use tenancy: a restaurant and a car dealership in one building? Immediately what sprung to my mind was: "Only in LA." But then I was immediately wrong, because it's in Northern San Diego.
I only wish Vintana Wine + Dine had had more fun with their location on the menu. Like why no Dual Variable Valve Timing salad? Or a 380hp cocktail? Apparently, they do have a vodka lounge and a bunch of local craft beers.
So the question is, Does every car dealership need a restaurant? Or does every restaurant need a car dealership? If anyone's bought a car recently, you know how pleasing three shots of vodka can be, with a chaser, after sitting at the salesperson's desk for an hour, while they "go talk to their manager."
Keep Reading: