One Perfect Day in the Albuquerque Outdoors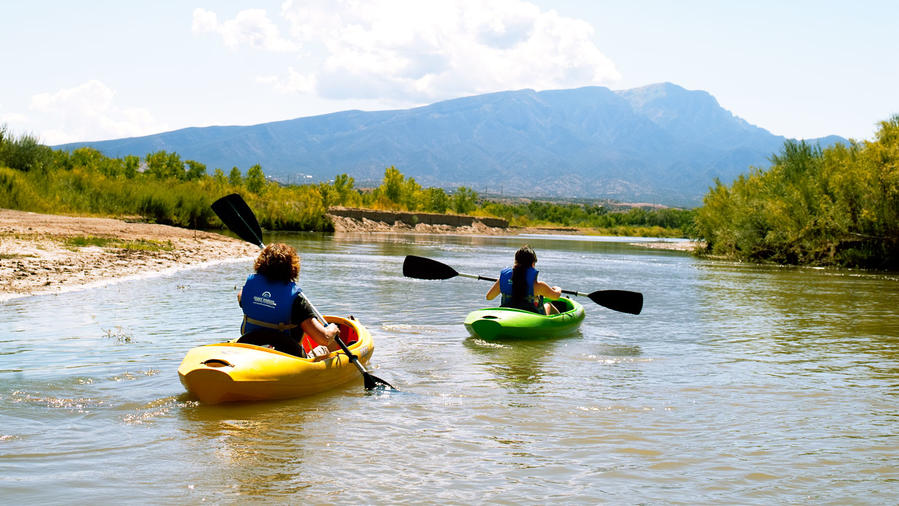 It's prime time for a getaway filled with kayaking, biking, and dining
Why go now: The river's swollen, the cottonwoods are blazing green–what better time for a spring adventure?
High-water mark: This time of year, the middle Rio Grande rises by up to 3 feet, and now there's finally a way to get on it–kayaking.
Prefer to pedal?: Do it along the easy Paseo del Bosque (trail info at cabq.gov; bike rentals at thebikesmithllc.com), a 16-mile paved path that hugs the cottonwood forest, where you might spot a roadrunner.
Prescription to refuel: The spicy green-chile stew served with just-made tortillas at Duran Central Pharmacy ($; closed Sun; 1815 Central Ave. N.W.; 505/247-4141), and Old Town diner.
Did you know?: The Sandia Mountains, which turn pink and green at sunset, are named after the Spanish word for "watermelon."
Vintage vino: Spanish missionaries cultivated grapes here 140 years before California's first vines were planted, making New Mexico the country's oldest wine-producing region.
Try a glass: At the Albuquerque Wine Festival (May 28-30; $15; Balloon Fiesta Park; abqwinefestival.com), 25 local winemakers ply you with their best stuff.
Have a run at the Rio Grande: Newcomer Quiet Waters Paddling Adventures is making noise with its guided kayak and canoe tours. Launching north of town, your small flotilla navigates 15 scenic miles straight into Albuquerque. These are class I waters–nothing rapid about them–so paddlers can relax and enjoy the parade of old-growth cottonwoods, red desert vistas, and songbirds that provide the soundtrack for the one-to five-hour journey. From $45; quietwaterspaddling.com
New Mexico's ghost towns: To get a glimpse of the state's most surreal landscapes, you need to hook up with the right guide. New Mexico Jeep Tours packs trekkers into four-wheel-drives and zips them 25 minutes north–to private lands behind the Sandia Mountains–for a romp through ancient Puebloan ruins, petroglyphs, and crumbling pioneer settlements. Keep your eyes peeled since tours frequently happen upon bands of wild horses. From $85 for three hours; nmjeeptours.com
Pub grub, fiery beer: Opened last year in the busy Uptown District east of downtown, ABQ Brew Pub is earning street cred with its handcrafted beers and spiffed-up grub, like black mussels in a court bouillon of tomatoes, celery, and Spanish onion. Our favorite food-beer pairing: the fire-roasted pepper crostini chased with a pint of green chile-infused Pancho Verde. $$; 6601 Uptown Blvd. N.E.; 505/884-1116. 
Your million-dollar view: It took a team of Swiss engineers two years to build the Sandia Peak Tramway along the rugges western face of the Sandia Mountains, 15 minutes east of town. As you glide 2.7 miles over deep canyons and granite spires on you way to the 10,378-foot peak–with views all the way to Santa Fe–be sure to thankt hem for the time. $20 round-trip; sandiapeak.com
Make it a weekend: Less than a year old, Hotel Parq Central brings a burst of sparkle to the up-and-coming EDo neighborhood, east of downtown. The high-ceilinged, desert-toned rooms are comfy, but if you want to double your space, opt for one of the three cottages, equipped with fireplaces and walk-out patios overlooking a perky garden of irises and lavender. From $160; hotelparqcentral.com
3 More Reasons to Head Outside
It would take weeks to see all the images chiseled into Petroglyph National Monument. Try the manageable Rinconada Canyon Trail, where 200 to 300 petroglyphs are visible amid volcanic rock and sand dunes. Unser Blvd. N.W. at Western Trail; nps.gov/petr
To elevate your sightseeing, book a slot with Rainbow Ryders, one of the area's top ballooning outfitters. Depending on the wind, you'll soar to 3,000 feet and dip low enough to graze the Rio Grande. Breakfast and bubbly included. From $150; rainbowryders.com
North of Old Town, Rio Grande Nature Center State Park accesses 270 acres of riverside forest–ponds, meadows, and 100-year-old cottonwoods. Bring binocs: It's a migratory flyway for sandhill cranes and Canada geese. $3 per vehicle; 2901 Candelaria Rd. N.W.; nmparks.com