Slow Food Meets Slow Flowers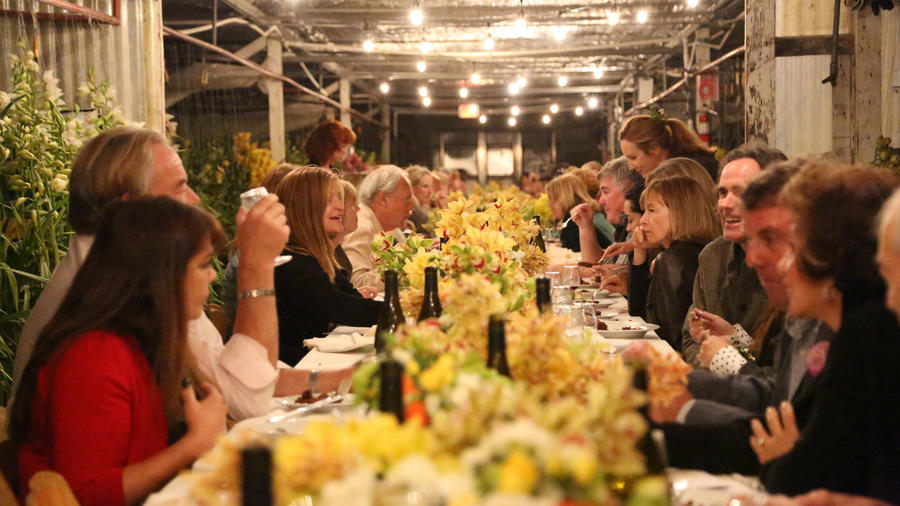 I'm a lover of locally grown flowers. I'm also a locavore who always asks where the items on a menu were grown or sourced. So what happen...
I'm a lover of locally grown flowers. I'm also a locavore who always asks where the items on a menu were grown or sourced. So what happens when you bring together local food and local flowers? You get the Field to Vase Dinner – a one-of-a-kind dining experience that celebrates the regional and seasonal flowers that decorate the table, as well as the regional and seasonal food served on the plate
The farm-to-table landscape is filled with many wonderful dinner experiences held in places like vineyards, meadows or beaches.
And we love the sense of community that they evoke, as guests gather along either side of a farm table and taste locally grown ingredients prepared by a rock star chef.
The spotlight is on the farmer or the rancher; the winemaker or the craft brewer, right?
But what about the flowers that set the mood for such a unique event?
Often we don't even see flowers at these farm-to-table venues, but to me, that makes for an incomplete dining experience – especially when the event focuses on America's agricultural heritage.
So, as the creator of the Slow Flowers Movement, I was thrilled to join forces as a co-host of the Field to Vase Dinner Tour, a series of pop-up culinary events that places flowers at the center of that food-laden farm table. Yes, we love our chefs. Yes, we love the winemaker. But we also know that locally grown flowers are food for the soul — an essential component to a successful dinner party!
The first F2V event of the year was held last week in Carpinteria, California, the country's most prolific source of cut flowers. One hundred foodies, flower lovers, industry insiders, gardening enthusiasts, and community members sat beneath twinkling cafe lights around linen-covered tables. They dined on a delicious, four-course menu prepared by Chef Denisse Salinas of Le Petit Chef, and sipped wine from Margerum Winery of Buellton, California. It was an evening of beauty and taste in equal measure.
The setting wowed everyone. Picture yourself surrounded by the beauty and refinement of a forest of mature cymbidiums that filled one of the growing houses at Westland Orchids, our special venue. Who wouldn't fall in love with these beautiful California-grown flowers?
Lush, exotic, vivid in color and fascinating in all their forms, orchids grown by the Van Wingerden family helped to set the mood for one of the most unusual dinner settings I've ever experienced.
At Westland Orchids, there are 12 acres devoted to growing cymbidiums and phalaenopsis plants. The orchids grown here have an amazing pedigree. Jerry Van Wingerden is a 14th generation flower farmer and his great-grandfather developed one of the first greenhouses in Europe during the 1800s. His son, David Van Wingerden, a 15th generation flower farmer and the company's sales manager, brings tremendous knowledge and expertise to the daily operations of growing orchids with sustainable practices.
There was a bonus surprise: The greens featured in Chef Salinas's salad course — "Westland 'Little Gem' Lettuce and Pea Tendrils" — were grown on site at Westland Produce, a sister company to Westland Orchids. That's hyper-local, fresh and delicious.
And what about those orchids?
With tens of thousands of cymbidiums as her inspiration, guest designer Margaret Lloyd of Margaret Joan Florals of Montecito, California, created a lavish tablescape with turquoise glass vases donated by Syndicate Sales.
In addition to the cymbidiums provided by Westland Orchids, other locally grown botanicals came from B&H Flowers, Myriad Roses, Hilltop Flowers and Ocean Breeze International, all Carpinteria-based. Each guest took home a gift arrangement, including some of those very special cut cymbidium sprays.
According to David Van Wingerden, the farm produces nearly two million cymbidium orchids annually. "They last anywhere from two to four weeks as a cut flower," he says.
In addition to designing more than 100 vases for the centerpieces and takeaway gifts for the event, the drama statement of the night was a 10-by-12-foot floral arch. Margaret was assisted by three fellow designers, Rebecca Raymond of Sunnybrooks Florals of Vashon Island, Washington, and Jill Redmond of Forage Florals and Laura Cogan of Passion Flowers Design, both of nearby Santa Ynez Valley.
The four created a stunning birch-tree arbor to grace the doorway to the orchid greenhouse.  Acacia foliage, green cymbidium orchids, yellow gerberas and white snapdragons draped from the branches to create a magical moment for everyone who entered.
To see the entire photo gallery from the event, follow this link.
You might have missed the first Field to Vase Dinner but there are nine more venues on the calendar for 2015. The next dinner takes place on April 15th at The Flower Fields in Carlsbad, California. You won't want to miss this evening of flowers, food, friendship — and a focus on local agriculture in our community.
Please check out the full schedule here – and secure your seat at one or more of these very special settings on America's flower farms, coast to coast.
PS, if you want to see behind-the-scenes at Carpinteria's flower farms, put April 18th on the map and attend the free Carpinteria Greenhouse & Nursery Tour.
Photo credits: Linda Allen Blue Photography courtesy California Cut Flower Commission.
Keep Reading: