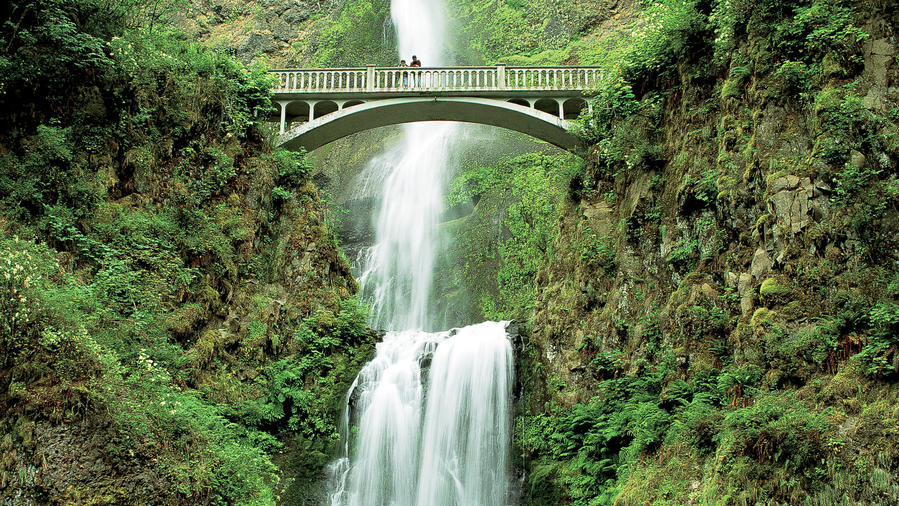 View the West's most memorable cascades, from Hawaii to Yellowstone
1. GRAND CANYON, AZ
Havasu Falls Other falls are taller; other falls carry greater volumes of water. And boy, are other falls easier to reach ― to get to Havasu, you hike 10 miles into Havasu Canyon, having obtained the required trail permit from the Havasupai Indian Reservation months earlier. But no waterfall in the world is so worth the work. Near ― at least on the map ― the South Rim of the Grand Canyon, Havasu and nearby Mooney Falls offer a perfect balance of natural forces: turquoise water and red, red rock, glowing beneath a blue desert sky. Once you see them, they become the backdrop of your happiest dreams. $35 trail permit, $12 camping permit; reserve at least 3-4 months ahead; www.havasupaitribe.com; 928/448-2121. -Peter Fish
2. NEAR HILO, HI
'Akaka Falls Hawaii has no shortage of waterfalls, but few combine the easy access and knock-your-flip-flops-off beauty of the Big Island's 'Akaka Falls. North of Hilo and just a few miles inland from State 19, the waterfall emerges from a cleft cloaked by dense rain forest, then plunges 442 feet into a curving pool. To reach it, you take a paved 0.4-mile loop that leads through jungle brightened by tropical flowers. And there's a bonus too: Before arriving at 'Akaka Falls, you pass Kahuna Falls, a comparative keiki (Hawaiian for "child") at 100 feet tall. Free; www.hawaii.gov; 808/974-6200. -Matthew Jaffe
3. YELLOWSTONE NATIONAL PARK, WY
Upper and Lower Falls of the Yellowstone River How amazing are these falls? So amazing, they'll make you forget Yellowstone's other big draws, the geysers and wildlife. As the Yellowstone River cascades over Upper (109 feet) and Lower (308 feet) Falls, mist rises to veil the world in celadons and golds. Thomas Moran's paintings of this scene helped convince Congress to make Yellowstone the world's first national park. Now you'll know why. At Upper Falls Viewpoint, a canyon-hugging platform lifts you just above the watery tumult; for a more serenely magnificent scene, gaze at Lower Falls from Artist Point (the road to the point opens Apr 20). $25 per vehicle; www.nps.gov/yell; 307/344-7381. -P.F.
4. YOSEMITE NATIONAL PARK, CA
Yosemite, Bridalveil, Vernal, and Nevada Falls From nearly any spot in Yosemite Valley, you're within view of at least one world-class waterfall. There's the two-tier, 2,425-foot Yosemite Falls itself, one of the tallest in the world; Bridal-veil Fall, a pure, snowy white cascade; plus Vernal and Nevada Falls, which can be seen close up on the popular (and strenuous) 1.5-mile Mist Trail. And then there are the more fleeting waterfalls, which appear during the park's peak waterfall season in May and early June as High Sierra Nevada snowmelt hits streams and rivers. Give yourself a "Yosemite facial" by standing in the spray along the footbridge at the base of Yosemite Falls for a few minutes, and remember ― there's plenty more where that came from. $20 per vehicle; www.nps.gov/yose; 209/372-0299. -Abigail Peterson
5. NEAR PORTLAND
Multnomah Falls At 620 feet, it's the second-tallest year-round waterfall in the country, but Multnomah's appeal can't be measured in numbers alone. It has a slender grace, free-falling more than 500 feet into a pool, then sliding toward a second, shorter drop under an arching stone footbridge built in 1914. From the bridge, follow a zigzagging trail up and up to a platform perched over the lip of the falls ― a moderate 1.2-mile hike that leaves you on top of the world. At the falls' base is a vintage lodge with restaurant and visitor center for the Columbia Gorge National Scenic Area. Free; www.fs.fed.us/r6/columbia; 503/695-2372. -Bonnie Henderson
6. RIFLE, CO
Rifle Falls State Park Most Colorado waterfalls require a sweat-soaked hike to experience crashing whitewater, but not Rifle Falls. Here, the effort is small, and the payoff great. Park at the trailhead and amble the 100 yards to the roaring triple cascades set against a rugged backdrop of limestone cliffs, large caves, and skyscraping mountain peaks. Take the easy half-mile trail to the top of the falls, stopping at various vantage points along the way to soak up the spray. $5 per vehicle; www.parks.state.co.us/parks/riflefalls; 970/625-1607. -Lori L. Midson
7. SNOQUALMIE, WA
Snoqualmie Falls Drama seekers love to visit here when rivers are at flood stage. A covered gazebo on the edge of the canyon's rim gives a spectacular view of the torrent's 268-foot plunge, which propels mist hundreds of feet into the air. For a more sheltered vantage point, watch the falls from the dining room at Salish Lodge & Spa ($$$$; 6501 Railroad Ave. S.E.; 800/272-5474), directly above the drop. Breakfasts here are legendary. Free; www.snoqualmiefalls.com. -Jim McCausland
8. COLORADO SPRINGS, CO
Seven Falls It takes patience, endurance, and 224 steep steps to reach the summit of Seven Falls, a series of seven plunging waterfalls surrounded by pine trees, wildflowers, and rocky cliffs just beyond the gates of Cheyenne Mountain. If the trek to the top is too tricky, hitch a ride on the mountain-encased elevator (a quick lift that shoots through 14 stories of solid granite to Eagle's Nest) and take in the tumbling cascades; the high-altitude views are simply sensational. $8.75; www.sevenfalls.com; 719/632-0765. -L.L.M.
9. NEAR SILVERTON, OR
North Falls at Silver Falls State Park North Silver Creek plunges over the edge of an ancient lava flow and drops 136 feet into a serene pool before winding off past giant old trees. Get behind the falls for a memorable view: Sandstone beneath the lava rim has eroded away, leaving a vast, shallow viewing cavern ― safe from the spray, but not the water's thundering roar. $3 parking; www.oregonstateparks.org; 503/873-8681 ext. 23. -J.M.
10. NEAR REDDING, CA
Whiskeytown Falls The 220-foot cascade stayed hidden from the community for 40 years, after an overgrown trail, staff shifts at Whiskeytown National Recreation Area, and a remote location conspired to erase its existence from local memory. But it thundered on, beautiful and neglected, until it was rediscovered by a Whiskeytown ranger two years ago. Now a newly built, moderate-to-strenuous 1.7-mile trail drops and climbs a total of 1,000 feet along oak- and pine-covered hillsides to its base. And once at the cascade's rocky base, you'll see that the silvery, five-step falls aren't likely to be forgotten again. $5 per vehicle; www.nps.gov/whis; 530/246-1225. -Lisa Taggart
Keep Reading: