Perfect Campgrounds for First-Timers
You want to be wowed with big views, yes, but not until you've had a hot shower.
Please note that although all these campgrounds are open as of April 2021, some may be operating at reduced capacity due to COVID-19 concerns, and not all services and amenities may be available.
Lake Powell, UT and AZ 
Wahweap Campground Glen Park National Recreation Area: What better payoff for taking the camping plunge than the finger canyons of Lake Powell? A waterfront campground comes with basic creature comforts (hot showers, shaded picnic tables). After breakfast, the main event: Rent a boat or kayak at the marina to explore what looks for all the world like Zion National Park filled halfway with water.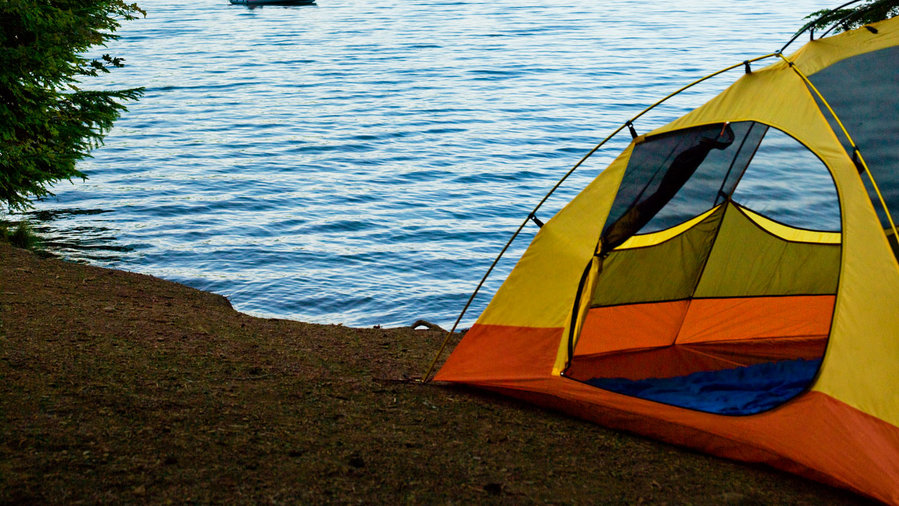 Mt. Hood National Forest, OR
Hoodview Campground: The name pretty much says it all: the shark's tooth summit of Oregon's signature peak rising from an alpine forest and mirrored in aquamarine. A prime position on the south shore of Timothy Lake makes Hoodview the most popular of the five campgrounds on this reservoir, where anglers, paddlers, swimmers, and water-skiers proliferate like mayflies. Newbies, wrap your hands around a steaming mug of cowboy coffee and just take in that surreal view.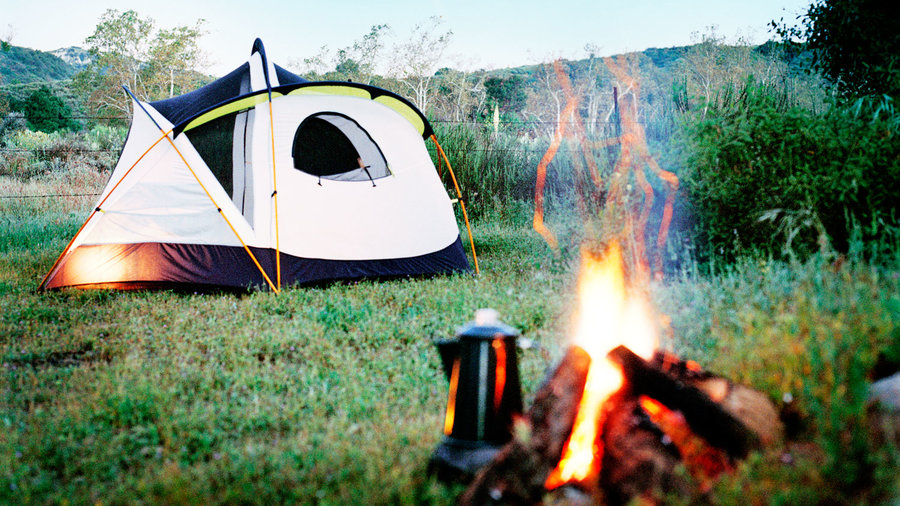 Orange County, CA 
Live Oak Grove Campground at Caspers Wilderness Park: Camp out under the oaks and sycamores in the Santa Ana Mountains without forgoing life's little necessities—like flush toilets. Get oriented to the great outdoors at the Saturday night campfire talk or on the Sunday morning ranger walk. The 2.5-mile East Ridge Trail makes a great beginner's hike. 
Near Santa Cruz, CA
New Brighton State Beach: Set on a pine-shaded bluff above an endless white beach, New Brighton's 100+ sites get snapped up by those itching for a beach weekend—without the triple-digit nightly tab. The beach is the real draw, and the hot showers don't hurt, but another bonus is that if you forget your matches or just don't feel like cooking, you can easily grab takeout in town, a five-minute drive away. After all, this is vacation, right? 
Outside Denver
Golden Gate Canyon State Park: Yes, this campground 20 miles from Boulder or Denver has extras like electricity, plumbing, and laundry. But wander beyond the campsites and you'll find big mountain appeal in nearly 12,000 acres of forest, rocky peaks, aspen-laced meadows, and miles of trails for hiking and mountain biking. If tent camping is a little too … rocky for you, reserve one of the cozy cabins or yurts.
---
Read the 2021 Gardening Issue
To read: Click on the right and left arrows at the edge of the box to turn pages; to make the text larger, click on the fullscreen icon in the lower-right corner (desktop) or in the center (mobile).
Get one year of Sunset—and all kinds of bonuses—for just $24.95. Subscribe now!
Keep Reading: