Perfect Campgrounds for Comfort Cravers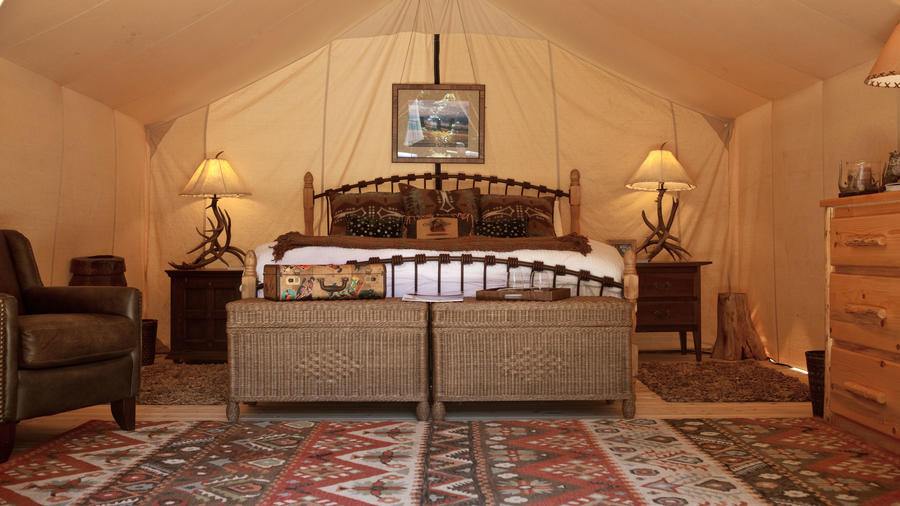 No tent needed! Enjoy  walls, a door—and wilderness
A-frame hut. On Big Island, HI's northwest corner, the 62-acre Hapuna Beach State Recreation Area has 6 A-frame, 4-person cabins with screens and wooden sleeping platforms. Plus there are showers to wash off the salt from swimming. 
Century-old lodge. Built on the banks of Oregon's Rogue River, Paradise Lodge is accessed via boat or a 4.5-mile hike. By day, hit the trails, swim, or fly-fish. By night, sleep in a real bed in a private room. 
Fire tower. The Green Ridge Lookout in Oregon's Deschutes National Forest has windows on all four sides, with views of 10,497-foot Mt. Jefferson, the Metolius River, and a fish hatchery that helps feed eagles. 
Island cottage. Experience Washington's San Juan Islands' lushness from Lopez Farm, your base on Lopez Island. On 30 acres of pastures and woods, 5 cottages offer all the amenities of home, including a breakfast basket every morning (wait … that doesn't happen at home). 
A cave B&B. The walls of Kokopelli's Cave B&B are rock, a 1,650-square-foot space carved several hundred feet above New Mexico's La Plata River Valley, yet the stay is anything but rugged. There's a queen-size bed, waterfall shower, and hot tub. And Mesa Verde National Park—with its Native American ruin, Cliff Palace—is just a short drive away.
Tent cabins. In one of the wildest places on Earth—Selway River near Darby, Montana—you can experience the highest level of sophistication. At the end of a day of hiking and exploring, Storm Creek Outfitters spoils you with dinner, dessert by the campfire, and an overnight in a luxurious "wall tent." 
---
Read the 2021 Harvest Issue Right Here
Get one year of Sunset—and all kinds of bonuses—for just $24.95. Subscribe now!
Keep Reading: