Disneyland celebrates its 60th with Peter Pan and pixie dust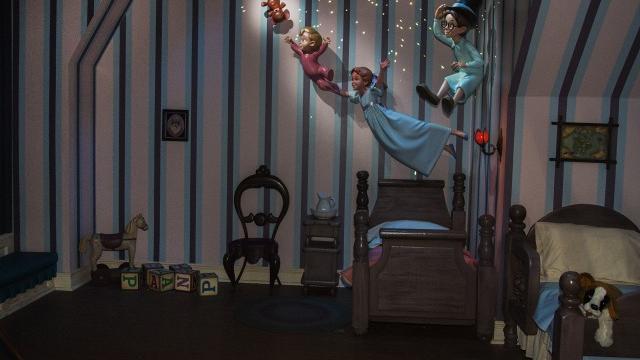 Peter Pan's Flight, one of the original Fantasyland rides on Disneyland's 1955 opening day, has reopened with new magic for the park's 60th.
Even at 60, Disneyland refuses to grow up. And its youthful glow—already crystallized by bejeweled buildings and bedazzled merchandise in honor of its Diamond Celebration—is shimmering even brighter now that one of its July 17, 1955, opening-day rides, Peter Pan's Flight, has reopened with digital doses of pixie dust. Walt Disney Imagineering creative director and project lead Larry Nikolai takes us for a spin.
Sunset: Peter Pan's Flight is one of the original Fantasyland attractions that guests could ride on Disneyland's opening day in 1955. The ride has been updated before, but what was it like for you to lead the work on a classic that generations of guests have memories of?Larry Nikolai: "We have an enormous amount of respect for the classic attractions, believe me. I've been coming [to Disneyland] since 1956. So working on Peter Pan, I know where all those scenes are and I know what was in those scenes.  "And the nice thing is that in this particular iteration of the attraction, we've actually kept a few things from all the way back to 1955 that are in there. It is still mainly the 1983 version but with new special effects that we put in there. So it's enormously respectful of all the iterations of the attraction."
Sunset: What kind of special effects did your team of Imagineers add?Nikolai: "Peter Pan is a magic story. It's all about pixie dust and going magical places. The kids in the nursery are now flying, which they never were before—they always just watched Peter go by, but now we have them embarking on the journey with him.  "And we brought Tinker Bell back to where she's in more places within the attraction. Because we have some new ways of showing her that evoke the magic.  "We've also enhanced the natural features of the Island of Never Land with some new effects."
Sunset: Peter Pan was supposed to reopen in May, for the debut of Disneyland's Diamond Celebration theme. But you explained on Media Day that the special effects weren't quite where your team wanted them to be, so the reopening was pushed back to July. With the other attractions that were revamped for the park's 60th anniversary—the Matterhorn and the Haunted Mansion's Hatbox Ghost—we reported on how Imagineers felt that "the time and technology were right" for supporting modern updates of the rides' storylines. But those are both much bigger rides. Did you have to rein in your effects palette for Peter Pan's storybook size?Nikolai: "The technology is always in support of the storytelling. Especially in Fantasyland attractions, because they're smaller, they've been here a long time, and they're your classic Disney stories. So we don't let the technology show in a way where you're aware of it. It's just there to enhance and maybe to create a little bit of magic. To where you say, 'How did they do that?'  "I remember in 1983, when they opened the new Fantasyland. We rode Peter Pan for the first time, and it was like, 'Wow, that's something new. We've never seen them use that kind of stuff before.' And we didn't know how they'd done it in some cases.  "Hopefully, we've done the same thing here again. We've taken advantage of the new technology, but it's always subjugated to the storytelling."
Take a ride on the new Peter Pan's Flight as Disneyland's 60th celebration continues. Can't make it to Anaheim anytime soon? The O.C. Register's theme-parks reporter (how's that for a newspaper beat?!) and photographer/videographer have posted a video of the ride's new look—keep in mind that the ride's pirate galleons glide along in the dark, so a video can't fully capture the in-person experience.
Know before you go• Sunset's top 9 Disneyland tips • Tickets and Park Hopper passes• Disneyland and Disney California Adventure park hours• TouringPlans.com's Crowd Calendar predicts how long lines will be each day (free and subscriber versions)• Wait-time apps like MouseWait are updated hourly and can help point you to the shortest lines
Keep Reading: