Discover pint size luxury in this teardrop camper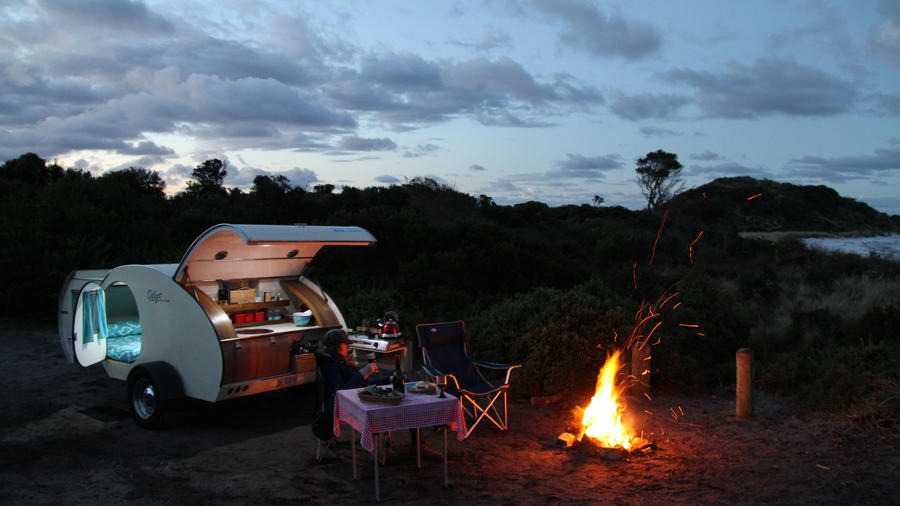 A few weeks back, I wrote about a travel-happy couple converting a school bus into a vacation vessel. While the tiny home movement is boo...
A few weeks back, I wrote about a travel-happy couple converting a school bus into a vacation vessel. While the tiny home movement is booming, not everyone wants to invest in a full-on conversion. For those looking for something smaller than a RV, but more comfortable than a tent, meet the Gidget Retro Camper. I stumbled upon this trailer via Facebook, and immediately fell in love. This Australia-made accordion-like design not only hitches behind a standard-size car, but also comes stacked with a full kitchen.
Gidget owners, designers, and manufacturers, Glenn Willis and Christine Bree, brainstormed the idea while searching for a model to fit their own travel needs. Avid outdoor adventurers, the Brisbane couple frequently hikes, kayaks, and camps throughout Australia. They love a campfire under the stars, but also wanted cozy, energy efficient quarters that could accommodate Glen's 6'6" height.
Drawing inspiration from the traditional teardrop camper, Willis and Bree created the Original Bondi model in 2013 and road-tested it over a two-year period, traveling across more than 34,000 miles.
"We took Gidget to Far North Queensland in the tropical summer, out west to the Outback in the dry heat or cold, over mountains through the Atherton Tablelands, around Tasmania in the winter camping at Cradle Mountain in minus 1 degree [weather]," says Bree.
Since then the Bondi and it's larger counterpart, the Noosa Longline, has hit the international market. Both house a queen-size bed (6'10") which converts to a seated lounge. The interior also hosts a rotating 24-inch television and stereo system, as well as a skylight, and underfloor storage–not to mention a 110-watt solar panel system.
My favorite part of this tow-able home is its stunning, self-contained kitchen. The rear side of the camper unveils a collapsible sink with pressurized water; a 12-volt pull-out refrigerator compartment; a pull-out 2-burner stove, as well pantry and storage compartments. The television/stereo also sits just above the prep counter ideal for grooving to tunes, while cooking dinner.
As a woman who often travels solo, my top concern is always safety. Fortunately, Gidget has lockable doors and windows, privacy screens, as well as an anti-theft alarm system.
The Gidget Noosa Longline is about 20 inches longer and comes with extra kitchen and storage space. More importantly, it has a shower and toilet compartment connected to a pressurized hot and cold shower appliance, plumbed into a 23-gallon water tank. Travelers road-tripping in this model get a more RV-like experience with a porta-potty and pop-up privacy shower tent.
The inventive duo is also developing a Gidget Bells Compact for very small cars and a Super Compact model for bicycles.
The Bondi prices at approximately $13,100 and the Noose Longline goes for about $16,000. (Exact price depends on the Australian to US dollar conversation rates.)
Minds boggling with questions can check out the extensive FAQ for answers, or scope out the detailed video below, or view a shorter run-down here.
"It is about lifestyle, the simplicity and ease of being able to get away at no notice, arrive and be set up easily in under a minute and start relaxing straight away," say Bree. "Something we all need as life gets busier and more complex."
Keep Reading: