San Francisco's Sourdough Bread Renaissance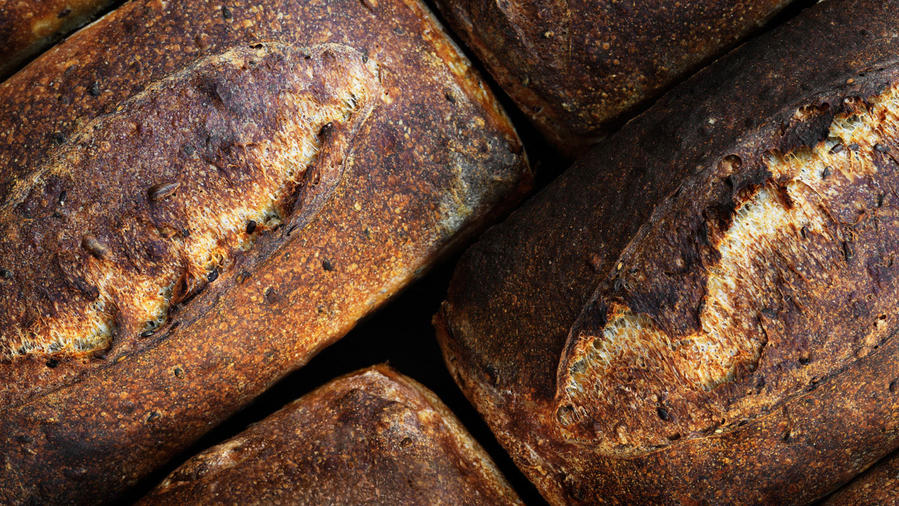 The best bakers in the Bay Area are taking San Francisco's signature bread in brave new directions
It's a fog-whipped afternoon at Fisherman's Wharf and I'm in a crowd of hungry tourists outside Boudin Bakery waiting for a loaf of tangy San Francisco sourdough.
It's everywhere, this bread, as much a Golden Gate fixture as Coit Tower or the cable cars. I watch it poke out of tote bags and swell the cheeks of sightseers lining up for the ferry to Alcatraz.
Inside the massive bakery—where giant steel machines shape the dough, and baskets of baguettes glide through the air on motorized tracks—the bread bonanza continues. Sourdough soup bowls. Sourdough pizza. Apple pie with sourdough crust.
In Boudin's bread museum, I learn about sourdough's storied past, how it arrived with the miners during the Gold Rush. How a French immigrant named Isidore Boudin launched the bakery in 1849 with his own sourdough starter, and how for more than 150 years Boudin bakers have kept this living, fermenting, microorganism-rich mix of flour and water alive. It's used in every batch of their sourdough, several thousand loaves a day, including the one tucked under my arm.
I look through a microscope and see the Tic Tac–shaped bacterium responsible for sourdough's tang. Lactobacillus sanfranciscensis was identified in 1971, at a USDA lab across the bay in Albany, and named in honor of the city's famous bread. It "thrives only in San Francisco's climate," reads a nearby placard. "My, my!" murmurs a woman next to me. We're seeing the secrets of a San Francisco icon.
Or are we?
Scientists have since discovered that sourdoughs—that is, any bread made with a "sour" dough as opposed to instant yeast—are full of L. sanfranciscensis. That means German sauerteig, French levain, Ethiopian injera, and dozens of other bread varieties are, technically, sourdough.
"I don't want to burst any bubbles, but that's just a general rule found across the microbial world," says Maria Marco, a microbiologist and professor of food science and technology at the University of California, Davis. So is there no such thing as San Francisco sourdough?
The question rises in my mind at Berkeley's Acme Bread Company. Thirty years ago, at a time when cottony white instant-yeast loaves dominated the bread scene, baker Steve Sullivan led the West Coast artisanal bread revolution, powered by sourdough. Using a French-style levain starter made with wild yeast from grapes, he resuscitated the old, slow, flavorful ways of sourdough for an eager new audience. Today Acme makes thousands of loaves a week that fill breadboxes all over the Bay Area.
The flagship store is a one-room shop a few miles from Chez Panisse, where Sullivan first began baking. Shelves are stacked with dozens of varieties of sourdough, from classic French pain d'épi to walnut levain to rye. Some loaves are round and golden-crusted, like Boudin's, but most don't look anything like them, and the ones I try are only gently sour. Like many artisan breadbakers today, Sullivan doesn't like his bread excessively sour. "It's something we work against," he says. "We try to achieve a balance between sweetness and sourness."
He thinks the main reason sourdough has done so well here is the climate. "Most of the steps in making sourdough want to take place between 65° and 80°," says Sullivan. "And nowhere in the world is that temperature as common as here." There might be something to that fog after all.
Next I head to San Francisco's Western Addition to meet the breadmaker with the perfect name. Josey Baker started baking as a hobby, but soon realized it was more appealing than his real job of developing grade-school science curricula. So he began baking full-time, and over the past couple of years he's gained an ardent following through his bread CSA. You can often see him riding around San Francisco, making deliveries by bike. We're standing inside his cafe-bakery, scheduled to open in late 2013. Baker is installing a mill to grind whole grains fresh daily. "It opens the door to having relationships with farmers, more and more of whom are growing grain for bread," says Baker, who plans to start slowly, with wheat and rye flours, keeping production to 150 to 200 loaves a day—all sourdough. "None of this feels like work. It feels like getting to do what I want."
I leave with a crunchy-crusted beauty of a loaf, made with whole-wheat flour and strewn with pumpkin, sunflower, and flax seeds. I rip off a piece: It's moist and stretchy inside, with layers of subtle, creamy, nutty flavors. If Boudin's sourdough is history kept alive, this is sourdough that lives in its moment, as hard to pin down as the fog.
Which is exactly what I'm standing in later that day, outside Tartine Bakery, in San Francisco's Mission District. The bread comes out of the oven at 5 p.m., and I'm not nearly as close to the front of this long line as I'd like to be. Head baker Chad Robertson makes 175 to 200 loaves a day, and just one kind: country loaf, based on the French pain de campagne. Some say it's one of the best breads in the world. It sells out fast.
As I inch through the gray drizzle, I can feel anxiety building down the line. At last I'm in, and I catch a peek of Robertson, looking intense and flour-smudged near the deck ovens. For all the mystique around Tartine, he believes—like other Bay Area bakers—that there's no mystery to sourdough starter, and that it can be replicated in a matter of days with no harm to the bread.
But I remember something that microbiologist Maria Marco told me: that over time, unique strains of Lactobacillus and yeast can emerge at a single bakery. These strains affect the bread's character—how it rises, the way it smells. Robertson is a world-class baker, no doubt, but he's also created his own helpful, microbial world. And there's nothing more local than that.
When I reach the front of the line, I buy three fat loaves so big they poke up out of the paper bag. I hug them close to my chest and walk out past ogling eyes. The bread is crackly-crusted yet supremely springy, almost pillowlike, and its radiant heat keeps me warm all the way to the car. I break down and tear into a loaf, and for a few minutes the car fills with fragrant, yeasty steam and the sound of my own chewing.
The best in bread
Back away from that airport souvenir sourdough. Here are 6 local loaves that deserve your love.
Josey Baker, Mill bread. A hearty loaf with a swirl of wheaty flavors and a dark, crunchy crust. And you won't be reaching for the dental floss, as it has just a scattering of pumpkin, flax, and sunflower seeds. joseybakerbread.com
Boudin, 1-pound round. All the tang you'd expect—great with seafood. Another option: The "flat" sourdough has lots of caramelly flavor and flakiness. San Francisco's Tadich Grill serves this bread exclusively. boudinbakery.com
Acme Bread, Edible Schoolyard. Shaped like a school bell in tribute to Alice Waters's national school-garden project. The loaf is made with California-grown wheat and a smidge of earthy pumpernickel meal. acmebread.com
Cheese Board Collective, Seeded sourdough baguette. The same recipe for 30 years; all that varies are the seeds. Sesame, poppy, fennel, and maybe a little cracked black pepper. cheeseboardcollective.coop
The Bejkr, Kracked Kamut. A subtle bread by local legend baker Mike Zakowski. He makes every creamy, crunchy loaf himself—no employees—and sells it only at Sonoma farmers' markets. thebejkr.com
Tartine Bakery, Country loaf. A monster bâtard with gorgeous lacy crumb and nuanced flavors that roll on and on. Also remarkable is its keeping power: Throw it in a breadbox and it'll keep fresh for a week.  tartinebakery.com
Keep Reading: