The 55 Best Campgrounds in California, Hawaii, and Mexico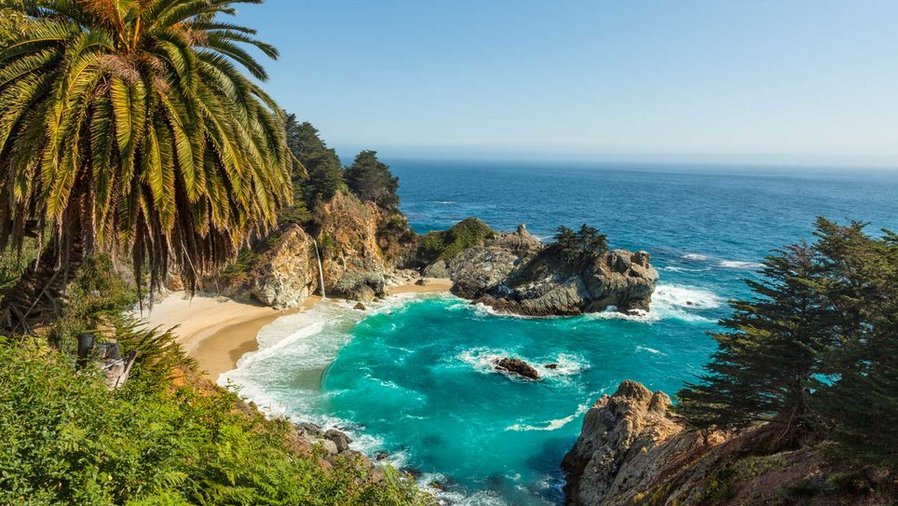 Sequoias, seashore, mountains, and more: Here are the best spots in California (plus Hawaii and Baja!) to pitch your tent
Northern California camping
1. Big Basin Redwoods State Park, North of Boulder Creek
Your pick of four waterfalls is the payoff for tackling the roller-coaster trails that fan out under gargantuan old-growth trees in the Santa Cruz Mountains. Consider the easy-to-get-to hike-in sites if you want more space and privacy. $25; 831/338-8860; book at reserveamerica.com
2. Camp Edison, Shaver Lake, Northeast of Fresno
Shaver is one of the Sierra Nevada lakes created as part of a Southern California Edison hydroelectric project, and Camp Edison's 252 campsites have electricity and cable TV. Half even have Internet. But power down: This camp has great lake access and mountain views. Campsites 119 and 121 have the best views but cost the most ($60). From $25; 559/841-3134; sce.com/campedison
3. Cold Springs Campground, Sequoia National Park, East of Three Rivers
A glacial-cut valley, Mineral King is surrounded by 12,000-foot granite and shale peaks. Pick a site alongside the Kaweah River or in the shade of aspens. For homemade pie and a shower ($5; bring your own towel), head to nearby Silver City Mountain Resort. $12 (plus $20 park entrance fee per vehicle); no reservations; 559/565-3341. 
4. D.L. Bliss State Park, Lake Tahoe
It isn't easy (or cheap) to claim a spot along Tahoe's glorious west shore. But here you can swim and sunbathe at Lester Beach, marvel at Balancing Rock, or simply ogle Tahoe's famously blue waters. Reserve ahead to nab beachside ($35; sites 141–165). From $25; parks.ca.gov or 530/525-7232; book at reserveamerica.com
5. Jedediah Smith Redwoods State Park, Northeast of Crescent City
Set beside emerald Smith River, this camp is lush with ferns and old-growth redwoods. Walk to the 340-foot-tall Stout Tree and its mammoth brethren. $20; parks.ca.gov or 707/458-3018; book at reserveamerica.com 
6. Kirk Creek Campground, Los Padres National Forest, Big Sur
Scattered across a bluff, the sites are open to the stars and the sea. Pack dress-up clothes and blow the money you saved on lodging with a prix fixe dinner at Post Ranch Inn's Sierra Mar ($$$$; 831/667-2800). $22; campone.com or 805/434-1996; book at recreation.gov
7. Minaret Falls Campground, Inyo National Forest, North of Devils Postpile National Monument
Riverfront sites overlook the Upper Middle Fork of the San Joaquin River; some have views of Minaret Falls. The short hike to the Devils Postpile National Monument lava formation is a must. $20 (plus $7 transit fee); no reservations; 760/924-5500. 
8. Russian Gulch State Park, North of Mendocino
On the rugged Northern California coast, this campground offers an up-close look at Mendocino's natural beauty, like at Devil's Punch Bowl, where the ocean surges through a huge hole in the headlands. Don't miss the hike to Russian Gulch Falls. $25; parks.ca.gov or 707/937-5804; book at reserveamerica.com 
9. Sabrina Campground, Inyo National Forest, West of Bishop
Bishop Creek flows past, and 2 miles away is trout-filled Lake Sabrina. Trails lead into the John Muir Wilderness with access to mountain lakes and the Sierra crest. Dine alfresco on hamburgers and homemade pie on the patio of the Lake Sabrina Boat Landing Cafe ($; 760/873-7425). $21; no reservations; 760/873-2500. 
10. Saddlebag Lake Campground, Inyo National Forest, East of Yosemite National Park
At 10,000 feet, this is the highest drive-to campground in the state and has a dramatic, above-the-treeline feel. Insider tip: Just ¼ mile from the campground, you can hop a water taxi ($10 round-trip) across Saddlebag Lake for an easy hike into the stunning 20 Lakes Basin. $19; no reservations; 760/924-5500. 
11. Summerdale Campground, Sierra National Forest, South of Yosemite National Park's Southern Entrance
This campground is spread out under the shade of cottonwoods and pines less than 20 minutes from Yosemite ($20 park entrance fee per vehicle) and its Mariposa Grove of giant sequoias. Have breakfast at the park's historic Wawona Hotel ($; 209/375-1425). $20; 559/877-2218; book at recreation.gov 
12. Summit Lake South Campground, Lassen Volcanic National Park
Smack in the middle of the park, this campground lies at the southern edge of the tiny but picturesque Summit Lake. Reserve early to snag site D9 or D10; both have great views and lake access. $16 (plus $10 park entrance fee per vehicle); 530/595-4480; book at recreation.gov
13. Big Lagoon County Park, North of Trinidad
Camp on a huge lagoon bordering the Pacific Ocean. The brackish water is relatively warm, and rich with river otters, shorebirds, and steelhead trout. Launch your canoe right from your campsite. Rent a kayak from Kayak Zak's (from $15/hour) and paddle up to the sand spit to search for agate. $18; no reservations; co.humboldt.ca.us or 707/445-7651. 
14. Butano State Park, South of Pescadero
The Bay Area's best quickie escape is a forest-fairy redwood grove that also happens to be 15 minutes from the beach. Soul-warming artichoke soup and olallieberry pie are a short drive away at Pescadero's famous Duarte's Tavern ($$; 650/879-0464). $25; parks.ca.gov or 650/879-2040; book at reserveamerica.com 
15. Gerstle Cove Campground, Salt Point State Park, North of Jenner
Camp with an ocean view at Salt Point State Park. Hike along the headlands, explore tidepools, and visit a pygmy forest of stunted pine trees. If the wind is howling, camp across the highway at tree-sheltered Woodside Campground. $25; 707/847-3221; book at reserveamerica.com 
16. Henry W. Coe State Park, Morgan Hill
A hiker's dream, with 87,000 acres of grassy hillsides and ridges dotted with gnarly oak trees. Visit in spring for the best wildflowers and cooler weather. This is an open, sunny campground, so bring some shade with you. $12; 408/779-2728; book at reserveamerica.com 
17. Highland Lakes Campground, Stanislaus National Forest, West of Ebbetts Pass
A drive-to campground with backpack-worthy scenery. You'll be drinking your morning coffee with one lake in front of you and another lake behind. Hit it in late June or early July to catch swaths of wildflowers framing high, craggy peaks. Opens in late Jun; $8; no reservations; 209/795-1381. 
18. Mattole Campground, King Range National Conservation Area, North of Shelter Cove
A million miles from everywhere, this small campground lies where a country road dead-ends at the Pacific. Summer weekends are crowded, but midweek you'll have the windswept beach and surrounding headlands to yourself. Fill up your gas tank before leaving U.S. 101. There ain't nothing out here. $8; no reservations; 707/986-5400. 
19. Pinnacles National Park, South of Hollister
California's answer to the Grand Canyon, with enormous rock formations, craggy cliffs, and caves for Indiana Jones–style exploring. Stop in the teensy town of Tres Pinos for wine at the Inn at Tres Pinos ($$$; closed Mon; 831/628-3320). $15 (plus $5 fee per vehicle); www.nps.gov/pinn or 831/389-4485; book at recreation.gov
20. Samuel P. Taylor State Park, Southeast of Olema
You've probably blown past this campground on the way to Tomales Bay. It's irresistibly close to the Bay Area ― and popular. Pitch a tent in the cool, shaded grove and spend the day splashing in the creek, pedaling along a smooth section of the Cross Marin Trail, or exploring hiking trails that swoop up for views of grassy hills. The 13 creekside sites are picturesque ― but get road noise. The Orchard Hill loop is quieter. $25 (from $75 for group sites); 415/488-9897; book at reserveamerica.com 
21. Woods Lake Campground, Eldorado National Forest, East of Kirkwood
Easy-peasy access to idyllic alpine scenery. Nab a site in the small, quiet, pine-and-granite campground, then stroll over to a gorgeous, fish-filled lake to watch for dive-bombing osprey. Arrive by lunchtime Friday to get a good site. Opens Jul 1; $22; no reservations; 209/295-4251. 
22. Wrights Lake Campground, Eldorado National Forest, Southwest of Lake Tahoe
This is a day-hiker's fantasyland, with relatively easy access to the southern Desolation Wilderness (permit required), which means you're on the trail to pristine spots while others are still on the road. Bring a canoe ― the glassy lake is release-your-inner-Hiawatha awesome. Opens Jul 1; $20; 530/644-2349; book at reserveamerica.com  
23. Lower Billy Creek Campground, Sierra National Forest, North of Shaver Lake
On the forested shore of Huntington Lake, this spot is ideal for campers who want to sail, water-ski, fish, or swim. Most sites have lake views. History buffs, visit the Billy Creek Guard Station Museum (free; open Wed and Sat–Sun Jul through early Sep), adjacent to camp. Serious hikers should bag 10,310-foot Kaiser Peak (a difficult 14-mile round-trip). From $20; 559/855-5355; book at recreation.gov 
24. Trapper Springs Campground, Sierra National Forest, East of Shaver Lake
Surrounded by a banquet of granite domes, Courtright Reservoir is a rock climber's paradise situated at 8,300 feet. A trail from the campground runs along the lakeshore to prime fishing spots. Nearby trails access the John Muir and Dinkey Lakes Wilderness. $18; no reservations; or 559/855-5355.
25. Julia Pfeiffer Burns State Park, Big Sur
With a priceless perch over the Pacific and only two hike-in campsites, Julia Pfeiffer Burns State Park is more private paradise than crowded campground—which is why the sites are usually booked six months out. From site 1, shaded under Monterey cypress, you can sip your morning joe to the bark of sea lions. $30; no potable water; parks.ca.gov/jpb
26. Kirby Cove Campground, Mill Valley, CA
Foghorns and gulls are the wake-up call for all four spots at Kirby Cove Campground, near a beach just west of the Golden Gate Bridge on the Marin side. The sites are all tucked away from the wind in Monterey cypress and eucalyptus, but spot 1 is the best. Once the day-users pack their picnic baskets up the steep, mile-long approach trail, the centerfold city views are all yours. $25; no potable water; nps.gov/goga
27. New Brighton State Beach, Near Capitola
With 101 tent sites, most slots at the 93-acre New Brighton State Beach campground aren't what you'd call secluded. But in early hours, the beach, which connects to nearby Seacliff State Beach and stretches 16 miles south to Moss Landing, is misty and deserted. Snag primo site 73—shaded by pine and Monterey cypress trees, settled on the very edge of a wall-like precipice, and bigger than most—and it's easy to forget that Santa Cruz is only a few miles away. Premium sites $50, other sites $35, plus $10 day-use fee; parks.ca.gov
28. Boat-In Camp, Lake Tahoe
Lake Tahoe's U-shaped Emerald Bay is one of the lake's most gorgeous (and popular) stops. But there are only 20 sites at peaceful Boat-In Camp, part of Emerald Bay State Park, where teeming speedboat traffic quiets at glassy dusk and dawn. Here bald-eagle sightings are common, and the stunning, shore-hugging Rubicon Trail is steps from your tent. The waterfront real estate—sites 1, 21, or 22—is especially coveted, so you'll need to try for a midweek reservation or cancellation. $35, including buoy; early Jul–early Sep; parks.ca.gov
29. Big Pine Creek, Inyo National Forest
This classic High Sierra camp has superb mountain scenery and lots to do. Set among vanilla-scented Jeffrey pines below a banquet of 13,000-foot peaks, Big Pine Canyon is a mountain-lover's haven. Experts head for the Palisades Glacier; laid-back campers fish Big Pine Creek or hike the North Fork Trail to waterfalls and glacier-fed lakes. Nearby Glacier Lodge has pay showers. $22; mid-May–Oct; vault toilets; 1.usa.gov/17S7zkh
30. Mary Smith, Lewiston Lake, Shasta-Trinity National Forest
It's a kayakers' and bird-watchers' paradise. Serene Lewiston Lake has a 10 mph speed limit, making it perfect for paddlers and birders hoping to spot a bald eagle or osprey. Seventeen tent-only sites provide views of the lake and the Trinity Alps; six tent cabins offer luxury. The history-rich towns of Lewiston and Weaverville are nearby. $14 tent, $79 cabin; Apr–Sep; 1.usa.gov/1FYFvqH.    
31. Sempervirens, Big Basin Redwoods State Park
It's set in a grove of towering coast redwoods that give the campground its name, with easy access to trails leading to Sempervirens Waterfall. $35; late Mar–Nov; parks.ca.gov. 
32. Ventana Campground, Big Sur
In Big Sur, campers rough it in the redwoods and then have access to the resort's spa and Japanese bathhouse at the top of the canyon. ventanacamping.com
33. Inn Town Campground, near Nevada City
On 15 wooded acres just 2 miles from Nevada City, you'll find a campground with a community vibe. The grounds include tent and RV sites, plus 15 canvas tents with handcrafted and antique furnishings. A common building features bathrooms, a communal kitchen, and general store. inntowncampground.com
34. AutoCamp Russian River, Guerneville
In Guerneville, 23 Airstream trailers put the luxury in camping, with Casper mattresses, hotel-quality linens, spa showers, and fire pits. Wooded walking paths lead to lawn games and a Frank Lloyd Wright–inspired communal pavilion. autocamp.com
35. Jackson Point Boat-In Campground, Tahoe National Forest
Part of the Pacific Crest Trail passes along the east side of the Jackson Meadow Resevoirreservoir, which also makes for a good fishing spot. fs.usda.gov
Southern California camping
36. Leo Carrillo State Park, Malibu
Campsites sit under the sycamores on the east side of State 1 and on a gorgeous beach on the west side, with access to tidepools. Hike the Nicholas Flat Trail for coastal views. $25; parks.ca.gov or 310/457-8143; book at reserveamerica.com 
37. Mesquite Spring Campground, Death Valley National Park, North of Furnace Creek
Set in the Grapevine Canyon wash, this is a great base for exploring northern Death Valley. Tour the Spanish-Moorish mansion, Scotty's Castle ($11; 760/786-2392), and walk the rim of Ubehebe Crater. With a high-clearance car, you can take a day trip to Eureka Dunes, California's tallest sand dunes. $12 (plus $20 park entrance fee per vehicle); no reservations; 760/786-3200. 
38. Refugio State Beach, Northwest of Santa Barbara
Campsites sit along a crescent-shaped cove fringed by palm trees, where you can fish, swim, and snorkel. On Fridays during the summer, the park staff offers free sea-kayaking lessons at 9 or 11. From $25 (from $125 for group sites); parks.ca.gov or 805/968-1033; book at reserveamerica.com 
39. Ryan Campground, Joshua Tree National Park, South of Twentynine Palms
Sites are tucked among jumbled piles of the quartz monzogranite boulders of Joshua Tree. A couple of miles from camp, a trail leads 1.5 miles up to the 5,461-foot summit of Ryan Mountain. $10 (plus $15 park entrance fee per vehicle); no reservations; 760/367-5500. 
40. Boulder Basin Camp, San Bernardino National Forest, North of Idyllwild
At 7,300 feet in elevation, this forested camp is peppered with giant boulders. Sites at the top of the campsite loop feature expansive vistas of the national forest. Walk 0.5 miles to the Black Mountain Fire Lookout for 360° views of the Santa Rosa Mountains and San Gorgonio Pass. $10; 909/382-2921; book at recreation.gov 
41. Doane Valley Campground, Palomar Mountain State Park, Northeast of San Diego
The camp is like a slice of the Sierra Nevada ― dense conifer forests and grassy meadows at 4,700 feet ― in San Diego County. Kids can fish in Doane Pond, and the 200-inch Hale telescope at Palomar Observatory (free; 760/742-2119) is a scenic drive up the road. $20; 760/742-3462; book at reserveamerica.com 
42. Doheny State Beach, Dana Point
Swimming and surfing are prime at this mile-long protected beach. Try to snag a beachfront site on the sand ($35). Don't miss the spectacle of the small, silver fish called grunion laying their eggs in wet sand on the beach during full moons in June through August. From $25; 949/496-6172; book at reserveamerica.com  
43. Jalama Beach County Park, West of Lompoc
For the ultimate in scenic Santa Barbara camping, this Santa Barbara County beach is one of the most beautiful in California. You have to drive 19 winding miles south from Lompoc to get here, but the trek is worth it: 109 campsites on a gorgeously unspoiled sweep of coastline. You probably won't want to get more than your shins wet—the water can be cold and rough—but surf-fishing, kite-flying, and beachcombing opportunities abound. Don't want to camp? Reserve one of the park's cabins. And order a Jalama Burger from the camp store. Campsites from $28, cabins from $160; reservations.sbparks.org
44. McGrath State Beach, Ventura
You'll be bounded by sand dunes at this 2-mile-long beach at the mouth of the Santa Clara River. Birders, bring your binoculars and identification books. Lush riverbanks and a freshwater lake attract more than 200 species. $25; 805/585-1850; book at reserveamerica.com   
45. North Beach Campground, Pismo State Beach
Sites sit among pine-covered dunes bordering the beach, with privacy and wind protection. Beach walking and birding are prime activities. Winter campers can observe thousands of monarch butterflies clustered in the neighboring eucalyptus grove. From $20; 805/489-1869; book at reserveamerica.com    
46. Ricardo Campground, Red Rock Canyon State Park, Northeast of Mojave
At Red Rock Canyon, colorful sandstone walls rise from the desert floor, and campsites are tucked against the White House Cliffs. The stargazing is so exceptional here that rangers post constellation charts detailing each evening's display. $12; no reservations; 661/942-0662. 
47. Serrano Campground, San Bernardino National Forest
A camp at Big Bear Lake that's within walking distance of the water, this pine-shaded spot is a favorite of families who want to swim or fish. Hike the moderate 2-mile Cougar Crest Trail to Bertha Peak, or pedal the 3.5-mile paved path along the north shore. Pick up trail info at the nearby Big Bear Discovery Center. From $28; 909/866-3437; book at recreation.gov 
48. Moro Campground, Near Laguna Beach
Look coastward for Pacific seascapes. Look inland for 17 miles of trails through canyons and rolling hills (hike 'em early, while it's cool). In Crystal Cove State Park near Laguna Beach, sites 51–60 at Moro Campground sit above 3.2 miles of pristine sands—and within walking distance of Bloody Marys garnished with lobster claws at the Beachcomber Café ($$$). $50; crystalcovestatepark.com
49. Parsons Landing, Catalina Island
These eight sandy sites at Parsons Landing on Catalina Island reap beachfront sunrises that are perfect for morning basking (and dolphin-spotting). Grab your camera and scale the bluffs to connect with part of the 37.2-mile Trans-Catalina Trail, where you stand decent odds of seeing some of the island's unique animals: endemic Santa Catalina fox and Catalina California quail, plus a bison herd first imported here for a 1924 silent western movie shoot. $18/person, plus $14/stay for water and firewood delivery; visitcatalinaisland.com
50. Tinker Tin Trailer Co., Paso Robles
The Trailer Pond at Alta Colina Winery in Paso Robles offers five beautifully restored vintage trailers on winery grounds. All-inclusive packages get you wine-and-cheese tastings, catered breakfasts, and hikes around the property. tinkertin.com
51. Base Camp Pop-Up, Indio
The Coachella and Stagecoach annual pop-up camp in Indio just got fancy with safari tents featuring down bedding, 500-threadcount sheets, lounge chairs, and screen doors. welcometobasecamp.com
Hawaii camping
52. Anini Beach County Park, Northeast of Lihue, Kauai
Vacation homes at Anini Beach go for top dollar, but camping at the grassy park is practically free. Keep your eyes peeled for the rare Ni'ihau shells that sometimes wash up on the sand at this calm, sheltered beach. Closed every Tue (for maintenance); $3 per person (permit required); 808/241-4463; for reservations, submit permit application by mail.
53. Na Pali Coast Kayak Camping, Kauai
Expect new guides and top-notch gear for these solo and guided kayak camping trips in Kauai. napalikayak.com
54. Namakanipaio Campground, Volcanoes National Park, Big Island
The 10 newly renovated cabins at Na–makanipaio Campground in the Big Island's Volcanoes National Park are about as close as you can (or want to) get to sleeping on an erupting volcano. At night, the sky may glow orange if Kilauea is burbling from Halema'uma'u crater, a half-mile walk away. Forget an alarm too; just listen for the calls of bright red 'apapane and yellow 'amakihi birds. $55, plus $10/vehicle; hawaiivolcanohouse.com
Mexico camping
55. Las Cañadas Campamento, Ensenada
Camp in a tent, cabin, or teepee in Baja's Esenada for easy access to horseback riding, mountain biking, and water sports. Bonus: Cabins feature full bathrooms and hot water. lascanadas.com
---
---
Read the 2021 Harvest Issue Right Here
Get one year of Sunset—and all kinds of bonuses—for just $24.95. Subscribe now!
Keep Reading: