The 27 Best Campgrounds in the Southwest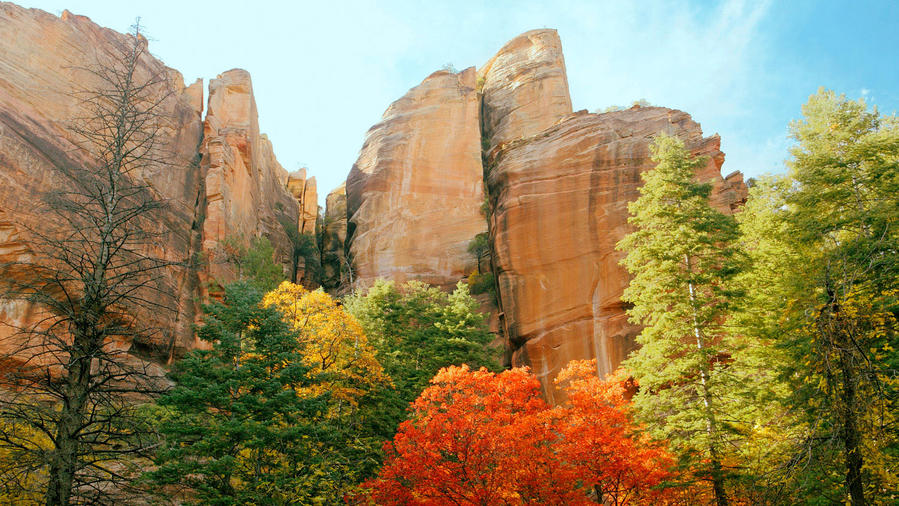 Whether you want to hike the Grand Canyon, boulder in Nevada, or fly-fish in New Mexico, you'll find the perfect campground on our list of faves
Arizona camping
1. Cave Springs Campground, Sedona
Set in shaded Oak Creek Canyon, Cave Springs is surrounded by red sandstone walls and has its own creek. Hit the water holes at Slide Rock State Park ($10 per vehicle; azstateparks.com), about 5 miles down the road. $20; redrockcountry.org or 928/527-3600; book at recreation.gov
2. Manzanita Campground, Sedona
Sites 10 through 12 at Manzanita Campground sit closest to the water, which lights up with yellow and red oak leaves. The 6-mile out-and-back West Fork Trail is a portal between striped canyon walls and stream crossings. $22; open all year, book at recreation.gov
3. Blue Ridge Campground, Coconino National Forest, North of Clints Well
Blue Ridge Reservoir is just 9 miles from this cluster of 10 sites shaded by oaks and ponderosa pines. From the campground, hike the moderately difficult Arizona Trail to the recreation-packed reservoir. For solitude, skip the reservoir and hike a moderate 5 miles to trout-filled East Clear Creek (trailhead is about 6 miles from the campground). $8; no reservations; 928/477-2255.
4. Bonita Canyon Campground, Chiricahua National Monument, Southeast of Willcox
The pine-and-juniper campground is near the national monument's visitor center. Drive 6 miles up the road to access hiking trails that cut through a forest of volcanic-ash rock spires and hoodoos. Come in September, when you'll have the place to yourself. $12 (plus $5 entrance fee per person; no reservations), $3 per person at group site (plus entrance fee; reservations required); 520/824-3560 ext. 501 or 520/824-3560 ext. 501 (group reservations only).
5. Cottonwood Campground, near Canyon de Chelly National Monument, East of Chinle
Shaded by cottonwoods, this campground is near Ancestral Puebloan petroglyphs and pueblo sites. Hire a private guide at the visitor center, a few steps away, to tour the park's backcountry (you can't access it without one). Free; no reservations; 928/674-5500.
6. Lynx Lake Recreation Area, Prescott National Forest, Prescott
At 5,200 feet, the campground is just above the 55-acre, trout-stocked Lynx Lake. Try to get a campsite with a lake view. Pan for gold in Lynx Creek, ½ mile north of the recreation area. $18; no reservations; 928/443-8000.
7. Crabtree Wash Recreation Site, Tonto National Forest, South of Roosevelt Dam
To park your tent or trailer right on Apache Lake's gravel beach, drive 100 miles northeast from Phoenix to Crabtree Wash. Dispersed camping here gives you a front-row view of saguaro-covered volcanic cliffs that catch dawn's first rays, and the shallow water is perfect for swimming or paddling. $6/vehicle/day; no reservations or potable water; fs.usda.gov/recmain/tonto/recreation
8. Locust Point, Kaibab National Forest, Near Grand Canyon National Park
A secret guarded by locals and National Park rangers: You don't have to battle crowds to camp on the North Rim. The adjacent Kaibab National Forest contains a number of backcountry overlooks where dispersed camping is free and gloriously scenic—the trick is navigating the dirt roads (suitable for low-clearance cars). Pack plenty of food and water, buy a map at the Kaibab Visitor Center in the town of Jacob Lake, then drive an hour to Locust Point. It's primitive (BYO water, no facilities), but you'll have Grand Canyon magnificence all to yourself. Free; no reservations; fs.usda.gov/kaibab
9. Desert View, Grand Canyon National Park
Think South Rim scenery without (so many) crowds. Photographers thrill to Desert View, especially at dawn, when first light paints the canyon in soft pastels. Twenty-five miles east of Grand Canyon Village, it's less well-known than Mather, the other South Rim campground. But you'll still want to grab a spot by 10 or 11, when people are packing up. $12; $25/vehicle; mid-May–mid-Oct; no reservations; nps.gov/grca
10. North Rim Campground, Grand Canyon National Park
Just 2 miles from Bright Angel Point, the North Rim Campground is an easy walk to the difficult 14.2-mile trail that descends into the canyon. Reserve as soon as you have a date in mind, as it's one of the most popular Grand Canyon camping spots. From $18 (plus $20 park entrance fee per vehicle); 928/638-7888; book at recreation.gov
11. The Shady Dell, Bisbee
The Shady Dell's nine refubished vintage trailers are set on a quaint property that feels more like a tail-gate party with croquet on the artificial-turf patio. theshadydell.com
12. Lazy Days KOA, Tucson
This Tucson campground is the first KOA to install solar panel technology to power the grounds. New Southwest-style covered sites feature fireplaces and new two-bedroom deluxe cabins feature queen beds. koa.com
13. Point of Rocks RV Campground, Prescott
The Prescott park is just minutes from downtown and adjacent to picturesque lake.  Newly offered are Wi-Fi and 50-Amp sites throughout the upper loop of the park. pointofrocksrvcampground.com
Nevada camping
14. Arch Rock Campground, Valley of Fire State Park, West of Overton
One of only two campgrounds in the aptly named Valley of Fire, Arch Rock has an upper loop where sandstone rocks create more privacy. Hike the 4.5-mile Pinnacle Trail loop to a "forest" of red rock pinnacles. A flat, bed-size rock at campsite 18 makes for perfect stargazing. $14; no reservations; 702/397-2088.
15. Hilltop Campground, Humboldt-Toiyabe National Forest, Northwest of Las Vegas
At 8,437 feet, this campground overlooks the Mojave Desert and accesses the North Loop Trail, which takes you a rigorous 10.3 miles to the peak of Mt. Charleston. If you aren't up for Mt. Charleston, stop 3 miles in at a bristlecone pine known as Raintree, thought to be Nevada's oldest living thing. $17; 702/872-5486; book at recreation.gov
16. Cathedral Gorge Camp, Cathedral Gorge State Park
A desert photographer's dream, the Cathedral Gorge State Park has a campground with 24 tent sites and newly installed electrical hookup for RVs. Park personnel have recently installed a steel-frame stairway down to Miller Point, which gives visitors a new view of the canyon a 1-mile trail below. parks.nv.gov
17. Boulder Beach Campground, Boulder City
You'll find more than 100 palm-studded campsites just ½ mile from Lake Mead's shores. Go in October―the water's still warm and the days are still long enough to hike. $10 (plus $5 park entrance fee per vehicle); no reservations except for large groups; 702/293-8990.
18. Silver Springs Beach, Lahontan State Recreation Area
Two day-use picnic areas are located across from Lahontan Dam and Silver Springs Beach. The Lahontan State Recreation Area facilities include modern restrooms, showers, tables, and grills—and all facilities are newly ADA accessible. parks.nv.gov
NEW MEXICO
19. City of Rocks State Park, Northwest of Deming
House-size volcanic ash boulders create a mini-city maze; ancient paths weave through the boulders. Campsites have little shade, so go in spring or fall. From $10; 575/536-2800; reservation line 877/664-7787.
20. Rio Chama Campground, Abiquiu
Tucked into a stand of juniper along the Rio Chama Wild and Scenic River, this campsite is in the heart of sandstone cliffs and Georgia O'Keeffe country. Snag the fourth site on the left―the only site with its own boat (non-motorized) put-in. Free; no reservations; 575/638-5526.
21. Jemez Falls Campground, Santa Fe National Forest, East of La Cueva
Nestled in a ponderosa forest at 7,880 feet―next to the Jemez River―this site is a fly-fishing dream. From the campground, hike 0.25 miles to 40-foot Jemez Falls, then continue 2 miles to McCauley Warm Springs. $10; no reservations; 575/829-3535.
22. La Junta Campground, Wild Rivers Recreation Area, West of Questa
Set on a mesa above Wild Rivers' 760-foot gorge, the campground overlooks the confluence of the Rio Grande and the Red River. Hike down for a waterside picnic when it gets hot. $7 (plus $3 day-use fee); no reservations; 575/586-1150.
23. Sleepy Grass Campground, Lincoln National Forest, Cloudcroft
The grass-and-pine meadow feels totally secluded at 8,800 feet, but it's just 1 mile from Cloudcroft's shop- and restaurant-dotted Burro Avenue. Hike or bike Trail 5661 for views across White Sands National Monument and out to Las Cruces. $13; no reservations; 575/682-2551.
24. Twining Campground, Carson National Forest, Northeast of Arroyo Seco
Set in Taos Ski Valley at 9,400 feet, the campground gives you access to New Mexico's highest peak―13,161-foot Mt. Wheeler―and the easier 6-mile Long Canyon/Gold Hill loop. Invite friends and camp at the uppermost site, the largest of four. Free; no reservations; 575/586-0520.
25. Morphy Lake State Park Campground, Mora
Campers once needed a four-wheel-drive vehicle to reach this campground, about 100 miles northeast of Santa Fe. Although a paved access road now smooths the journey, mornings here are still serene. Ponderosa pines surround the 30-acre lake, tucked into the eastern edge of the Sangre de Cristo Mountains. Most of the 24 sites sit waterside, allowing paddlers to launch right from camp. And sites on the lake's east side enjoy blown-open views of 10,000-foot peaks, which get spotlit by the rising sun. From $10; no reservations or potable water; nmparks.com
26. Aguirre Spring Campground, Las Cruces
This high-country campground in Las Cruces overlooking White Sands National Monument and the Tularosa Basin has direct access to two national recreation trails. lascrucescvb.org
27. Iron Gate Campground, Pecos
Aspens and pines shade the 14 campsites nestled 9,400 feet up at the edge of the Pecos Wilderness. Go in spring when the wildflowers are at their peak. $8; no reservations; 877/276-9404.
Keep Reading: