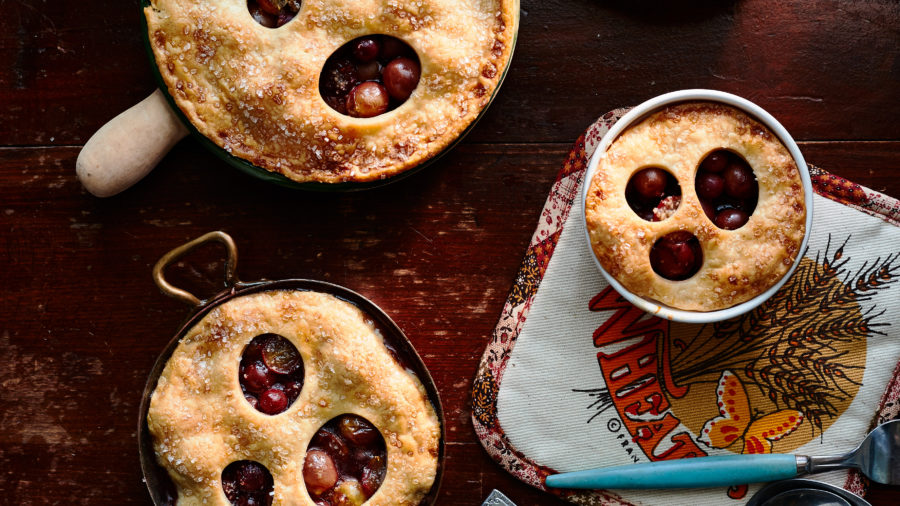 Iain Bagwell
Without a bottom crust to get in the way, grapes caramelize at the edges, adding depth to their sweetness. Red, late-summer varieties like Flame and Crimson keep their color in the oven and bake up nice and jammy. The tender cream cheese top pastry doesn't hold a distinctive crimp, so let it be rustic. To bake the recipe in one big dish, see instructions below.
How to Make It
1
Make pastry: In a food pro­cessor, whirl 1 cup flour, the butter, cream cheese, and salt until dough comes together. Gather into a smooth disk, wrap airtight, and chill 1 hour.
2
Preheat oven to 375°. Make filling: Combine ingredients in a bowl. Let stand 15 to 20 minutes, stirring occasionally, for tapioca to begin to soften. Spoon into 8 ramekins (6 to 8 oz. each), or make 1 big cobbler*.
3
On a lightly floured work surface, roll out pastry 1/8 in. thick. Cut out 8 rounds, making them 1/2 in. wider than ramekins; reroll scraps as needed. In center of each round, cut out 3 holes, slightly apart, of different sizes (7/8 to 1 3/8 in. wide), using pastry cutters* or a knife. Set pastries on filled ramekin and flute edges to sit just inside dish. Brush with cream and sprinkle with sparkling sugar. Set ramekins on a rimmed baking sheet.
4
Bake until pastry is golden brown and crisp and grapes begin to caramelize, 35 to 40 minutes. (Bake the cut-out pastry holes separately if you like. They make great snacks!) Let cobblers cool on sheet at least 30 minutes.
* For a big cobbler, spoon filling into a shallow 2- to 2 1/2 qt. baking dish about 1 1/2 in. deep. Cut dough to match shape of dish, making it 1/2 in. larger on all sides. Cut about 12 holes in pastry. Bake dish directly on oven rack (not on a baking sheet) 35 to 40 minutes. For holes in pastry, we used the Ateco 12-piece plain round cutter set (webstaurantstore.com).
Search All of Sunset's Recipes