Composed Mediterranean Salad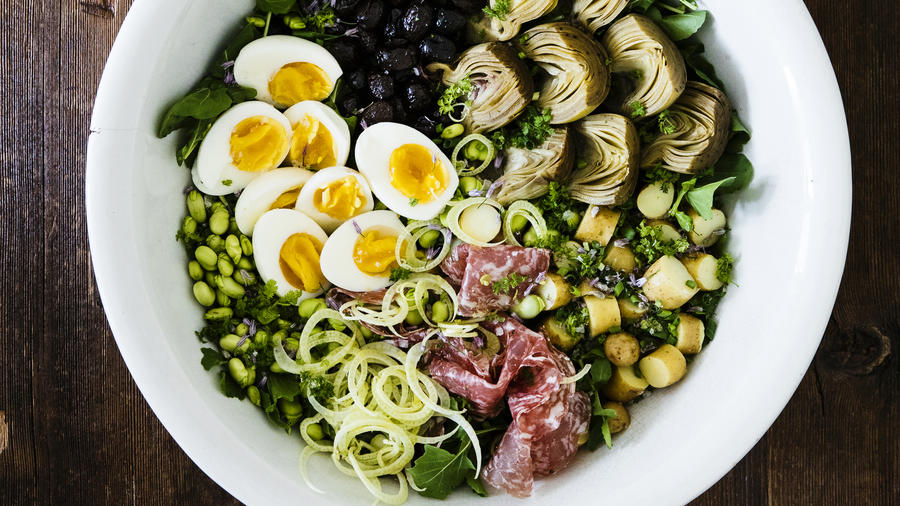 If Niçoise and antipasti had a love child, this would be their girl—simultaneously elegant and rustic. San Francisco cookbook author Michelle McKenzie created this as a main-course event, requiring nothing more than a chilled bottle of wine, a crusty sourdough loaf, and good butter. Serving it family-style, with groupings of seasoned ingredients, allows guests to customize their plates. "When everything anyone needs is there all at once, it creates a space for ease, comfort, and lingering—and the cook gets to sit back and enjoy the experience of feeding others," says McKenzie.
Wine Pairing: A vibrant and minerally white with flamboyant aromatic aromas, like Dutton Goldfield 2016 Chileno Vineyard Riesling (Marin County; $30)
How to Make It
Step 1
1
Cook artichokes: Fill a 6- to 8-qt. pot half full of water and add aromatics. Season water with salt, then add oil, vinegar, peppercorns, and wine; squeeze in lemon, and drop in peel. Bring to a boil, then, lower heat to a bare simmer.
Step 2
2
Cut off spiny tops of artichokes, snap off dark green outer leaves down to tender yellowish ones, and trim fibrous outer layer of stem. Cut artichokes in half lengthwise; if they have a fuzzy choke, scoop it out with a small spoon. Add artichokes to pot (they should be submerged; add more water if needed), and simmer, partly covered, until they offer very little resistance when pierced with a knife, 15 to 18 minutes.Let artichokes cool, uncovered, in cooking liquid (to absorb more flavor and firm up).
Step 3
3
Meanwhile, make vinaigrette: In a small bowl, whisk lemon juice and shallot with salt. Let sit at least 5 minutes to soften the shallot's bite and infuse oil with flavor, then whisk in pepper to taste and the oil. Season with more salt and pepper if you like.
Step 4
4
Prepare everything else: Put potatoes in a medium saucepan and cover with cold water. Season water with fine salt. Bring to a boil, then lower heat and simmer until potatoes offer no resistance when pierced with a knife, 15 to 20 minutes. Transfer to a plate (save water in pot).
Step 5
5
Season shelled favas with 1 tbsp. vinaigrette; chill.
Step 6
6
Return potato water to a boil. Set a bowl of ice water near the stove. Cook eggs 7 minutes, adjusting heat to maintain a gentle boil. Cool eggs in ice water, then crack and peel.
Step 7
7
Slice cooked potatoes crosswise into 1/2-in.-thick coins. Halve eggs lengthwise. Thinly slice fennel across top with a handheld slicer (or a knife), then toss with liquid and pat dry. Season with fine salt and drizzle with 1/4 cup vinaigrette.
Step 8
8
Plate salads: Arrange arugula across bottoms of 2 large shallow bowls or platters. Top with groupings of artichokes, fava beans, potatoes, eggs, salami, and olives. Scatter a few herbs across favas and artichokes. Season potatoes and eggs with flaky salt and black pepper or piment d'Espelette. Drizzle salads with another 1/4 cup or so of vinaigrette and top with chive blossoms, if using, and flaky sea salt. Serve with remaining vinaigrette.
9
*To prep favas, boil beans 1 minute, then cool in a bowl of ice water before draining. Tear skins at one end and pop out inner beans into a bowl. Find ground piment d'Espelette, a flavorful Basque chile, on spanishtable.com ($10.99 for a 15-gram jar).
10
MAKE AHEAD: Artichokes in cooking liquid, vinaigrette, potatoes, and unpeeled eggs, up to 4 days, chilled airtight. Peeled favas, up to 4 hours, chilled.
Search All of Sunset's Recipes