Q&A with designer Edwina Vidosh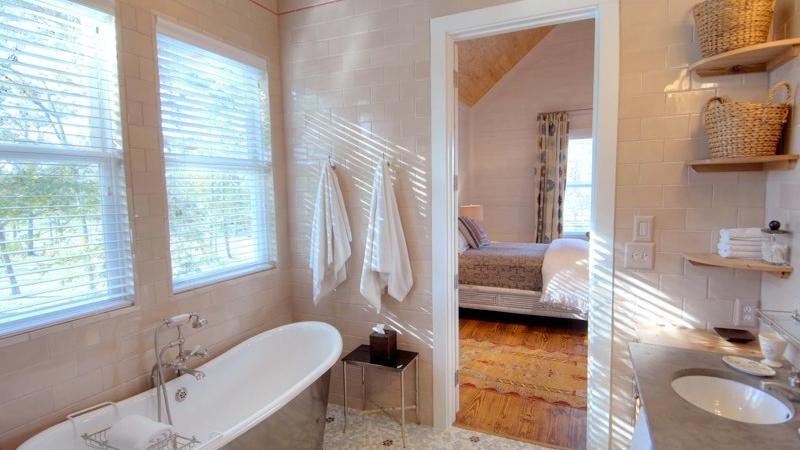 Our Designer Network is a group of trailblazers and icons that Sunset and sister publications Coastal Living and Southern Living work wit...
Our Designer Network is a group of trailblazers and icons that Sunset and sister publications Coastal Living and Southern Living work with to curate the best home designs for the magazines.
This week, we feature designer Edwina Vidosh.
Sunset: How would you describe your style?
EV: My style is geared towards the clients lifestyle. It is easy to make an environment beautiful with texture and balance. But to make it personalized for a client makes it special to them to make memories. It is the difference of a designer label shirt being purchased off the showroom floor and having a designer make you a custom shirt.
Sunset: What's a design trend you're loving right now?
EV: We are enjoying painted concrete tiles which seem to have become popular. Mainly, I like to use trendy items in accessories such as pillows, etc. That way you have a timeless canvas and can add trend when desired, but don't have to be married to that particular trend. A new staple trend I have used for years is a lovely comfortable outdoor room or Loggia. They will never go out of style.
Sunset: What's your #1 piece of design advice for homeowners?
EV: I always encourage my clients to think about how they live and make note of areas they enjoy most in the home. Do you entertain a lot? Where do you sit with family and friends? How you like to end your day and prepare for sleep? This is most important in the master bedrooms and baths. You will be surprised what a difference it makes in how you live in your home.
Sunset: What are your (beach, mountain, lake, farm) house essentials?
EV: Wherever I am doing a home, the house has to feel welcoming and function comfortably for its use in that area. But there is nothing better than a comfortable place to end your day and get your much-needed rest. I also pay attention to the surrounding and what materials work best in that environment. For instance, on the beach, a durable floor that may handle sand and dampness without losing its look or being high maintenance.
Sunset: What's your go-to statement-making front door paint color?
EV: I love the Sherwin Williams SW6219 Rain in a gloss finish. And of course, a walnut stain on a front door is stunning.
Sunset: Favorite places to shop?
EV: I love the search for unique items that no one else will have in their home. This often leads to a terrific adventure. Antique stores, any and everywhere.
Sunset: Favorite hotels to stay in on the coast?
EV: I enjoy boutique hotels on the coast. Cooper Island, in the British Virgin Islands, is one stop I will never lose the image and peace it provided. The more remote the better. I try to visit one new hotel a year to keep the adventure alive.
Sunset: When it comes to (beach house) kitchens, what's your preference: Island or peninsula?
EV: I tend to use islands in a kitchen. It gives it a nice work area that is functional for avid cooks. Also it makes a nice space in the kitchen for others to visit and interact without being in danger of a burn or spill.
Keep Reading: