See you soon: Sunset's Menlo Park gardens are open through Oct 30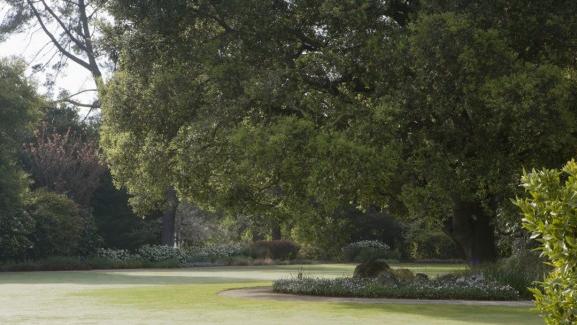 As Sunset packs its HQ to move to Oakland's Jack London Square and Sonoma's Cornerstone, its gardens will close Oct 30. Here's how to visit.
As we begin boxing up our Cliff May ranch house in preparation for our dual moves to Oakland's Jack London Square and Sonoma's Cornerstone, we'll be closing the gates to Sunset's gardens on October 30, 2015.
The last self-guided tour of our gardens—designed for us by influential landscape architect Thomas Church—will be at 4 p.m. that Friday, with our doors closing to the public at 4:30 p.m.
Garden tours are free and available 9 a.m. to 4 p.m. weekdays through October 30, including on Columbus/Indigenous Peoples Day (October 12). No reservation is needed unless you're bringing a group of 10 or more; complete tour information is on our website.
If you haven't visited before, Sunset's Menlo Park, California, campus is 30 miles south of San Francisco, just 1 mile west of U.S. 101. Our street address is 80 Willow Road.
When you arrive, stop in the lobby to pick up a free brochure that will guide you on a walking tour of our 7-acre gardens, including our 3,000-square-foot Test Garden and—in the main garden—planting beds representing major climate zones of the West: hardy succulents and cactus for the arid deserts of Southern California and the Southwest, majestic California oaks and coast redwoods, lush dogwoods and rhododendrons of the Northwest, and more.
And when we move, we'll be planting equally elaborate gardens in Sonoma, where Cornerstone will host our Test Garden and Outdoor Kitchen; and in Oakland, where we plan to showcase container- and urban-gardening techniques along the Jack London Square waterfront outside our new Editorial HQ.
Stay tuned for updates as we design, plant—and invite you to visit us at both of our new homes.
Keep Reading: