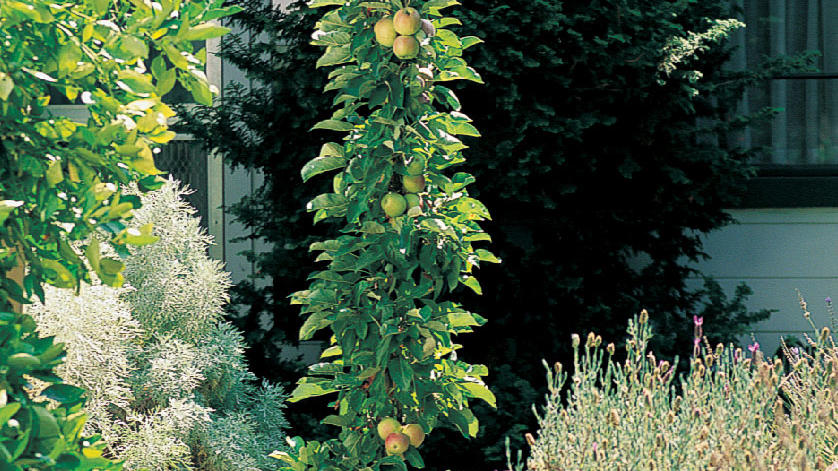 Colonnade apple trees grow up, not out; they're perfect for tight spaces
Colonnade apples, introduced into the United States in the mid '90s, grow upright and narrow.
Instead of developing horizontal branches like standard apple trees do, these trees form fruit on short spurs that develop along the main trunk.
They fit easily into the smallest gardens; you can plant several along a fence or deck, in a side yard, or even in containers on a sunny porch.
One Green World (503/651-3005 or www.onegreenworld.com) in Molalla, Oregon, sells scab-resistant varieties developed in Canada. Trees grow 10 to 12 feet tall, 3 feet wide. They include 'Golden Sentinel', yellow, sweet, juicy fruit; 'Northpole', crisp, juicy, McIntosh-type fruit; and 'Scarlet Sentinel', large, sweet, green-yellow fruit with red blush.
Stark Brothers (800/325-4180) and Monrovia Nursery (wholesale only; ask your nursery to order for you) sell English varieties.
Trees grow about 8 feet tall and 2 feet wide. Varieties are 'Crimson Spire', tart sweet red apple with white flesh; 'Emerald Spire', mellow, sweet green apple with gold blush; 'Scarlet Spire', juicy red-and-green eating apple; and 'Ultra Spire', tart, tangy red apple with a yellowish blush (trees are more compact than the other varieties).
Colonnade apple trees need little maintenance. Water them regularly and fertilize them two to three times a year (more often for plants in containers). In summer, prune only to shape the tree and cut back wayward growth, if it develops; prune long stems back to three leaves.
Pick the apples in September when they taste ripe.
Keep Reading: