These 6 Simple Tricks Will Keep Your Air Plant Alive
They're almost zero-maintenance, but a little care will help them live their  best lives.
When it comes to indoor plant care, air plants (Tillandsia) are supposed to be some of the easiest. For starters, they don't even need soil, absorbing water and nutrients through scales on their leaves—in the wild they survive just hanging onto the bark of trees and whatnot, catching whatever bit of rain and bird poop that comes their way. But just like succulents and orchids, some people have trouble keeping them alive. I know because y'all tell me. I also know because I see a lot of parched, browning air plants that are clearly dying of thirst. I also see far too many holed up in closed terrariums—not a match for the circulation-loving plants. So let's get to it.
Courtesy Biodiversity Heritage Library From Belgique Horticole Vol. 9 (1859). We love air plants for so many reasons — check out our care tips.  
1. Dunking is best
I know you thought you'd be fine just spritzing your tilly every few days, but that isn't enough. Air plants need just slightly more care than that. I'm known as the air plant whisperer around these parts, and this is what I do: Once a week, I dunk them in a container large enough to fully submerge them and let them sit there. For hours. I always intend to follow the advice Airplant Man gave me to soak them overnight. But sometimes it's Friday (I keep mine at work and don't see them on the weekends), so I do it for a few hours. It varies, but a several-hour dunking once a week has killed none, and they're all thriving.
2. Always air dry
After they soak, Tillandsias need to dry out fully. Fully! Shake off any excess water and put them in a bright spot for at least 4 hours. This is key, as dampness is the main foe of an air plant. Their poor little cores will rot if they don't get to drain and dry out!
3. Look on the bright side
Bright filtered or indirect light is ideal for indoor air plants. Some direct sun works, too (morning is better), but they shouldn't be baking all day. Think "rainforest" and do your best to reproduce those conditions in a small space.
4. Plants get hungry, too
For lush-looking plants that earn you bragging rights (such as being known as the "air plant whisperer, for example), feed your plants once a month by adding fertilizer to the water mix. Use a bromeliad mix (air plants are in the bromeliad family), and don't overdo it—plants can burn from too much fertilizer.
5. Nice and cozy
The good news here is that you have to work pretty hard to mess this one up. Air plants are happy with a wide range of temps, from the 50s to the 90s. Just know that the hotter and drier the air, the more often you'll have to water. And it probably comes as no surprise—these tenderhearted tropical and subtropical babies will bite the dust in freezing temps.
6. Open up
I know, I know—glass terrariums are adorable, but air plants need circulation of, you know, air. An enclosed vessel encourages wet, stagnant conditions, and this spells disaster. If you just can't get over glass, choose a vessel with as wide a hole as possible (like a fish bowl), and be sure to let plants dry fully before you place them back inside.
Want more info? Get yourself a copy of Air Plants: The Curious World of Tillandsias. There's no other book like it.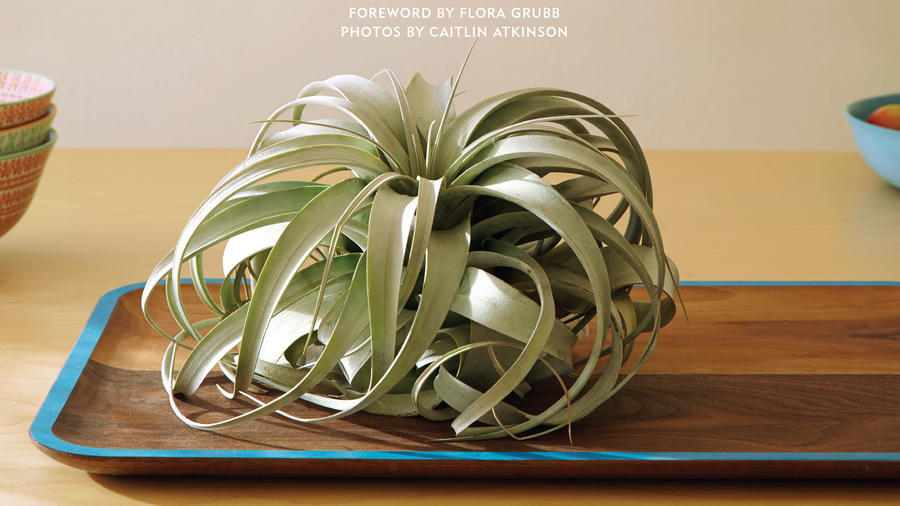 (Caitlin Atkinson)
Also, here are a few design ideas:
Our Favorite Gardening Tools from the Sunset Store
The Sunset Store is full of tools, puzzles, knickknacks, and more to remind you of all the reasons you love the west. The gardening tools below were handcrafted with the home gardener in mind; check them out and don't forget to tag us in your garden pics @SunsetMag on all social platforms.
Sunset Gardening Apron
We've teamed up with the good people at White Bark Workwear in Los Angeles, California, to produce our first official Sunset garden apron—a sustainable and practical tool for gardeners everywhere. The spacious utility pockets are gusseted to expand and provide extra room for tools, twine, garden clippings, and anything else you might need to keep near.
Fisher Blacksmithing Hand Trowel
The subtle patina and refined hardwood handle give this trowel modern flair. The blade is made from high carbon steel and the handle from American Black Walnut. Simple and sturdy, this tool is reminiscent of what you might find in your grandparents garden or farm shed. The wide blade holds a lot of soil and the pointed shape allows you to get through more stubborn substances as well.
Fisher Blacksmithing Garden Cultivator
This elegant rake is great for breaking up dirt and attacking weeds!  The tines of the rakes are ideal for working with grasses and other weeds that have shallow, rhizomes, or runner-type growth. The carefully bent side tines flare slightly below the ferrule creating a beautiful, fleur de lis image. The solid steel rivets are set horizontally to the direction of pressure providing additional stability for the rake.
Vintage Sunset Camellias Cover Personalized Garden Flag
Plant your flag! Our weather-resistant garden flags come custom-printed with your family's name. Show off your pride in the West— and, ahem, your good taste— with your favorite vintage Sunset covers.
---
Read the 2021 Harvest Issue Right Here
Get one year of Sunset—and all kinds of bonuses—for just $24.95. Subscribe now!
Keep Reading: