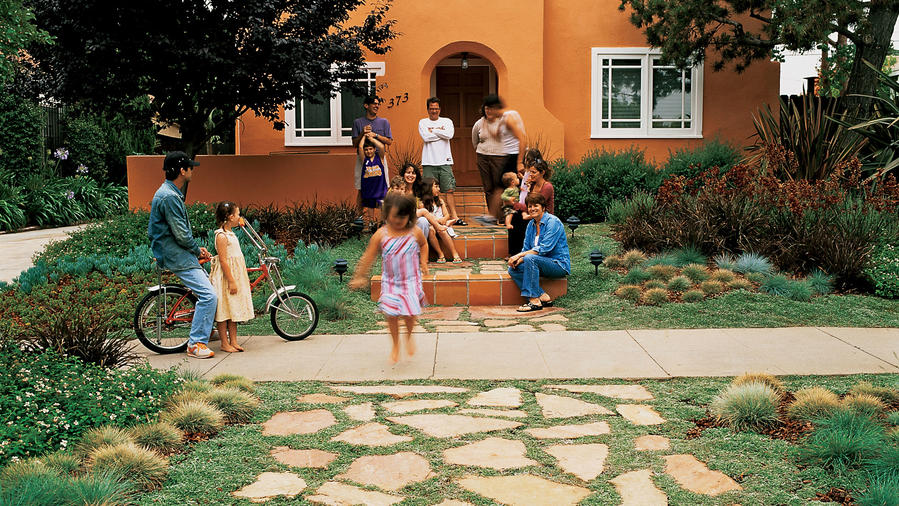 Lessons in creating a garden with your neighbors
It takes a village to complete a garden ― well, practically. More than 50 of Stacia Payne's neighbors had a hand in creating her front yard. They dug ditches, installed irrigation, laid flagstone, and planted up a storm. To understand how this extraordinarily neighborly gesture came about, though, you need to know what kind of community Payne lives in.
Larchmont Village is a compact area of mostly single-family homes located close to Paramount and other Hollywood studios. The development began in the 1920s and has the earmarks of that era. Homes, often Spanish colonial like Payne's, are small ― 1,000 to 1,800 square feet ― and yards are too. Garages are in the back, where they should be; in front are porches and patios. The intimacy of the setting encourages the formation of book clubs, babysitting co-ops, and emergency response plans, not to mention women's nights out and numerous impromptu gatherings. In other words, it's not an environment for people who want to remain strangers. 
Local refuge
Though residents represent all ages, the friendly setting makes Larchmont Village particularly attractive to first-time homeowners ready to start families. Stacia Payne and Jose Marin were such a couple. Their new home was showing its age, but Marin enthusiastically tackled project after project, such as renovating the kitchen and replacing windows. Meanwhile, the couple had two daughters, Maya and then Luisa. Redoing the front yard was next on Marin's list.
Payne wanted steps wide and tall enough to sit on comfortably, preferably with company, while she watched her daughters play in adjoining yards, and landscaping that had character but didn't obstruct the view or require high maintenance. Her good friend June Scott, a garden designer, came up with the plan.
Then Marin got started. He poured the foundation for the steps, rented a rototiller, and spent a day preparing the soil for new plants. "There goes Jose again," neighbor Judy Dugan remembers thinking.
That night, Marin suffered a fatal asthma attack. The family was stunned, and so was the neighborhood. "We were all grieving and felt the need to help in some concrete way," says neighbor Charlie Hutchinson. Finishing the job Marin started ― the rototiller was still in the yard ― seemed like the obvious thing to do, he says. "We couldn't leave it undone. We just pulled together without thinking about it."
Within a few days, Payne's neighbors were organized and swung into gear. They bought plants and material, assessed their skills, divvied up tasks, and went to work. During the next two weeks, they "planted and cried and then planted and cried some more," Payne says. "It was pretty therapeutic, actually."
That was more than three years ago. Today, Payne's landscaping functions exactly the way she hoped it would. Children play here; she seeks refuge in the space when she needs downtime, and the friends who put their time, energy, and love into finishing this garden visit often.
"Stacia doesn't even claim the garden as hers," says neighbor Cesario Tio. "It's become the neighborhood garden."
DESIGN: June Scott Garden Design, South Pasadena, CA (626/441-0040) 
Elements of a neighborly front yard
Easy, ample seating. Wide, high steps (with 1-foot risers) make Stacia Payne's garden a particularly popular gathering point. "You don't have to pull out chairs," says neighbor Judy Dugan. "You can just plop down."
Softened hardscape. Like a welcome mat, a combination of flagstone and groundcover jumps the sidewalk and visually connects the stairs with the curb. This barefoot patio gives more space for children to romp and adults to congregate, while the design draws the eye to those inviting steps.
Friendly groundcover. Dymondia margaretae was used between the flagstones, along the sidewalk, near the driveway, and along the curb. The groundcover was chosen because it's very tight and flat; people won't get tripped up in it, says designer June Scott. It's also soft enough to feel good under bare feet.
Approachable landscaping. Because Payne wanted to see her neighbors' yards and vice versa, Scott used mostly low-growing plants such as Lantana montevidensis 'White Lightnin", dwarf kangaroo paw, 'Jack Spratt' New Zealand flax, Senecio mandraliscae, blue fescue, and pork and beans sedum. Slightly taller plants balance the composition near the existing pine tree. None of the plants are prickly or thorny.
Keep Reading: