Make a Vertical Garden Tower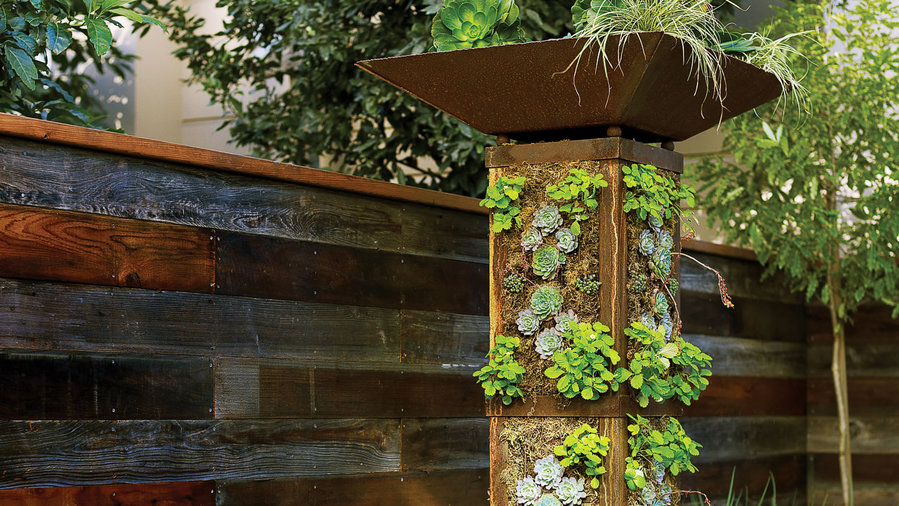 No space? No problem. Start planting vertically instead
It used to be that a good excuse for not growing edibles was lack of room. But the smallest patch of yard can serve up extra gardening space if you go vertical.
At first glance, this 8-foot-high structure, custom-built of plate steel strips with mesh insets, seems to be a column of succulents. But there is an edible surprise: strawberries.
The metal basin on top catches rainwater (and fog) for irrigating. Sturdy concrete footing keeps the pillar from toppling.
Design: Vera Gates, Arterra Landscape Architects, San Francisco (415/861-3100)
Do it yourself:
1. To make a tower on a smaller scale, fill a 16-inch clay pot halfway with pebbles or pot shards. Inside the pot, position a 34-inch-high cylinder of welded wire mesh purchased from a hardware or building-supply store. This is your framework.
2. Working in tiers, line the inside of the cylinder with moist sphagnum moss, fill with potting soil, and poke in plants from the outside. Repeat the process until you reach the cylinder's top.
3. Lightweight edibles that work well (because of their small root system) include arugula, leaf lettuces, radishes, and strawberries.
DIY tower: $140
Pictured tower: $2,000 to build
More: Take a tour of this urban home
Keep Reading: