3 new gadgets that will help you save water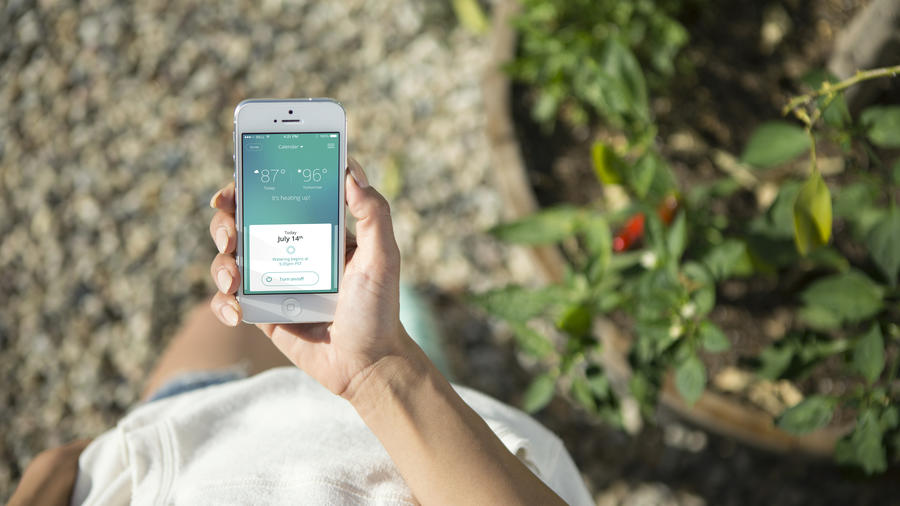 Make every drop count with one of the latest in smart watering gadgets. The best thing about this new generation of smart water controllers? They all have an app, so all it takes to make sure your tomatoes are getting watered is the tap of a finger.
Think of these devices as Nest for your garden. Real-time data on temperature and rainfall from a wall-mounted or in-garden sensor communicate both with your irrigation system and with your smart phone. Rain's predicted for this evening? The sensor will postpone watering and send you an alert. There's a heat wave? Plants will receive additional water. While nothing can replace the relationship between a gardener and the plants they nurture (nor would we want it to), adding a layer of smart automation can help prevent overwatering and cut down on overall water use. And in these dry times, that's something we can get behind.
1) Blossom
Blossom pairs an unobtrusive wall-mounted controller with your irrigation system to schedule watering for up to 12 different zones. The smart controller matches data on weather with water usage in your garden to create an optimum watering schedule for each zone.Plus, the app provides an easy interface for tweaking the watering schedule for different zones or adding new ones. We like the easy set up and sleek design of the smart controller and the peace of mind that comes with a "set it and forget it" gadget.
Blossom retails for $199.99, available online.
2) Edyn
Edyn gets bonus points in our book because the smart sensor is actually in the garden soil (as opposed to mounted on an outdoor wall), and the sensor offers real-time feedback on soil moisture levels, nutrition, and temperature. Plus, the garden sensor is solar-powered with a rechargeable battery as a back up for cloudy days.Since gardens are full of microclimates—that hot, south-facing bed may run out of moisture more quickly than the cooler, north-facing beds—placing multiple smart sensors in the ground can help provide a more accurate map of which areas need more water.  Each garden sensor can offer feedback for up to 250 square feet.
Thanks to a large plant database, Edyn will also go a step further to recommend plants that will thrive in different areas of your garden, making it a great choice for beginning gardeners. For example, tomatoes, peppers, and basil would love that hot, south-facing bed.
Edyn retails for $99.97, available online and from Home Depot stores.
3) Rachio
Rachio is very similar to Blossom in design and set-up. You're looking at another sleek, wall-mounted smart controller which controls your irrigation system and provides accurate scheduling based on weather. Rachio also pairs with an app to provide custom-watering schedules for either 8 or 16 different zones, depending on the smart controller purchased. Unlike Blossom's controller, the Rachio smart controller is not weather-proofed, so be sure to mount it indoors, away from moisture.
One outstanding feature about Rachio is its pairing ability with Nest. If you already have a Nest thermostat in your home, you can sync it with your Rachio smart controller to help prevent the spread of a fire. If the Nest device detects smoke, the Rachio controller will automatically run all irrigation systems to mitigate fire damage and stop flames from spreading to neighboring houses.
Rachio retails for $249 and is available online.
Keep Reading: