Team Food Court: Crop from first time pea arbor nearly lost!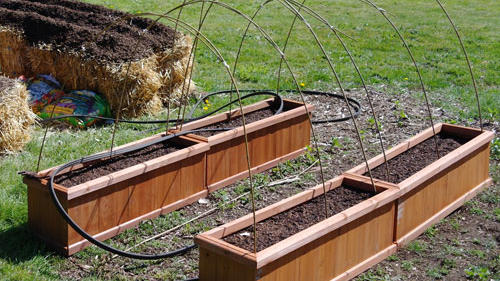 Team Food Court's garden has been growing since their Spring post and they've learned a few things about planting peas. SHODDY CONST...
Team Food Court's garden has been growing since their Spring post and they've learned a few things about planting peas.
SHODDY CONSTRUCTION AND GREEDY GARDENER TO BLAME!
OK, maybe it's not as dramatic as that. But here's what happened.
Inspired by the Master Gardeners' children's garden, I built a pea arbor. But I didn't like the look of the molded PVC they used for their arbor. I wanted something more natural.
I should have known when the Master Gardeners do something, they do it for a reason, but I am a fool. Instead of using PVC, I bent bamboo and used twine to create a climbing grid.
Pea arbor before peas: bamboo sticks bent and tied with twine
I also planted a lot of peas. It was my second planting because the crows ate the first crop before the peas could unfurl their leaves. I now understand I planted way too many peas. I really had no idea how big the peas would get, and figured I could thin them later.
However, when thinning time came around, I just couldn't bear to do it. Remember, I kill everything I try to grow, so when I saw these real live plants coming up in the planters, I couldn't bear to pull them out. It would be like killing one of my chickens. I simply put it off.
They grew. And grew.
Grace and Jack stand watch over the growing pea vines.
The kids and the chickens enjoyed sitting under the arbor to cool off on our rare sunny day, or to hide out during the rain.
When we left for 4th of July vacation, the two sides had just started to twine together. The pea arbor looked like this.
We scuttled off on our vacation, leaving a house sitter to put the chickens to bed, and eat our peas, salad greens, and strawberries.
Then came the (sadly undocumented) collapse of the pea arbor. Bamboo can handle a lot of weight, but I was asking too much from my little reeds.
No children or chickens were injured during the collapse, and all the sprouts survived. After a temporary structure was hastily built to support the shoots, we decided it was actually quite beautiful and it would stay in place. Chickens and children can now lounge underneath the arbor, free from fears of another collapse. But when the peas are done for the season and we plant beans, I'm putting in rebar.
 The new and improve pea arbor makes a shady hangout for the chickens
I'm so in love with the peas that I also want to share my recipe for Peas on the Half Shell.
Tear off a little basil while you're in the garden, and nibble it while you pick a handful of shelling peas. Unzip the pea pod, loosen the peas as you would an oyster, and shoot them back.
This dish is best enjoyed in the evening with a good glass of wine.
By Jennifer Harvey, team leader
Posted and edited by Margaret Sloan, Sunset Production Coordinator
Keep Reading: