Team Dances with Legumes plan harvest dinner despite the cold summer and rampaging squirrels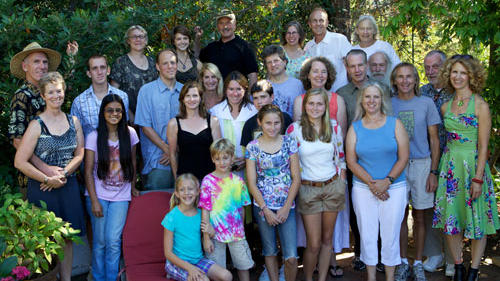 I was lucky enough to be the Sunset representative at Team Dances with Legumes' harvest dinner for the One-Block Party contest. And, boy, t...
I was lucky enough to be the Sunset representative at Team Dances with Legumes' harvest dinner for the One-Block Party contest. And, boy, there was a lot of food. The tables at the dinner were laid end to end with delights like pistachio kefir pesto; Musque de Provence squash coated with butter and sage; and wheat berry salad with chive-mint dressing. Perhaps my favorite dish was the unusual sautéed agretti (an herb that is rather like pickleweed) with roasted cherry tomatoes.
All that food didn't come easily, as Maryanne describes in this post. But with everyone on the team pitching in, as well as getting help from friends and neighbors, they made a spectacular feast. As Maryanne's father, Bill Uhrig, said, "Cooperation seems to be a key ingredient." —Margaret Sloan
Team Dancing with Legumes on feast day.


Our harvest feast took place on a gorgeous end-of-summer evening.  It was a busy week leading up to the feast as we inventoried what was available in our gardens and finalized the menu. Emails and phone calls flew as we distributed our bounty to those who needed certain ingredients. I almost felt like a drug dealer, dispensing freshly harvested sea salt, oil, and mustard, setting up trades between team members, and bartering with neighbors and friends who were happy to augment our larders.
Some of the dishes we planned at the beginning of this venture fell by the wayside, due to vagaries of weather or schedules that didn't allow time for certain tasks. There were always the pesky squirrels wreaking havoc with our best-laid plans. Some overambitious schemes just didn't happen.
First of all, the Jensen's cow, Lucy, had a false pregnancy, leaving us with no milk or cream for yogurt, cheese, butter, or ice cream.
Lucy the cow, not pregnant.
We purchased local, organic dairy products instead, including an incredible artisanal butter for the molded butter pats. I had planned on foraging for blackberries to make a blackberry compote, but the local wild vines had few ripe berries. I was glad I'd frozen some from our vines earlier in the season.
Oh-my-goodness-delicious ice cream with blackberry compote.
Because our sunflower seeds had been stolen by the squirrels, leaving us with no homegrown way to make oil, I traded some of our not-yet-harvested honey for olive oil from a friend with olive groves in Capay Valley. I also bartered our honey for home-cured olives from other friends.  

Bartered olives.
Several other foods also failed to materialize, such as mead, vinegar, dried fava beans, and elderberry wine. The elderberries were there; the time to harvest them and make the wine was not. Fishing for salmon fell off the radar, so we decided to augment the feast with pork from Hidden Villa, a local demonstration farm within biking distance of our Los Altos Hills team members. Cathi watched the baby pigs grow up. They were butchered and became part of an incredible pork simmered in green tomato sauce—this dish was considered by many to be the best of the feast. 
Many of the crops we had planned on harvesting   weren't ready—not everyone had ripe tomatoes (you did notice that it was pork simmered in green tomato sauce, right?). We also were missing ripe tomatillos, quinoa, dried corn for polenta, and figs. Lettuce was in short supply. That's how nature played us!
Next: Team Dances with Legumes' final feast, Part 2

By Maryanne Welton, team leader
All photos by Rachel Weill

Posted and edited by Margaret Sloan, Sunset production coordinator
Keep Reading: