The Sunset Recipes Our Editors Are Making for Thanksgiving
From green beans with Meyer lemon bread crumbs to pumpkin chocolate icebox cake, these are the recipes that won our hearts.
The Sunset staff has our own set of favorite Sunset recipes, but we're especially choosy (and rightfully so) when it comes to Thanksgiving. You get one Thursday to make the best belly-filling, food coma-inducing comfort foods for family and friends—it's the time to make your most beloved dishes. For some of us, that's roasted winter squash with tahini, and for others it's a kabocha squash pie. And while it was quite the challenge for our staff to narrow it down to a few selected favorites, these are the recipes that made it onto our holiday menus this year.
Porchetta-Style Roast Turkey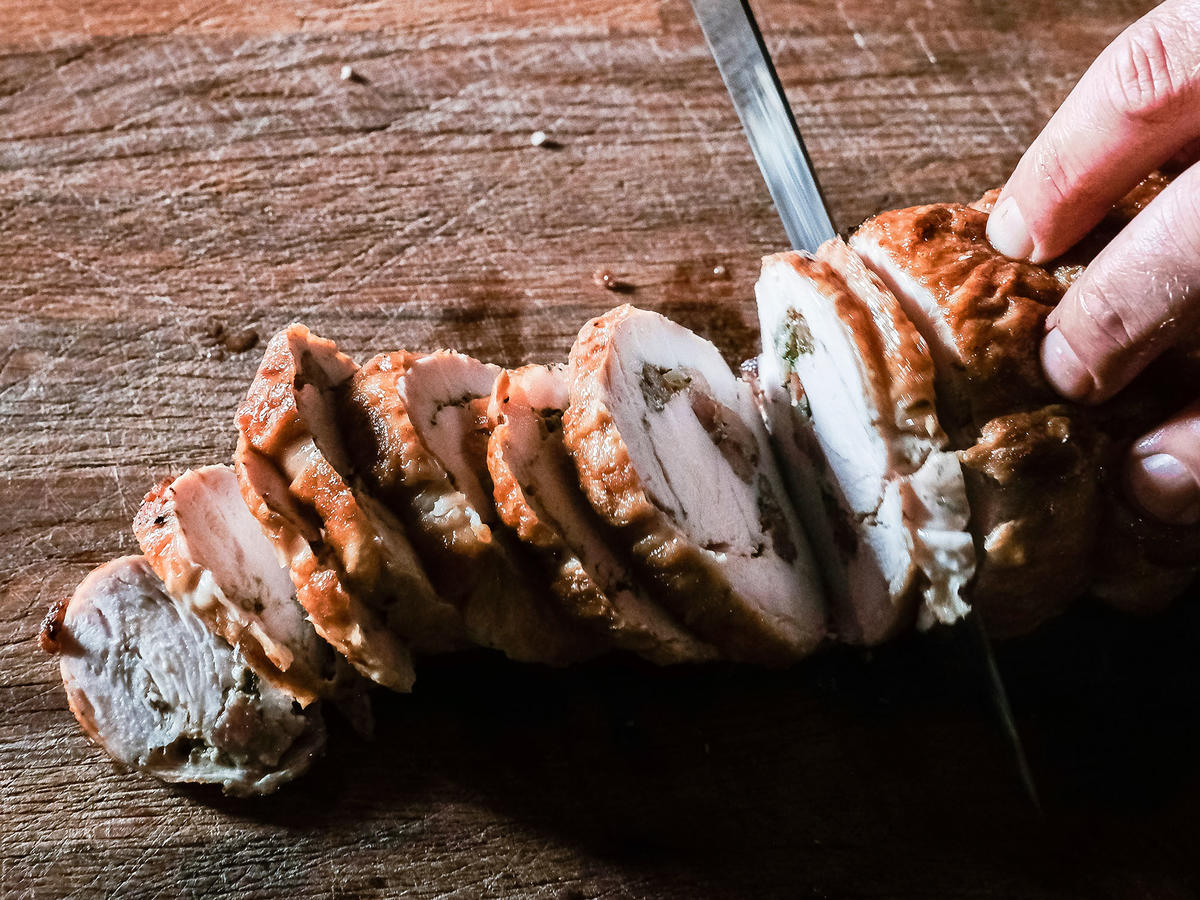 Even though I'm not hosting Thanksgiving at my house this year, I'm still tasked with the protein. I've done whole turkeys, and just turkey breasts. I've done wet brines and I've done dry brines. I've sous-vided and I've roasted. Basically, I've done everything you can imagine to a turkey. But one of my favorite preparations is this Porchetta-Style Roast Turkey, a porchetta treatment of turkey breast that keeps the meat juicy and flavorful no matter what, with a much shorter cooking time. The herby filling has pancetta, shallots, fennel pollen, rosemary, parsley, and a ton of garlic, which makes the pan drippings extra valuable for gravy-making. It's not traditional, but it's a fully delicious option that will also yield excellent Thanksgiving leftovers (truly almost as important as eating turkey in the first place). —Ellen Fort, food editor
Green Beans with Crisp Meyer Lemon Bread Crumbs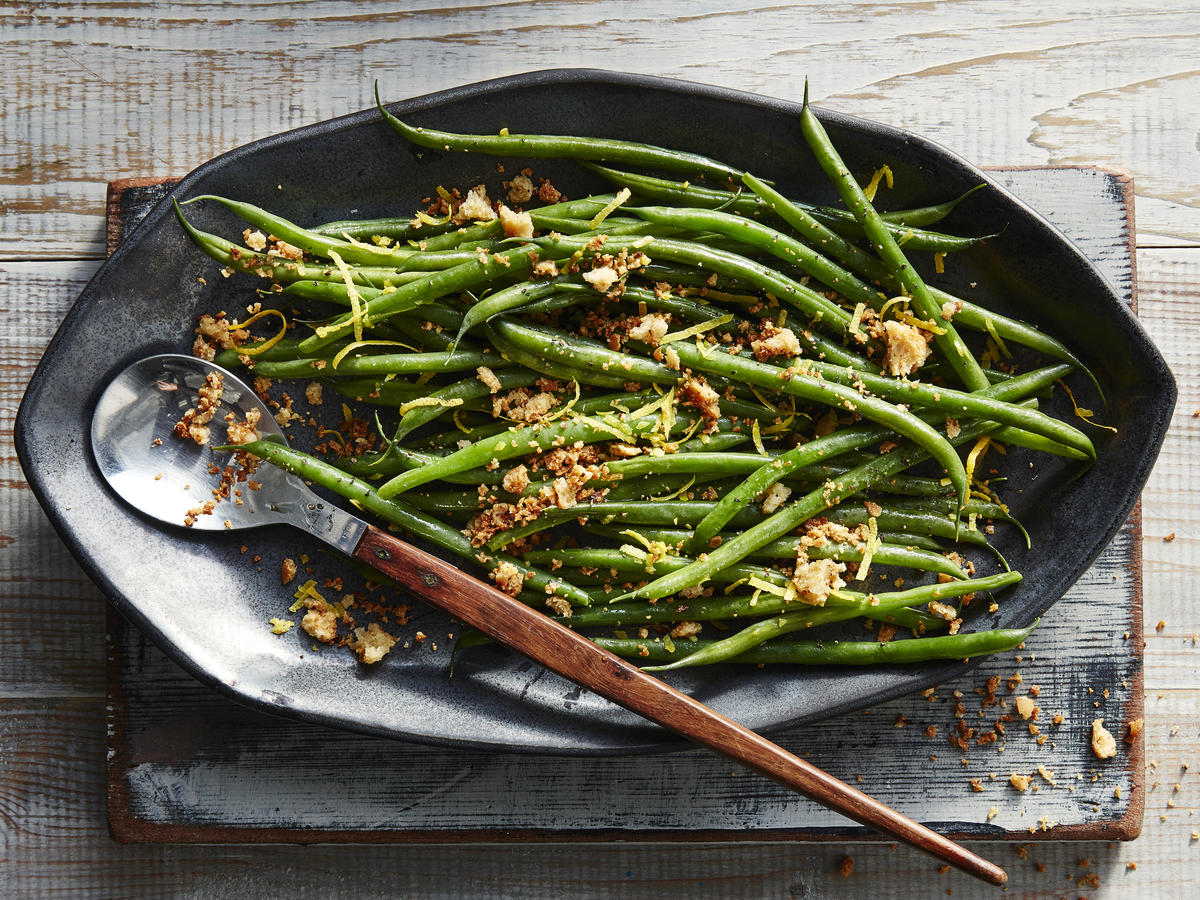 I've always been a sucker for soggy, mushy green bean casserole made exclusively from canned ingredients—the more French's Crispy Fried Onions on top, the better. But this year I think I want my vegetables to actually, you know, taste fresh and be healthy, so I'm going back to basics with this simple, steamed Green Beans with Crisp Meyer Lemon Bread Crumbs recipe to keep things festive. (And in case you were worried, I'll still get my mushy, calorie-laden fix with the rest of the menu.) —Kate Wertheimer, travel editor
Crispy Pork Carnitas
After decades of reverse engineering flavor and fat and succulence into all manner of turkeys, heritage and otherwise, I gave up and shifted to the most delicious and forgiving large format animal protein: the pork butt. It started several years back when I cooked a cross hatched, fennel, chile and garlic studded Italianate shoulder one Christmas and people silently and reverently ate of the unctuousness—something that never happens at Thanksgiving. We've done David Chang's Bo Ssam twice, before shifting to carnitas a couple years back and haven't stopped since. It has all of the special occasion scale of a turkey, particularly if you present the big pile of pan-crisped pork to the table. We round it out with pliant and savory Kernel of Truth organic tortillas made in LA's Boyle Heights neighborhood, make pico de gallo with cherry tomatoes (the sweetest, out-of-season tomato you can find), and send family home packing with leftovers they won't get tired of. — Hugh Garvey, executive editor
Kabocha Squash Crème Fraîche Pie
My in-laws cook up a mean Thanksgiving spread, leaving my family the easy task of bringing dessert to the holiday feast. In the past, we ordered a couple of locally-made gourmet pies, but this year my eight-year-old asked to make a homemade pumpkin pie with me. How could I resist? I'm turning to this longtime favorite Sunset recipe for Kabocha Squash Crème Fraîche Pie, whose main ingredient can be swapped with a multitude of squash varieties—and given who I'm baking with, I'll likely use Sugar Pie pumpkin for an extra-sweet result. —Jessica Mordo, associate digital director
Baked Ham with Sticky Meyer Lemon-Spice Glaze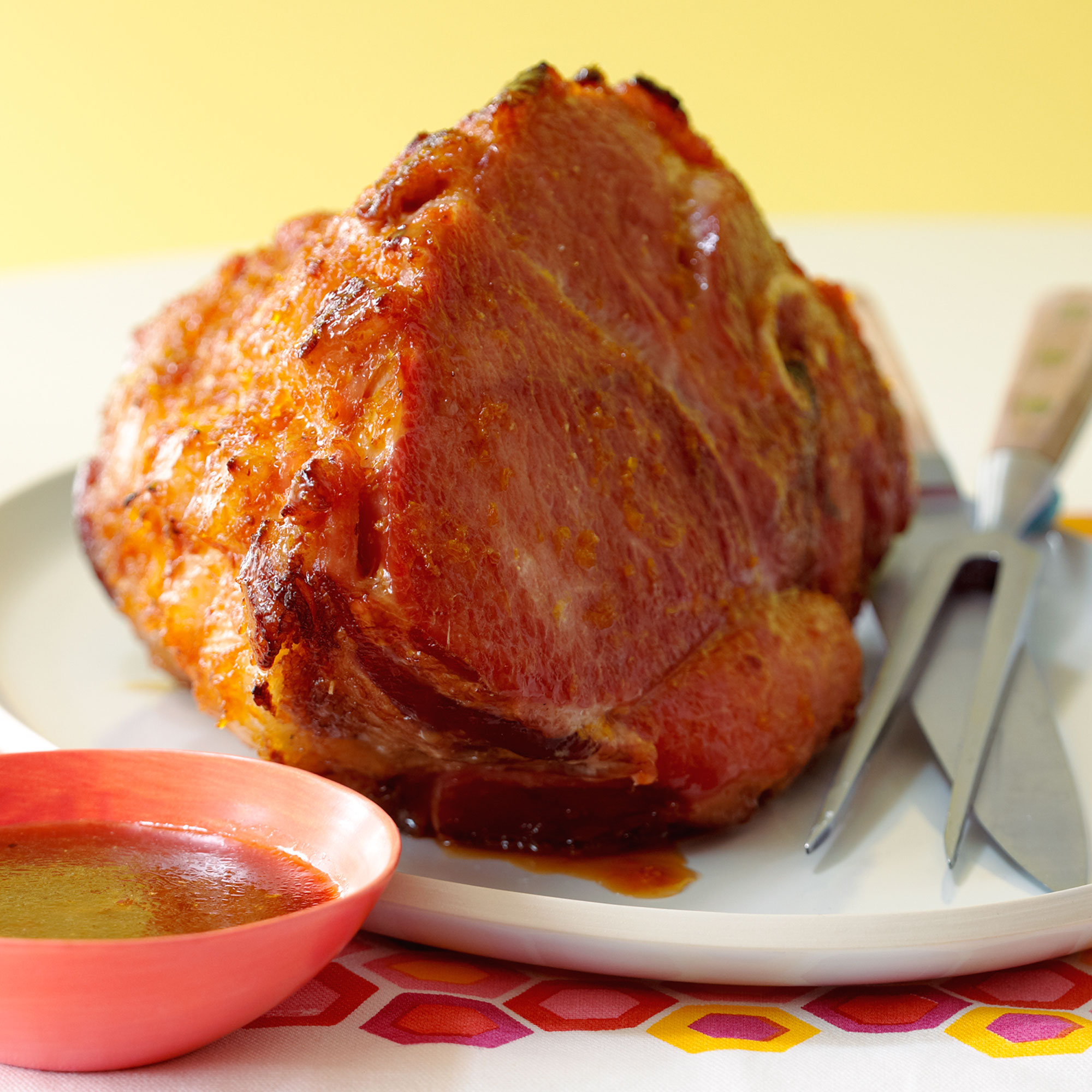 Thanksgiving is my mom's favorite holiday, and luckily for her, my dad has always been the chef behind every feast. Though he keeps it fairly conventional (mashed potatoes, green beans), the only American tradition we never include is turkey—baked ham with a sticky citrus glaze is always our main dish. Needless to say, what is actually non-traditional to most families is our unique Thanksgiving family custom. —Janessa Reyes, social media manager
Caramelized Satsuma Potatoes with Black Sesame
I'm using this year's Thanksgiving dinner as an excuse to try making these Caramelized Satsuma Potatoes with Black Sesame from Sonoko Sakai's new cookbook, Japanese Home Cooking. I know this holiday is usually reserved for tried-and-true family recipes, but this candied vegetable side dish is simple enough (only six ingredients!) to attempt for my group of 10. It's close enough to sweet potato casserole to satisfy that craving, but different enough that it feels unexpected in a good way. —Maya Wong, assistant editor
Pumpkin Chocolate Icebox Cake
My new family tradition, after seeing the crazy-easy Sunset recipe in action, is making Pumpkin Chocolate Icebox Cake with the help of my little brother the night before Thanksgiving. The hardest part is tracking down enough chocolate graham crackers, but trust us, it's totally worth the hunt. This no-bake treat is a tasty and light dessert after all that heavy eating, and makes for a great Friendsgiving pick when someone's already claimed pie. —Nena Farrell, associate home editor
Roasted Winter Squash with Honey, Tahini, and Lime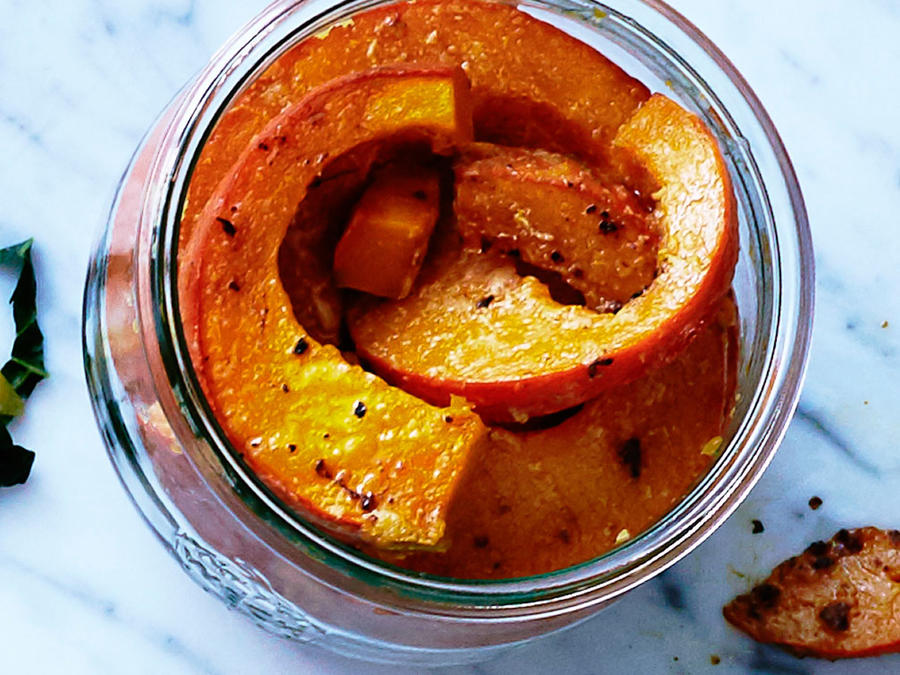 I stick to a theme every Thanksgiving, basing my menu around one country's cuisine. Last year it was Japan; I made turkey korokke and teriyaki meatballs, chestnut onigiri, tempura green beans (with maitake mushroom dashi for dipping!), and a kabocha tart with black sesame brittle. This year, I'm inspired by the flavors of the Middle East: turkey shawarma with tons of za'atar and sumac; and a platter of this gorgeous Roasted Winter Squash with Honey, Tahini, and Lime; for a starter, this Chicory Salad with Persimmon and Pomegranate Seeds; and a cardamom- and rose-scented baklava layered with honey-poached apples and crushed pumpkin seeds. —Heather Arndt Anderson, garden editor
A Classic Negroni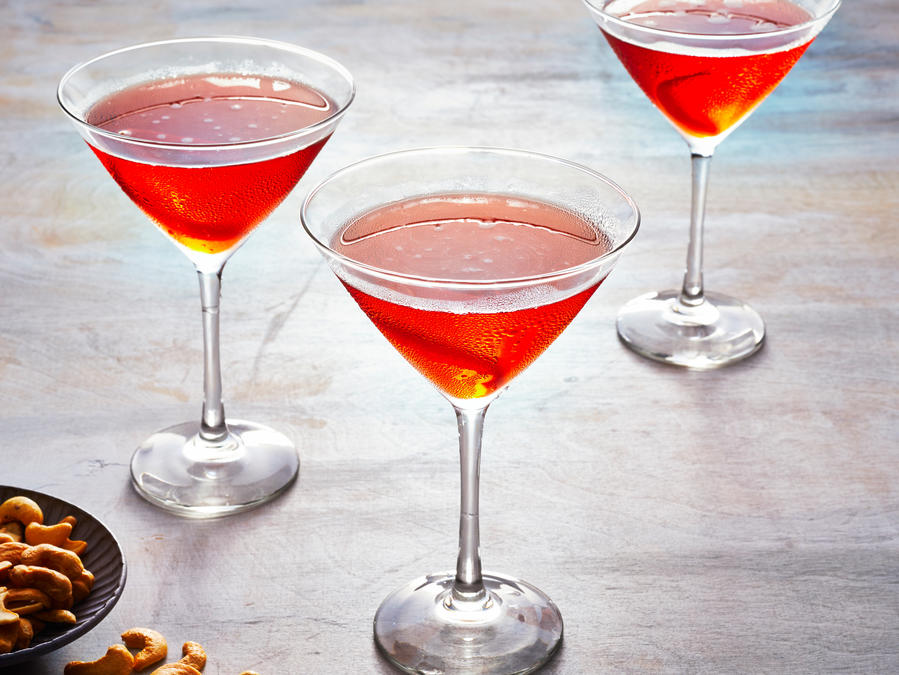 Time Inc. Food Studios
While I'm a big fan of all the Thanksgiving heroes—juicy turkey, pies, browned butter mashed potatoes—nothing makes me happier on Turkey Day than sipping negronis pre-dinner. It's the perfect (and tastiest) way to shake off any lingering holiday stress and doesn't give you the killer hangover that you typically get from champagne or wine. This classic Sunset recipe is super easy, takes two minutes to make, and will carry you through the holidays. —Jasmin Perez, digital strategy director
Cabbage, Cashew, and Fennel Salad
I'm always fangirling on Andrea Nguyen's recipes—her cookbooks pull great dishes from my shallow skill reservoir every Thanksgiving, pushing me to reexamine everyday ingredients in unique combinations. Nguyen tends toward the savory, the piquant, the fresh, and the spicy, and though I love her perfectly autumnal Miso-Glazed Tofu with Parsnips, it's the Cabbage, Cashew, and Fennel Salad from our vegan Thanksgiving roundup that I favor for a light accompaniment at the holiday feast—and find myself noshing on Black Friday, plopping it on bánh mì sandwiches and rolling it up in tofu wraps. Chiles, vegetarian fish sauce, garlic, and mint on Thanksgiving? They're a given in our more-flavor-is-more, hot sauce-loving household. —Dakota Kim, staff writer
---
Read the 2021 Harvest Issue Right Here
Get one year of Sunset—and all kinds of bonuses—for just $24.95. Subscribe now!
Keep Reading: