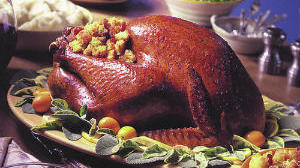 On the Wente homestead, a winemaking family gives thanks with a relaxed feast
Recipes
The afternoon before Thanksgiving, Carolyn Wente Layton, president of Wente Vineyards, steps into those vineyards and clips grape branches ― ablaze with red, rust, and gold leaves ― to decorate the dinner table in her brother Philip's home. In the kitchen, his wife, Julie, and daughters are rolling out pastry and peeling apples for pie. And Jean Wente, matriarch of this California winemaking clan, polishes silver. Collectively, they prepare all the elements for the holiday feast that can be made a day ahead.
On Thanksgiving morning, family and close friends gather at this year's designated host house. Some saddle up horses for a morning ride over the rolling green hills. Others head out for a round of golf or a game of hoops.
The roots for these festivities were put down more than a century ago. In 1883, Carl H. Wente planted grapes in California's Livermore Valley and founded Wente Brothers Winery. His property has grown into a 3,000-acre ranch that includes the vineyards and winery. It's also where Jean, who is the widow of Carl's grandson, and her three children ― Eric, Philip, and Carolyn ― have homes. And it's here that Jean manages the original 50 acres planted by Carl.
Around noon the crowd reunites for a cup of homemade chicken soup to contain appetites while the turkey roasts. Then, with just a little left to do, everyone helps bring forth a contemporary California dinner that blends the changing tastes of new generations with a German and Irish heritage (with a little of the South thrown in). The wine, of course, is made by Wente. Ranch Thanksgiving dinner countdown
These steps are based on the time it takes one person with one oven to prepare this meal.
UP TO A WEEK AHEAD
AT LEAST 3 DAYS AHEAD
Bake spicy herb nuts.
Put frozen turkey in the refrigerator to thaw.
UP TO 2 DAYS AHEAD
Shop for all other ingredients and turkey, if fresh.
Bake cornbread for dressing.
Prepare yeast dough for rolls.
UP TO 1 DAY AHEAD
Assemble dressing and chill if the turkey will be stuffed. Or put dressing in casserole and chill.
Make salad dressing, toast nuts for salad, and crisp salad greens.
Cook and peel onions; string and shell peas.
Make and thicken broth for gravy.
Bake rolls.
Bake apple pie, purchased frozen or made from a favorite recipe. Or make a grand holiday dessert.
THANKSGIVING DAY
UP TO 6 HOURS AHEAD
Prepare fruit for salad and chill.
3½ HOURS BEFORE SERVING
Rinse turkey. If stuffing, place dressing in bird. Put turkey in oven to roast.
1 HOUR AHEAD
Bake casserole of dressing if chilled.
45 MINUTES AHEAD
Peel and cook potatoes; cook garlic.
20 MINUTES AHEAD
Mash potatoes; keep warm.
15 MINUTES AHEAD
Remove turkey from oven, put on platter, and keep warm.
Add wine to roasting-pan drippings, then add drippings to gravy. Heat gravy and keep warm.
10 MINUTES AHEAD
Heat extra dressing (if bird was stuffed) in a microwave oven.
Cook peas and onions.
5 MINUTES BEFORE SERVING
Warm rolls.
Warm cranberry sauce, if desired.
Garnish turkey platter.
Mix salad with dressing.
15 MINUTES BEFORE DESSERT
Warm apple pie in a 350° oven.
Keep Reading: