Hanging with the Hunter-Angler-Gardener-Cooks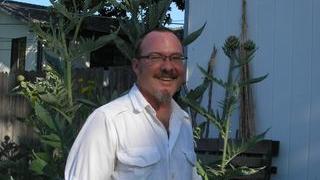 Hank Shaw in his garden, in front of a gigantic cardoon. Handmade boar salami....home-cured olives...wine grown in the back yard....fa...
Hank Shaw in his garden, in front of a gigantic cardoon.Handmade boar salami….home-cured olives…wine grown in the back yard….fat, juicy venison sausages.
We ate this—and much, much more—on Saturday at the home of Hank Shaw, a political writer, and his partner, Holly Heyser, a journalism professor at Sacramento State.
Hank was also nominated for the James Beard blog award this year. We shared a table with him and Holly and his mom at the awards ceremony in New York back in May, and really enjoyed their company and like-mindedness. Hank writes fascinating accounts of making food from scratch, which in his case involves hunting and fishing as well as gardening. Holly grew up hunting in Minnesota and has a blog of her own about, as she says, "acquiring food the hard way."
Talk about a gracious guy. Even though he lost to us, he invited us to a cookout at his place on the east side of Sacramento.
Dinner fell on what turned out to be a fearsomely scorching day in his neighborhood—as in, 108 F°. Nonetheless, a small group of us One-Blockers left our cool coastal habitat behind, lured by his promise of wild game.
A Wild Feast
The minute we walked in the door, Hank had his homemade and very respectable sangiovese ready for pouring, and a glistening array of things to eat:
* Good home-cured olives, which I found impressive since we've tried to make them ourselves, without success (yet!)* Hank's own pickled beets, carrots, and sunchokes* Totally delicious shad rillettes—a sort of loose pâté, traditionally made with pork or rabbit but here with  tasty local shad that Hank caught with his dad recently on the American River. I had no idea that shad existed in the West. I thought they were strictly an East Coast species. Now I'm hankering to catch some shad myself. (Their roe are particularly amazing, fyi.)* Excellentsaucisson sec, a dry salami from a wild boar Hank bagged in Monterey County. Secret ingredient: 1974 Heitz Cellars Angelica, made from Mission grapes. This fortified wine was the first wine made in California back in the 1700s.* Lonzino, air-cured from the loin of above boar—more delicate and thinly sliced, so it looked like rose petals* Fennel- and ouzo-cured salmon, made with an Alaskan pink salmon caught by one of Hank's friends
Bear in mind, these were just the appetizers. I hadn't seen snacks so hefty since my New Year's in Moscow, when I noshed on an enormous spread of zakuski.
After a fully appreciating all that was on the table, we presented Hank with a couple of just-baked fruit pies, plus gifts from the One-Block Diet: last year's honey from hive Veronica and this spring's honey from Midge, plus a bottle of red-wine vinegar and some fresh eggs from the flock.
Then he took us on a tour of their abode.
The Tour
The first guided look-around of a person's house is always fun, isn't it? It's especially interesting when the place is full of strange andquirky stuff. Hank and Holly live in that kind of house, and seeing how Hank makes his food only increased our pleasure in eating it.
Hank's homemade wine, hanging out with the books.Each carboy holds one varietal; included here areTempranillo, Sangiovese, and deep, darkPortuguese Touriga.The two tiny carboys in back areZinfandel, which Hank made from his own grapes(the rest used grapes he bought).
The garden, where Hank grows everything from beetsto heat-resistant romaine to salsify. 
It occupies a chunk of their 1/4-acre back yard,but there's plenty of space to grow more stuff. Wesemi-seriously suggested he try growing wheat—since he actually has the space for it.
A few of Hank's vines (I think these are mainly Zinfandel).More grapes grow against a far wall.
In the garage, garden zucchini dry on a rack.Several ripe figs were set out to dry on a worksurface nearby.
And best of all…
The "curing fridge"—a battered but useful appliancein the garage, equipped with a thermostat controland a teeny humidifier (at bottom right).
Hank at the grill while we gab under the tree.
Hank slowly and tenderly grilled a slew of those venison sausages until they were shiny, taut, and on the verge of bursting. The rest of us sat around under the big shady tree just beyond and gabbed for a while.
The Dinner
We went indoors—merciful air conditioning!—and feasted on those sausages, stuffed into giant buns with homemade pickles; firm, meaty marinated octopus liberally seasoned with paprika; two pasta salads—one with the couscous-like Sardinian pasta called fregola, studded with bocconcini (tiny fresh mozzarella balls), and the other with barley and sundried tomatoes—and a lovely, simple little beet salad with feta cheese and lovage. So much care and generosity went into this dinner. Hank even made the paprika. As in, he grew the peppers, dried them, and ground them. Having made our own salt, we knew this wasn't as crazy as it sounds. These kinds of things are worth doing, if for no other reason that it makes you really, really appreciate paprika and salt.
Hank served his honey lemon-verbena ice cream, I cut up the pies, and we chewed our last bites in a semi-stupor. Hank brought out some little glasses filled with that precious 1974 Heitz Angelica, which tasted surprisingly similar to Italian nocino, a walnut liqueur. Delicious.
Then Hank and Holly, pied pipers that they are, ushered us into what they proudly call their Opium Den. It's a library with deep pink walls, a comfy sofa, a fireplace, and a mantle adorned with bare skulls of past game. As we sank into the sofa, Hank plied us with homemade absinthe. Yow. You could practically see the fumes emerging from our lips as we tried it. It only took a couple of sips to finish us off.
We eased into our cars and drove home, sated from head to toe and marveling at all that Hank and Holly do. Before we left, they accepted our invitation to munch freshly baked pizzas from our brand-new wood-fired oven, topped, naturally, with whatever will be ripest and most flavorful in the One-Block garden. Coming soon.
UPDATE: Here's what Hank wrote about the evening (and you can see the food he made, too).
Keep Reading: