Asian Market Shopping Guide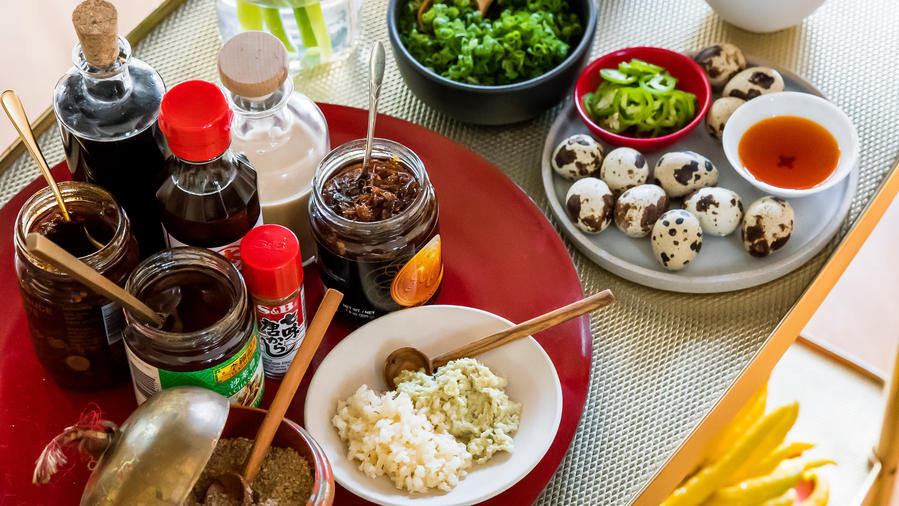 To find traditional ingredients for an Asian-style hot pot, check out an Asian market. Here are shopping tips from chef Melissa King, who grew up eating hot pot with her Chinese-American family in Los Angeles
TOFU & NOODLES
TOFU SKINS (YUBA). They form on the top of simmering soy milk, much like the "skin" on hot milk, and are skimmed off and sold either fresh or dried. They have an appealingly sweet, nutty flavor and tender-chewy texture. If using dried yuba, rehydrate in warm water, rinse, and drain well. Hodo Soy is an especially good brand, made in Oakland, CA.
DRIED MUNG BEAN NOODLES
. Also known as bean thread or cellophane noodles, these thin strands, made from bean starch, cook in minutes right in the hot pot and turn translucent. Available either as long, straight noodles, or small rolled bundles.
SHIRATAKI NOODLES. Made from Japanese konjac yam; slippery, grayish, and translucent, they're very low in carbs and calories, and absorb the flavor of whatever they're cooked with. Widely available cooked and packed in liquid; sold near tofu. Vegan and gluten-free.
BROTH INGREDIENTS
DRIED GOJI BERRIES. Also known as wolfberries, they look like skinny red raisins. Choose bright red ones (dark red means they're old). High in iron and calcium, and thought to improve vision; used in soups.
DRIED JUJUBES, CHINESE RED DATES. Chewy-soft and raisin-sweet; used in soups, stews, steamed food, and desserts. Good source of potassium, iron, and calcium, and thought to benefit circulation.
SICHUAN PEPPERCORNS. Actually berries, they're mildly peppery and provoke a numbing-tingling sensation in the mouth.
SICHUAN CHILE BEAN PASTE/SAUCE (DOUBANJIANG, DOUBAN, OR TOBAN DJAN). Made of fermented fava beans, soybeans, rice, chiles, and spices, it adds a jolt of flavor to many foods, including soups and fried noodles.
AWASE MISO ("MIXED" MISO)
. A combo of white shiro miso (faintly sweet from a high percentage of rice) and red aka miso (more intensely flavored with soybeans and barley). Or, use equal parts shiro and aka miso.
TIANJIN (AKA TIEN TSIN) DRIED CHILES. Often sold as "Chinese red chiles," these long, skinny red specimens are also known as "heaven-facing chiles" because they point straight up as they grow; medium-hot and fragrant.
GREENS/VEGETABLES
FRESH PEA SHOOTS. Choose either smallish pea shoots (2 to 3 inches long) or larger shoots with bigger leaves plus tendrils; both are delicious.
DAIKON RADISH. Look for a firm, bright white radish with smooth skin. Smaller radishes are more tender; choose one no larger than 3 inches in diameter.
CHRYSANTHEMUM GREENS. 
From the same plant as the flower (a good mild variety is Garland, for you home growers). Crunchy, slightly grassy, and altogether delightful, these greens only need a few seconds of cooking (or can be eaten raw, in salads).
LOTUS ROOT. Most are over a foot long, in three bulbous sections (though some markets break them up), and are fantastically channeled inside. Look for a smooth, firm, pale-ivory (rather than brown) bulb that smells fresh and clean.
TRUMPET MUSHROOMS. Deliciously meaty and large, with edible stems; look for firm, bright specimens with white stems.
ENOKI MUSHROOMS. Also known as enokitake, golden needle, or lily mushrooms; threadlike, crunchy, and mild, they're often packaged in cellophane. Choose ones that are bright white, with no discoloration or slime.
MEATS/SEAFOOD
PACKAGED PAPER-THIN SLICES RIB-EYE. 
Extremely tender, well-marbled, and flavorful, this will be the most popular item on the table if you have meat eaters in the crowd. The best quality for these and the other meats will be at Japanese markets.
PACKAGED PAPER-THIN SLICES WAGYU BEEF
. Even more marbled than rib-eye, and often cut from flank steak.
PACKAGED PAPER-THIN SLICES PORK BELLY. Uncured meaty bacon.
SEAFOOD. Manila or littleneck clams. Look for the smallest possible clams, with closed shells.
FRIED FISH BALLS, SHRIMP BALLS, OR FISH CAKES
. Sweet, savory flavor and bouncy texture; made from finely ground seafood, often with a bit of
 salt and sugar; a range of styles awaits you at the Asian market, so choose whichever appeal to you.
CONDIMENTS
RED CHILI OIL (CLEAR)
. An infusion of hot chile flakes (often Tianjin chiles) in soybean or peanut oil.
XO SAUCE. Named after XO brandy as a nod to the luxurious ingredients within: dried scallops, shrimp, and shrimp roe, plus shallots, soy sauce, and garlic.
SA CHA SAUCE. A rich, mellow, slightly oily paste of fermented fish, dried shrimp, shallots, sugar, and garlic; good in everything from stir fries to barbecue rubs.
QUAIL EGGS. Tiny and speckled, they can be mixed raw with condiments for a dipping sauce, or cooked shell-on in the hot pot.
PONZU. Japanese citrus-soy sauce. Tangy, salty, and fruity, it's similar to vinaigrette and is fantastic as a dip or marinade.
GOMA-DARE. Japanese sesame-seed sauce, usually involving a little miso, sake, and rice vinegar. Rich and creamy.
TOGARASHI. Japanese for "chile." The most common forms are "ichimi togarashi" (plain red pepper) or "shichimi togarashi," a blend of red chile, sansho pepper, orange peel, sesame seeds, ginger, and seaweed.
Keep Reading: