Cooking Hack: Dutch Oven Chocolate Cake Meets the Grill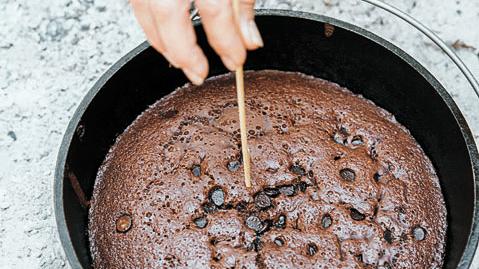 How to grill a chocolate cake. Yes.
It was a puzzler. For our big Celebration Weekend bash this coming weekend, I knew I wanted to show you how to make Dutch Oven Double Chocolate Cake, the rich, totally delicious dessert we served at Camp Sunset. The only hitch: The recipe is designed for a campground fire pit, which isn't available for the demo. In a flash of inspiration, I figured out how to cook the dutch oven cake on a charcoal grill. In my little world of outdoor cooking geekiness, this cooking hack is huge.
The secret is to use two firegrates (the metal grate that sits at the bottom of a charcoal grill to hold the fuel) instead of the usual one, and to criss-cross them to create a more solid base for the camp dutch oven's little feet. This way, the feet will still sit on top of the circle of coals just as they do in a fire pit.
Already I'm thinking about the big implications of this dutch oven/grilling hack for my backyard meals. Next up: Dutch oven cinnamon rolls?
For more on dutch oven techniques, see our primer on how to cook in a dutch oven and our video on how to make the dutch oven chocolate cake.
Keep Reading: