Where To Go This Weekend: The East Bay, CA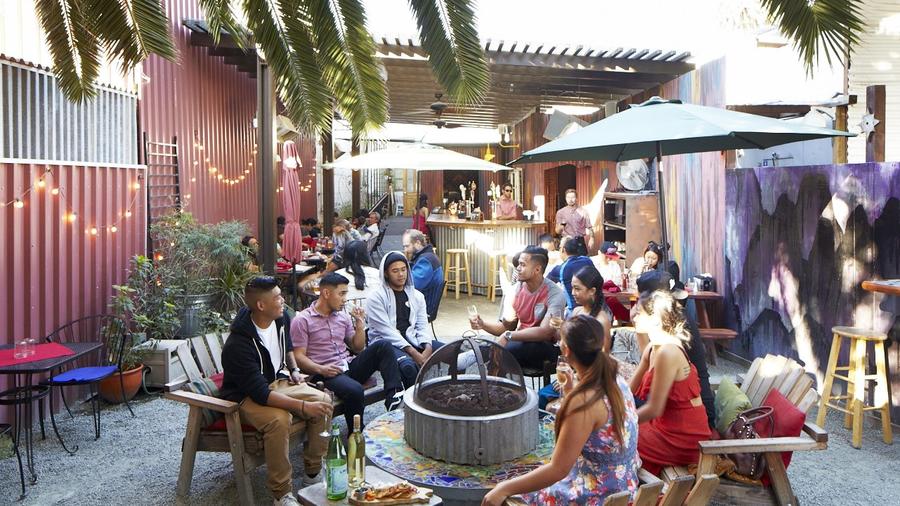 At this point, San Francisco's East Bay is on most every traveler's radar—but Oakland tends to dominate the spotlight. This month, w...
At this point, San Francisco's East Bay is on most every traveler's radar—but Oakland tends to dominate the spotlight.
This month, we turned our attention instead to Fremont, a little-known enclave 35 miles southeast of San Francisco, full of antique stores, a silver-screen legacy, and the most kid-friendly rail ride in the Bay. Writer Kristina Malsberger filled us in on the small-town pleasures of the community's Niles District, a four-block pedestrian stretch on the north side of town.
Getting there is easy: From I-880 south, exit at Alvarado-Niles Rd. and continue east 6 miles to the town plaza. Plan on at least a long afternoon—and bring your own bike for easy exploring.
Here, Malsberger details the Niles District's five must-do's.
1. Enjoy a ride with all the bells and whistlesIn 1869, America's first transcontinental railroad rumbled through the narrows of Niles Canyon, carrying passengers and freight from the distant eastern seaboard to San Francisco Bay. Now the heritage Niles Canyon Railway ($12) chugs 13 miles along this original canyon route, over truss bridges and past hillsides speckled with spring wildflowers. Train geeks swoon over vintage steam and diesel engines from across the West, while kids get a kick out of ticket-punching conductors, all local volunteers. For more locomotive lore, the Niles Depot Museum ($2 donation suggested) houses early telegraph machines, semaphore signals, even an N-scale model railroad that captures the neighborhood in miniature.
2. Take home a classicImpulse buys are half the fun of strolling Fremont's Niles District, which boasts 17 antiques and collectibles stores within four blocks. The prettiest, Les Belles Antiques (37549 Niles Blvd.), feels like a flapper's boudoir. Find everything from Limoges porcelain to Victorian chromolithographs to a $12,000 French vitrine. The frills continue at Tyme for Tea & Co. (37501 Niles Blvd.), a combination antiques shop and tearoom. Borrow a fancy hat and settle in for scones and sandwiches, served Mad Hatter–style on mismatched bone china.
3. Bike to the bayThe paved Alameda Creek Regional Trail runs 12 carless miles to the tidal marshes of Don Edwards San Francisco Bay Wildlife Refuge. Cyclists can spot egrets and jackrabbits. Near the bay, the breeze picks up, carrying the cries of migrating shorebirds. Look for tiny red-necked phalaropes foraging for brine shrimp, and American white pelicans flying in tight formation. From the water's edge, the Bayview Trail loop continues 3.5 miles through the rolling hills of Coyote Creek Regional Park, home to Ohlone shell mounds and a wooden boardwalk that zigzags through the cattails.
4. Soak up Hollywood northTinseltown was just a twinkle in 1912, the year cowboy movie star "Broncho Billy" Anderson arrived in Niles. Soon his silent-film crew was cranking out two movies a week, mostly westerns shot in scenic Niles Canyon. "They made over 350 films in four years," marvels David Kiehn, historian at the Niles Essanay Silent Film Museum (Donation suggested; Sat–Sun only; 37417 Niles Blvd.). Photos show a young Charlie Chaplin, who made five films in town. Hand-crank a 100-year-old movie camera or peek into the Edison Theatre's original projection booth, lined with tin as a precaution against highly flammable nitrate film. At Saturday screenings, Chaplin, Laurel & Hardy, and others flicker to life in the century-old theater, spurred on by live piano accompaniment.
5. Dine on casual fare with flairThree years ago, childhood friends Margo Cristein and Annie Wood recognized a gap in Niles's culinary scene and opened The Vine (37533 Niles Blvd.). "We brought a little funky edge to a neighborhood that was very antique," Cristein says. Today, locals line up for Sunday brunch favorites like Nutella-stuffed Texas toast and the Guava Mama—a mimosa made with guava juice and fresh mint. The blackened salmon BLT is a dinner highlight, as is the hyper-local wine menu. "Livermore Valley is just over the hills," explains Cristein. Grab a glass and head to the back patio, where heat lamps, blankets, and a convivial firepit keep the conversation flowing year-round.
Keep Reading: