Our Guide to Las Vegas' Arts District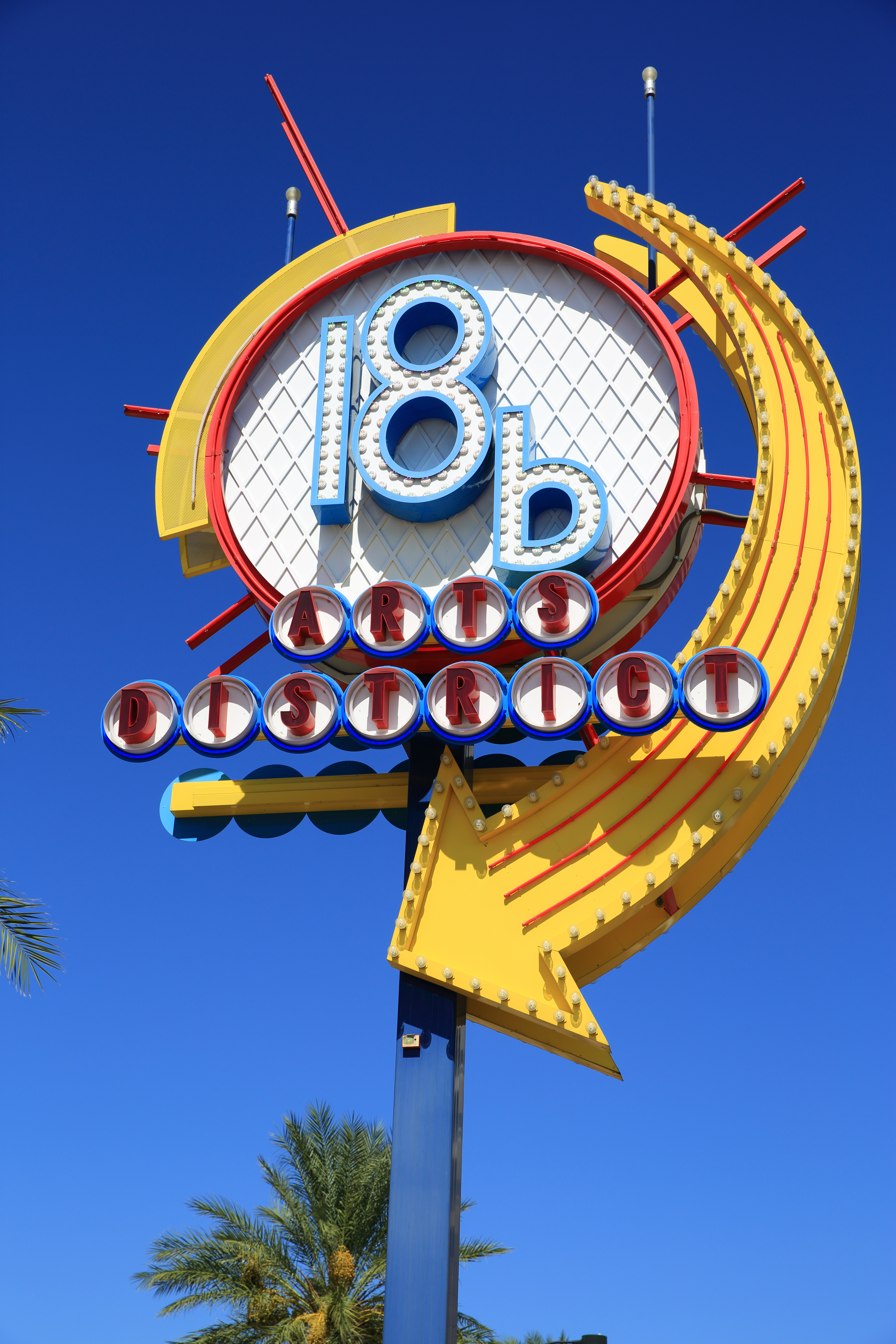 Explore great art, delicious eats, and sensational cocktails in this up-and-coming Vegas neighborhood beyond the neon and slots
The majority of people who visit Las Vegas spend most of their time in one of two places: The Strip, (which unofficially runs from Russell Road on the south end to Sahara Avenue in the north) or Downtown.
Now, however, after years of anticipation, there's another hip and exciting option: the burgeoning 18b Arts District.
This neighborhood bridges the Strip and Downtown between Las Vegas Boulevard and the I-15. It's one of the oldest parts of Las Vegas, with garages and storefronts that date back to the 1930s, '40s, and '50s. Lately, it's become a hotbed for bars, lounges, restaurants, and more. Some locals would even argue that the main drag of Main Street has become the hottest spot in town.
The two newest additions—Jammyland and Esther's Kitchen—certainly are turning heads.
The former (pictured below), the brainchild of New York transplants Allan Katz and Danielle Crouch, is a Jamaican-themed lounge and restaurant with two outdoor patios flanking a converted garage. It opened in March 2018. The latter, from chef James Trees, is a pasta-centric farm-to-table Italian eatery that sources produce from 50-70 purveyors within 100 miles of Vegas.
"Everything about this neighborhood is independent and free-spirited," says Trees, who opened the restaurant in January. "Unlike the big hotels on the Strip, where everything fits nicely into a theme, the Arts District is its own entity. That's what makes it so fun and interesting."
Consider ReBar, a bar inside an antique store where everything—probably including the barstools—is for sale. Sip some suds at Hop Nuts Brewing, a microbrewery with $4 pints during "Hoppy Hour." To achieve maximum hipster, dudes can even get haircuts at Makeshift Union, a barber shop run by a local Rockabilly/Roots band called The Rhyolites. If you like vintage, Retro Vegas has a treasure-trove of mid-century furniture, clothes, records, and more.
Some of the older spots in the mix include The Velveteen Rabbit, a women-owned craft cocktail bar, and Makers & Finders, a coffee roastery that evokes vibes from Oakland and Brooklyn and serves brunch with a Latin flare.
Not surprisingly, the 18b Arts District has art, too. Lots of it. Studios are interspersed with some of the more commercial businesses. Street murals abound. The epicenter of the local arts scene is the Arts Factory, a converted warehouse that now holds several studios and workspaces. The neighborhood's artistic identity bubbles over at the beginning of every month during a free-flowing art and je-ne-sais-quoi street party locals call First Friday.
Our advice? Ease yourself in. Grab a seat on one of the patios at Jammyland, order a "Reckless Abandon" with Smith & Cross rum, lime, Sangue Morlacco Italian Cherry Liqueur, Amaro Cio Ciaro, and pineapple, and soak up the scene. From there, head to Esther's for a slice of Trees' signature Lasagnete Nero: lobster lasagna with noodles colored by cuttlefish ink.
By the time you finish dinner you will have made yourself at least a dozen new friends who live and work in Vegas year-round. You'll learn more about the city than you ever thought possible, and have a bead on where to see the most interesting art.
Turns out there's culture beyond the yard-longs in Sin City after all. On an outing to the Las Vegas Arts District, you won't miss the Strip one bit.
Keep Reading: