Downtown Las Vegas Goes Big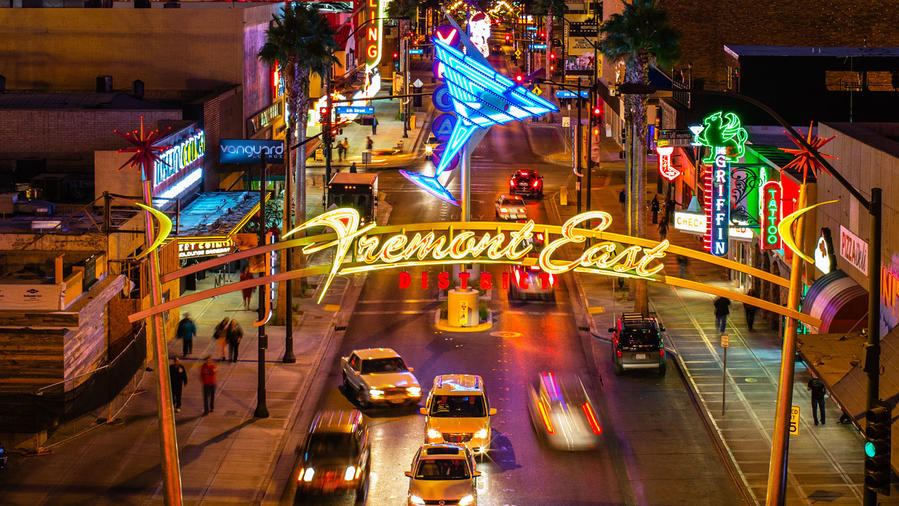 A band of visionaries is pushing past the glitz and looking toward the future. There's this thing called downtown. And it's blowing up
The hostess shows me to my table at Eat, a new breakfast-and-lunch spot on an unlovely corner of downtown Las Vegas. Customers huddle inside the door, along a low wall crafted from wooden pallets that once held the restaurant's kitchen equipment. With lime green banquettes and clean midcentury lines, it's the kind of place where I half-expect to see the Rat Pack drop by for black coffee and some verbal towel-snapping.
Chef Natalie Young walks through the dining room, greeting old friends and fielding congratulations on her new opening, before stopping by my table to make sure I'm enjoying my breakfast burrito of cage-free eggs, bacon, and pico de gallo. We get to chatting and she sits down to tell me her story. About how after a dozen years of working Vegas' high-volume casino kitchens, she was burned out, done, bags packed, and ready to move back to New Mexico. Then someone introduced her to Tony Hsieh.
The Zappos CEO—and early investor in the company before Amazon gobbled it up for $1.2 billion—was starting an ambitious new project: revitalizing a threadbare downtown and using $350 million of his own money to do it. Hsieh's Downtown Project has seeded investments in real estate, education, and small business: retail shops, bars, restaurants.
"First question Tony asks me is, 'What size restaurant do you envision?' " says Young, laughing now at the absurdity of it all. She was a talented cook but had no real experience running a restaurant. So she took accounting classes and got help finding a suitable space and outfitting the restaurant. When she opened her doors last September, folks poured in. "It's unbelievable," she says to me, beaming. "I'm sitting in my own restaurant."
Can you build a new downtown around a breakfast burrito? Las Vegas is betting that you can.
That the opening of a single breakfast joint warrants any attention at all speaks volumes about where Vegas has been and where it seeks to go. Few American cities have been hit as hard by the real estate collapse as Las Vegas has over the last half-decade. Hotels have shuttered, major construction projects have been halted, and foreclosure rates remain among the highest in the country. And nowhere have the shock waves been felt as deeply as downtown. A snarky headline in a Canadian newspaper captured the gloom of recent times: "Downtown Vegas is great for $2 Coronas and persistent feelings of sadness."
"Businesses catered to the lowest common denominator," says Michael Cornthwaite, who in 2010 opened the Beat Coffeehouse in the corner of a 1950s-era JC Penney's department store that now houses a used-record shop and dozens of artist studios and retail nooks—a hangout for 20- and 30-somethings punching keys on their laptops. "It was about selling cigarettes and phone cards and booze by the single. It was about the cheapest junk food you could possibly buy."
Even during Vegas' boom years, downtown struggled to gain notice in the shadow of the billion-watt-glare of the Strip. The last big push was in 1995, with the Fremont Street Experience, four city blocks draped in a barrel-shaped canopy embedded with a light show, a cross between a pedestrian mall and a hallucinatory trip. It worked, luring visitors north from the Strip. But for the most part, downtown has always been a terrier chasing after a semi.
The current revival is vastly different. The emphasis isn't on competing with the Strip for the fickle attention of tourists chasing shiny bits of foil, but to create a world-class downtown to lure businesses and residents who want to put down roots and stay awhile. The Strip isn't viewed as the competition these days; Portland and Austin are.
I spent a few days wandering downtown recently and was struck by the sight of a more durable city springing up from the dusty lots. Last March, the $465 million Smith Center for the Performing Arts opened its doors, an anchor for Symphony Park, Las Vegas' answer to the wearying refrain that this city lacks high culture. Nearby is Frank Gehry's swirling-steel Cleveland Clinic Lou Ruvo Center for Brain Health, which conducts research on neurocognitive diseases—and also shows world-class works by artists like Robert Rauschenberg. Coming soon: a big-money rehab of a downtown arts center, the new home of the Las Vegas Shakespeare Company.
In a city obsessed with tearing down and building anew, it's surprising to see Las Vegas embracing what's left of its past. The stately 1933 neoclassical federal building has become an interactive Mob Museum. Just up Las Vegas Boulevard, the Jetsons-like La Concha Motel's parabolic lobby, relocated piece by piece from the Strip, opened its doors as a visitor center for the Neon Museum, where people can gawk at a coffee-table book's worth of decommissioned signs.
Then there's the rebirth of city hall. In early 2012, the city moved its employees out of the late-modernist concrete complex into a soaring structure not far from Symphony Park. The environmentally friendly, strikingly angular glass-fronted new building is itself an attraction; at night it glimmers with a mesmerizing LED waterfall.
The old city hall was already vacant when Hsieh decided to make it Zappos headquarters, which for the past decade had been housed in a bland suburban office park a dozen miles south of the city. Now, instead of building a new corporate campus, he'll march his 1,400 employees right into the city. The move is scheduled to be completed by the end of 2013.
At a company-wide meeting in fall 2012, Hsieh took the stage with four other jeans-wearing Zappos execs. During an open question period, a young woman stood and praised the company for embracing Facebook and Twitter and Pinterest before other online retailers. "What's the next big social media platform we should watch for?" she asked.
Hsieh paused for a moment, then answered. "Well, there's this thing called downtown. It gets people together. It may seem crazy," he said, "but five years from now it won't."
The next morning, I meet Hsieh for breakfast at Eat. Natalie Young is again circulating and greeting everyone, and the place is again brimming with diners, locals mostly.
Hsieh points through the window to a vacant lot across the street, where the Downtown Project is scheduled to break ground soon for Container Park. The public space will consist of a lawn for outdoor performances ringed by repurposed shipping containers where retailers and restaurants will set up shop. The park will serve as a place where businesses can try out new ideas that then move into other downtown spaces; some of the businesses will set up permanent homes in the park itself.
After breakfast, we walk several blocks to the Fashion Lab, a warehouse sparely furnished with sewing machines, design tables, and dress dummies. It's also getting the support of the Downtown Project, with the goal of making it a space where independent designers can cluster, collaborate, and create.
We head over to an empty shell of a restaurant that the Downtown Project recently snapped up, then walk by a low-slung old motel. "We bought that too," Hsieh says. There's a man on the roof wrangling a long tape measure. Hsieh notices him and laughs. The building came with no plans or schematics, he says, so they're trying to figure out what exactly they bought before coming up with ideas for what to do with it.
Which strikes me as a perfect way to understand downtown Las Vegas today. It's a city plotting a future and sketching out a blueprint as it goes, fueled by boundless optimism about what lies ahead.
WHAT TO DO IN DOWNTOWN VEGAS
Skip the circus of the Strip for the soul of downtown.
The Mob Museum. Of course Vegas has always had its share of wiseguys named Tony who've showed a sudden interest in the town. The story of gangs and mobsters springs to life at the interactive Mob Museum, three floors of artifacts (or evidence?) from the days of Al Capone all the way up to Whitey Bulger. $20; 300 E. Stewart Ave.; themobmuseum.org
Smith Center for the Performing Arts. In terms of iconic presence, the art deco–style Smith Center feels like the city cousin to the Hoover Dam. The new state-of-the-art entertainment venue cost close to a half-billion dollars and features four separate performance spaces. This is where you go off the Strip for Broadway shows and Yo-Yo Ma. Next up: The Discovery Children's Museum has relocated next to the center and plans to reopen in March. 361 Symphony Park Ave.; thesmithcenter.com
The Beat Coffeehouse. Two blocks from the Fremont Street Experience, the Beat Coffeehouse energizes downtown's cool crowd with sturdy joe, sandwiches, and a browse space that includes a vintage vinyl store and a warren of three dozen creative businesses, including galleries and artist studios. 520 Fremont St.; 702/385-2328.
The Neon Museum. If the history of Las Vegas is written in neon, the Neon Museum is its Old Testament. It features 200 donated and rescued pieces of electric heraldry—including signage from the Flamingo and Stardust casinos. The La Concha Visitors' Center leads you to the outdoor Neon Boneyard, which tells the remarkable story of commercial daring that gave rise to old Vegas. $18; 770 Las Vegas Blvd. N.; neonmuseum.org
Downtown3rd Farmers Market. Not every leafy morsel of organic goodness comes here in the back of a FedEx truck. The Friday morning Downtown3rd Farmers Market takes over a repurposed transit terminal next to the Mob Museum. Local producers sell jerky, jams, honey, mushrooms, and more. You've never gnawed on greens from the Moapa Valley, 50 miles north of Vegas? It's your lucky day. 9–2 Fri; Casino Center Blvd. at Stewart Ave.; downtown3rdfarmersmarket.com
El Cortez Hotel & Casino. Billed as Las Vegas' oldest continuously operating casino, El Cortez recently treated itself to a $32 million facelift, adding upscale cabana suites across the street and refreshing its old-timey casino bar. But make no mistake: Nostalgia will always be the main amenity at the onetime Bugsy Siegel haunt, embodied by 92-year-old former owner Jackie Gaughan, who lives upstairs in a penthouse suite. From $37; 3-night min.; elcortezhotelcasino.com
Trifecta Gallery. The arts district just south of downtown occupies a sprawling, once-charmless 18-block area that bustles with galleries, museums, bars, and other hallmarks of urban life. Set on the ground floor of the multiuse Arts Factory, Trifecta Gallery has won acclaim for its diverse and locally focused programming. (Sample show: artist Kristen Peterson's still-life panoramas of Updikean middle-class misery, done in pipe cleaners.) Visit during First Fridays to explore from gallery to bar and back, meeting the denizens of the new downtown. 107 E. Charleston Blvd.; 18b.org
WHERE TO EAT
Sin City's most exciting cooking happens away from the jingle of the slots.
Chocolate & Spice Bakery. Chocolatier Megan Romano sculpted desserts at Charlie Palmer's Aureole for more than a decade before decamping to this new venue on the Westside. You'll find the usual assortment of indulgent creations (like dark chocolate hazelnut bonbons), but also a first-rate lunch menu with surprises like a Black Forest ham and cheddar panini with sun-dried tomato aioli. $; 7293 W. Sahara Ave.; 702/527-7772.
Le Thai. The chintzy metal façade and unadorned tables might be annoying if you didn't know what was to come: Bangkokian cuisine like pad Thai noodles redolent of green onions and cilantro, with no cloying sweetness. The three-color curry and the beef meatball noodle soup—made from a stock slow-simmered with bones and tendon—make this one of the toughest reservations in town. $; 523 Fremont St.; 702/778-0888.
Monta Japanese Noodle House. This tiny soup kitchen in ever-expanding Chinatown gets credit for launching Vegas' ramen revolution. The broth, rich and salty with a hint of marrow, animates the snappy al dente noodles. Choose between the shoyu (soy) and the heartier, thicker miso ramen before piling on the toppings—hard-cooked egg, tender slices of roasted pork. But hurry up about it; there's a line of people out the door waiting for your seat. $; 5030 Spring Mountain Rd.; 702/367-4600.
Eat. Chef Natalie Young's breakfast-and-lunch joint attracts a discerning downtown crowd with comfort-food classics like buttery pancakes and steel-cut oats with cinnamon roasted apples and pecans. Her best dishes come with a hint of Southern accent: soft and pillowy beignets, shrimp and grits. She also makes the best grilled cheese sandwich in the area code. $$; 707 Carson Ave.; 702/534-1515.
Raku. Chef Mitsuo Endo uses binchotan, a special Japanese charcoal, to grill mountain trout, pork cheek, and a long list of robatayaki at this elegant izakaya. But the big star is the agedashi tofu, silken housemade tofu topped with salmon roe, a favorite with the local chefs who crowd the counter after their shifts. $$$; 5030 Spring Mountain Rd.; 702/367-3511.
WHERE TO DRINK
Because it's time to say no to vodka and Red Bull.
Downtown Cocktail Room. Downtown Cocktail Room feels exactly like a downtown cocktail room, with a slight speakeasy vibe, harlot-lipstick red walls, and mildly alarming abstract art. The crowd skews young, drawn by the DJ spinning tunes. Must-drink: The Carciofo Swizzle, which is essentially a full-fledged tour of Italian amaros in a glass. 111 Las Vegas Blvd. S.; thedowntownlv.com
Frankie's Tiki Room. When you walk into this bar, you'll think, Whoa, it's dark in here, and take off your glasses. Nothing will happen. Once you grow accustomed to the permanent twilight, you discover you're amid thatch, bamboo, woven grass panels, and carved tiki heads. Must-drink: The Lava Letch, with a lush raspberry taste that tangos nicely with ginger beer, a combo that extinguishes the late afternoon exhaustion. 1712 W. Charleston Blvd.; frankiestikiroom.com
Herbs and Rye. The elaborate menu at Herbs and Rye is categorized by era, from 19th-century classics to modern adaptations. Must-drink: The Ford Cocktail, a classic's classic. It's a perfectly balanced mix of gin, dry vermouth, Benedictine, and orange bitters. 3713 W. Sahara Ave.; 702/982-8036.
The Griffin. The woody, walnut-hued ambience in the Griffin never fails to invite vivid comparisons. Grampa's smoking parlor? Norwegian hunting lodge? Whatever the case, this watering hole is wedged between a tattoo shop and a clothing boutique in a former check-cashing joint. Must-drink: A shot and a beer. Then spend some time at the jukebox, widely hailed as the city's best. 511 Fremont St.; 702/382-0577. 
For more on downtown Las Vegas, go to downtownlasvegasalliance.com