Santa Barbara Wine Country Is California's Greatest Long Weekend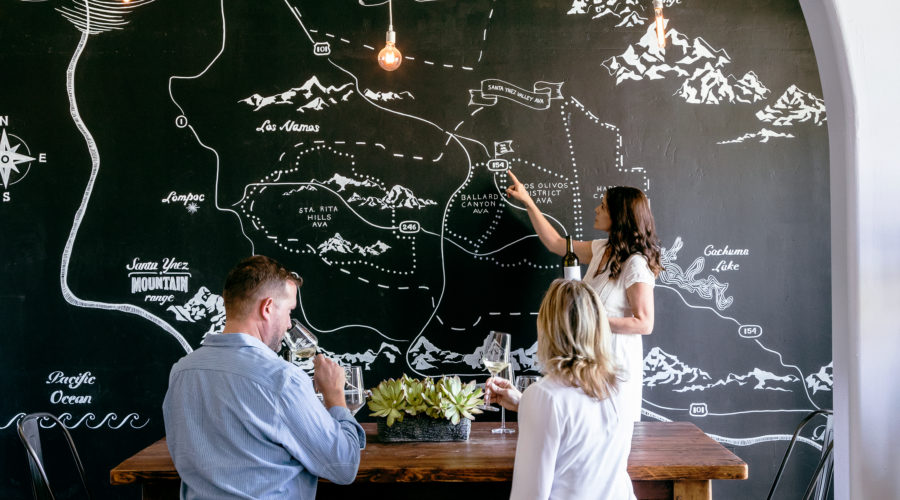 Sure, it's idyllic. But the heartland of Santa Barbara wine country is also buzzing with new energy
Change came late to the Santa Ynez Valley, but it came on hard, the verdant swath of towns north of Los Angeles developing at a rapid clip over the past decade. What once was a hardscrabble ranching culture dating back to the Spaniards now boasts a cadre of restaurants, shops, breweries, yoga studios, and tasting rooms. Few of the region's once-sleepy small towns resemble what they were even ten years ago, when the luxe wine scene first boomed.
Thing is, that's a good thing, here. Like a wine whose flavors require time to integrate, for the structure to develop, the Santa Ynez Valley has gelled in an exciting new way. The best restaurants embrace local farmers, foragers, and ranchers, taking their cues from endemic flavors as much as France or Italy. The stays, too, are more diverse than ever. And the best part? The valley's ranching culture remains palpable—horses, boots, and ranch hands included.
Wine remains the number-one reason to visit; the now-canonical film Sideways showcased the valley's rich terroir a little more than a decade ago and today draws eye rolls at the mere mention. But grapes are only part of the equation now. Our recommendation? Focus your energies. Spend one day zeroing in on the food-and-wine scene's newest darlings, follow up with a wellness-themed detox, then finish your trip by getting outside.
Welcome to California's greatest long weekend. 
Dig In
For a long time, if you wanted to eat in the Santa Ynez Valley, the choices were slim. The Hitching Post II was pretty much the only place to be, thanks to a deep Santa Barbara wine list and steaks expertly grilled over red-hot oak coals. (Not coincidentally, that's where the Sideways restaurant scenes were filmed.) But dining has become much more diverse in recent years; everywhere you go, you'll find restaurants embracing local produce, meats, and seafood. And even if you've been on a nonstop Pinot Noir kick since 2004 (no apologies necessary), you'll be thrilled by the diversity of the wines on offer, from juicy Grenache to sparkling Grüner Veltliner.
Stay
In the heart of tasting-room-saturated Los Olivos, Fess Parker Wine Country Inn (from $375) is one of the region's enduring luxury stays. A refresh in 2012 brought the 19-room boutique hotel up to speed with sustainable wood and low-energy lighting, and its recently added on-site restaurant is pretty thrilling in its own right.
Brunch
At Norman (pictured above), in the new Skyview Los Alamos hotel, chef Will Hanko runs a from-scratch kitchen, right down to the housemade ketchup. Most of the fish comes from local fishmongers Travis Meyer and Stephanie Mutz, the produce is grown by regional standouts such as Babé Farms, and the dining room itself—with its blue velvet booths and starburst chandeliers—strikes a lithe balance between posh and whimsical. It's open for brunch on weekends; on weekdays, hit Bob's Well Bread Bakery  just down the hill, where the menu incorporates fresh-out-of-the-oven breads from Hollywood exec turned baker Bob Oswaks. 
Morning
Running between Los Olivos and Buellton, the twisting Ballard Canyon Road passes by some particularly coveted wine-growing land, including Stolpman Vineyards. That's where Ruben Solorzano—the Stolpman family's long-time viticulturist and a bona fide grape-growing legend—farms some of the most intense, flavorful fruit around. Call ahead to schedule an eye-opening guided vineyard hike ($20) to get the dirt—literally—on some of the area's most exciting wines.
Lunch
Tucked in among the wineries of Buellton's warehouse district, Industrial Eats is hard to miss thanks to a whitewashed cinder-block wall spray-painted with bright, cartoonish meats and vegetables. Opened by Jeff and Janet Olsson in 2013, it's where the cool kids dine: a funky warehouse with two pizza ovens, edgy poster art, and a risk-taking menu written on hanging butcher paper. Think foraged gooseneck barnacles, oven-charred rockfish, and pressed pig's ear terrines.
Afternoon
In little Los Olivos, you can spend a whole day swirling (spitting optional) without traveling more than two blocks from the old 1918 flagpole in the center of town. Start at the stylish Story of Soil tasting room, where Jessica Gasca uses a floor-to-ceiling chalkboard map to explore how the specific vineyard locations impact wines such as her silky, lavender-scented Slide Hill Vineyard Grenache. Just down the road, Anna and David deLaski focus on locally grown Austrian varieties at Solminer. Don't miss the Blaufränkisch from their deLanda Vineyard—the grape is rare in these parts, but their version is a soft, delicious red with explosively fruity scents of guava and black currant.
Dinner
Opened in February 2016, the soaring dining room at Pico, in the old Los Alamos General Store building, impresses with a tempting collection of older local wines from the likes of Lane Tanner and Au Bon Climat. Order whatever fresh, local sashimi is on offer, and definitely some of the stellar housemade charcuterie. Then relax over a vintage bottle as it reveals its mysteries.
Get Out
Gallop and hike to your heart's content, then end the day with a meal that captures the landscape.There's no guarantee you'll encounter a coyote, but put yourself in the right patch of the valley and nature can conspire in awe-inspiring and thought-provoking ways. And who doesn't love getting a sense of the land from above and about?
Stay
Peace and quiet reign at the Ballard Inn ($299), a cushy B&B in the Santa Ynez Valley's smallest town that's just a short walk from the countryside.
Breakfast
Sit down for a full breakfast at the inn, or just grab a coffee and pastry and stroll around the dreamy little town of Ballard—population: a whopping 467.
Morning
Katie Parker McDonald, granddaughter of Hollywood actor and pioneering local winery founder Fess Parker, grew up on the family's ranch on Foxen Canyon Road, and now leads 90-minute horse rides on her old stomping grounds through her company KAP Land & Cattle ($115; 805/325-3658). Up on the plateau, astride one of her sturdy chestnut-colored quarter horses, bobcat and coyote sightings aren't uncommon occurrences among the loosely scattered oaks and lazing cattle. After a brisk trot back down through the rows of the family's old Syrah vineyard, there's often time to check out their latest act: a garden plot and sturdy hand-built greenhouses that turn out veggies and garnishes served at their The Bear & Star restaurant in Los Olivos.
Lunch
Opened in 2003, Full of Life Flatbread helped spur the revival of downtown Los Alamos. The woodfired flatbreads, topped with ingredients such as smoke-dried tomatoes and locally made pork sausage laced with agave and fennel, keep locals and visitors coming back and make for hearty post-ride fuel.
Afternoon
Walk off lunch at Nojoqui Falls Park  south of the town of Solvang and just off U.S. 101. Ten minutes up a shady canyon, an 80-foot cliff transforms into a waterfall during the rainy months. Then pay tribute to the valley's ranching past by popping into the family-owned Jedlicka's Saddlery. At the Los Olivos shop, you're more likely to hear conversations about troublesome colts than corkage fees, and you might come away with some new cowboy boots—they stock hundreds of pairs.
Dinner
A lot of restaurants tout local sourcing, but few go as far as The Bear & Star, located on the ground floor of the Fess Parker Wine Country Inn. The core of chef John Cox's menu is the succulent Wagyu beef that the Parker family raises right on the ranch you rode this very morning. Despite the beef, the riveted leather chairs, and the raw wood details, this spot doesn't really feel like a steakhouse, partly thanks to its tangy salads, innovative vegetable dishes including cast-iron-roasted carrots with apricot mostarda and crème fraîche, and periodic explosions of floral garnishes. The Wagyu sirloin is sumptuous, but for a different perspective on the ranch, try the savory, meltingly rich dry-aged lamb. 
Chill Out
Take it easy on the wine and come away even more refreshed. Nearby Ojai and the town of Santa Barbara itself might be more well-known for all things relaxing and woo-woo, but that boho vibe definitely makes its way into wine country. And thanks to a gorgeous new place to stay and some folks more keen on getting you healthy than getting you tipsy, even teetotalers can feel like they're part of the action.
Stay
Just a stone's throw from the rush of traffic along U.S. 101, the Skyview Los Alamos (from $159) feels both connected to the highway—it's a renovated vintage motor lodge, after all—and in its own world entirely. The revamped 1950s building, complete with a bright yellow MOTEL sign and an original (now heated) pool, feels at home in the 21st century thanks to details like succulent-heavy landscaping and outdoor showers with hillside views. A fleet of bright orange Linus bikes stands ready for quick jaunts to the town of Los Alamos just down the hill. Onward!
Breakfast
Keep it light: Nibble a complimentary pastry and sip an herbal tea in one of the mid-century-style lounge chairs in the Skyview Los Alamos lobby.
Morning
Cori Lassahn has been teaching yoga and meditation for 18 years in all sorts of settings, but she's best known for bringing vinyasa into vine rows and wine caves. Track down one of her periodically scheduled Vineyard Yoga classes (from $25) or just have her put together a private session with a custom setting and music playlist.
Lunch
The fresh, global menu at SY Kitchen in Santa Ynez ranges from seared tuna over salad greens to spinach ricotta gnocchi—perfect after a moderate workout. Right next door, the Plenty Boutique is the valley's best spot to peruse the flowy dresses, tunics, and handmade jewelry that are oh-so Santa Barbara.
Afternoon
Los Olivos may be wine-central these days, but you don't have to be an imbiber to stay busy. On the outskirts of town, Global Gardens specializes in California-grown extra-virgin olive oils, and the diversity at the farmstand's tasting bar—dozens of options, from a locally grown blend of Tuscan varieties to lemon- and basil-infused versions—can keep you busy longer than a winery tasting room. Thirsty? Find the giant lemon parked just north of the Saarloos & Sons. There, Greg Sanregret of Los Olivos Lemons (Thursday through Sunday) pours zesty lemonades, both the standard version and flavors like watermelon- jalapeño. 
Dinner
At The Gathering Table in the Ballard Inn, chef and inn proprietor Budi Kazali creates a vivid, globe-spanning menu that many local wine and food pros swear by. The cuisine may be intricate—think savory wild mushroom risotto with porcini broth and duck breast with snap peas and miso glaze—but the simple farmhouse-style dining room and the option of a large communal table if you're feeling social make for a welcoming frisson of energy.
Keep Reading: