Stone Fruit Cobbler with Almond Spoon Cake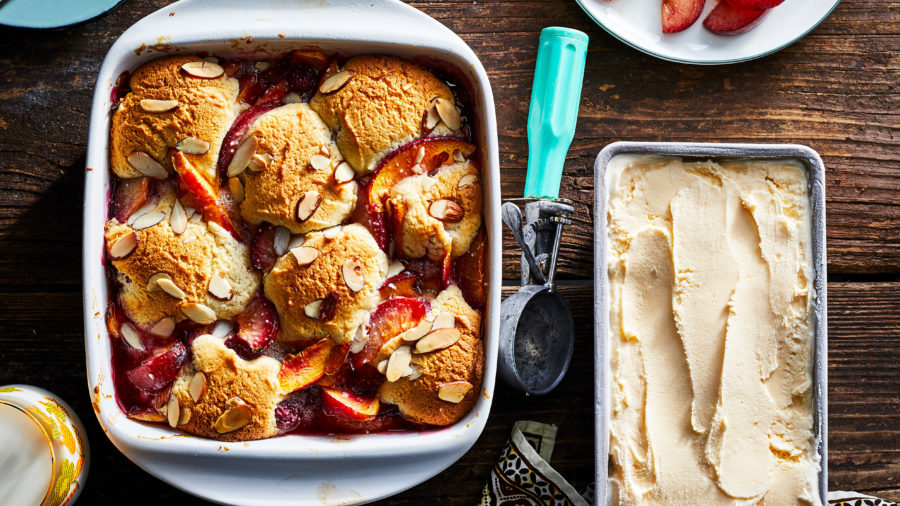 Time Inc. Food Studios
For those times when you just can't limit yourself to one kind of fruit, we created this variation on our Peach and Bourbon Cobbler with Almond Spoon Cake recipe. As a bonus, the nectarines and pluots don't require any peeling, and the cherries in syrup come already pitted.
How to Make It
1
Preheat oven to 375° (350° if using a glass baking dish). Make filling: In a large bowl, combine sugar, cornstarch, and tapioca. Stir in lemon juice, then nectarines, pluots, and cherries. Let stand 15 to 20 minutes, stirring occasionally, for tapioca to begin to soften.
2
Meanwhile, make topping: Combine flour, baking powder, and salt in a small bowl. In a food processor, whirl almond paste and sugar to break up. Add butter and whirl until no lumps remain, scraping bowl as needed. Add egg, milk, and flour mixture and pulse just until blended. Transfer to bowl used for flour.
3
Scrape filling into a 10-in. cast-iron skillet (2 in. deep) or 2- to 2-1/2-qt. baking dish that's 1 1/2 to 2 in. deep, such as an 8-in. square. Drop batter in 8 large spoonfuls over fruit (it will spread as it bakes) and scatter all over with almonds.
4
Bake until topping is golden brown and filling is bubbling, about 40 minutes (50 minutes for a glass dish). Let cool on a rack at least 30 minutes before serving.
* Find Morello cherries in syrup at Trader Joe's or Italian Amarena di Cantiano Morello cherries (which include spices and almond oil) at markethallfoods.com.
Search All of Sunset's Recipes