Crushed Berries with Hibiscus Jelly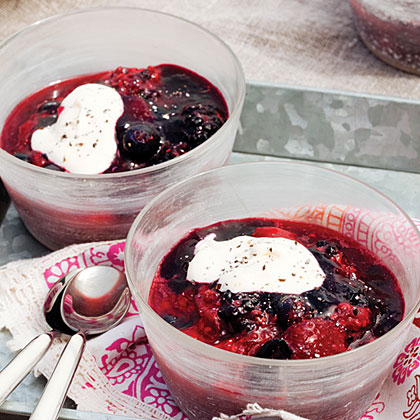 Photo: Lisa Romerein
The jelly here isn't the kind you spread on bread; it's a soft, lustrous gelatin–like Jell-O, but more delicate.
How to Make It
1
Make jelly: Bring 1 cup water and the sugar to a boil in a small heavy saucepan over high heat, stirring occasionally to help sugar dissolve. Remove from heat and stir in hibiscus flowers. Cover and steep 15 minutes, then strain syrup into a small bowl and discard flowers. Meanwhile, pour 1/4 cup water into another small bowl. Sprinkle gelatin over and let soften 5 minutes. Whisk warm flower syrup into softened gelatin until dissolved. Chill at least 6 hours and up to 3 days. Stir the jelly to loosen before using.
2
Crush berries: Right before serving, crush berries in a bowl with a fork, pastry blender, or potato masher.
3
Spoon berries into 8 dessert bowls. Stir jelly with a fork to loosen, then spoon over berries. Top each bowl with a spoonful of crème fraîche and a sprinkling of grains of paradise.
4
*Find hibiscus flowers (jamaica in Spanish) at Mexican markets. Grains of paradise look like black peppercorns but have a softer flavor that combines pepper with ginger, cardamom, coriander, and nutmeg. Find them online at savoryspiceshop.com
5
Make-ahead & packing tips: Jelly, 1 to 3 days ahead; keep chilled in an airtight container. Crush berries at the beach.
Search All of Sunset's Recipes